Phenylmethimazole Blocks dsRNA-Induced IRF3 Nuclear Translocation and Homodimerization
1
Department of Specialty Medicine, Ohio University, Athens, OH 45701, USA
2
Interthyr Corporation, Athens, OH 45701, USA
3
Biomedical Engineering Program, Ohio University Russ College of Engineering & Technology, Ohio University, Athens, OH 45701, USA
4
Department of Chemical and Biomolecular Engineering, Ohio University Russ College of Engineering & Technology, Ohio University, Athens, OH 45701, USA
5
Diabetes Institute, Ohio University College of Osteopathic Medicine, Ohio University, Athens, OH 45701, USA
6
Department of Biological Sciences, Ohio University College of Arts & Sciences, Ohio University, Athens, OH 45701, USA
7
Molecular & Cellular Biology Program, Ohio University College of Arts & Sciences, Ohio University, Athens, OH 45701, USA
*
Author to whom correspondence should be addressed.
Received: 5 October 2012 / Revised: 16 October 2012 / Accepted: 19 October 2012 / Published: 22 October 2012
Abstract
Previous studies revealed that phenylmethimazole (C10) inhibits IRF3 signaling, preventing dsRNA-induction of type 1 interferon gene expression, production, and downstream signaling. In the present study, we investigated the molecular basis for C10 inhibition of dsRNA-stimulated IRF3 signaling. IRF-3 Trans-AM assays were used to measure C10 effects on dsRNA induction of IRF3 DNA binding. Green fluorescent protein-labeled IRF3 was used to measure C10 effects on dsRNA-induced IRF3 nuclear translocation. Native PAGE, SDS PAGE, and western blotting were used to identify effects of C10 on IRF3 homodimer formation and phosphorylation, respectively. There was a significant impairment of dsRNA-induced IRF3 DNA binding activity in human embryonic kidney and pancreatic cancer cells with C10 treatment. C10 also blocked dsRNA-induced IRF3 nuclear translocation and homodimer formation without blocking serine 396 phosphorylation of IRF3. Together, these results indicate that C10 interferes with IRF3 signaling by blocking dsRNA-induced IRF3 homodimer formation, a prerequisite for nuclear translocation and DNA binding activities.
View Full-Text
►

▼

Figures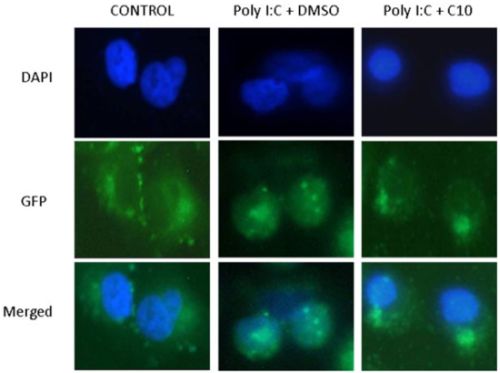 Share & Cite This Article
MDPI and ACS Style
Courreges, M.C.; Kantake, N.; Goetz, D.J.; Schwartz, F.L.; McCall, K.D. Phenylmethimazole Blocks dsRNA-Induced IRF3 Nuclear Translocation and Homodimerization. Molecules 2012, 17, 12365-12377.
Related Articles
Comments
[Return to top]