17O-Dynamic NMR and DFT Investigation of Bis(acyloxy)iodoarenes
1
Laboratoire de RMN Haute Résolution CP 160/08, Université Libre de Bruxelles, Av. F.-D. Roosevelt 50, 1050 Brussels, Belgium
2
Dipartimento di Scienze Chimiche e Geologiche, Università di Cagliari, Complesso Universitario, S.S. 554, Bivio per Sestu, I-09042 Monserrato (CA), Italy
*
Authors to whom correspondence should be addressed.
Received: 11 September 2012 / Revised: 10 October 2012 / Accepted: 19 October 2012 / Published: 26 October 2012
Abstract
Bis(acetoxy)iodobenzene and related acyloxy derivatives of hypervalent I(III) were studied by variable temperature solution-state
17
O-NMR and DFT calculations. The
17
O-NMR spectra reveal a dynamic process that interchanges the oxygen atoms of the acyloxy groups. For the first time, coalescence events could be detected for such compounds, allowing the determination of activation free energy data which are found to range between 44 and 47 kJ/mol. The analysis of the
17
O linewidth measured for bis(acetoxy)iodobenzene indicates that the activation entropy is negligible. DFT calculations show that the oxygen atom exchange arises as a consequence of the [1,3]-sigmatropic shift of iodine. The calculated activation barriers are in excellent agreement with the experimental results. Both the
17
O-NMR and DFT studies show that the solvent and chemical alterations, such as modification of the acyl groups or
para-
substitution of the benzene ring, hardly affect the energetics of the dynamic process. The low I-O Wiberg bond index (0.41–0.42) indicates a possible explanation of the invariance of both the energy barrier and the
17
O chemical shift with
para-
substitution.
View Full-Text
►

▼

Figures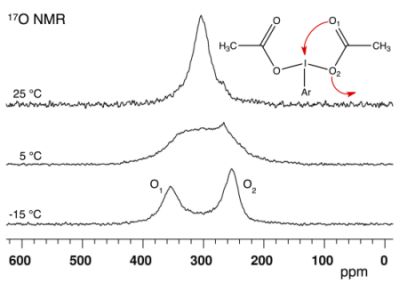 Share & Cite This Article
MDPI and ACS Style
Fusaro, L.; Mocci, F.; Luhmer, M.; Cerioni, G. 17O-Dynamic NMR and DFT Investigation of Bis(acyloxy)iodoarenes. Molecules 2012, 17, 12718-12733.
Related Articles
Comments
[Return to top]