Anti-Infective Potential of Marine Invertebrates and Seaweeds from the Brazilian Coast
1
Laboratório de Produtos Naturais, Departamento de Ciências Farmacêuticas, Universidade Federal de Santa Catarina, CEP 88.040-900, Florianópolis, SC, Brasil
2
Laboratório de Ficologia, Departamento de Botânica, Universidade Federal de Santa Catarina, CEP 88.040-900, Florianópolis, SC, Brasil
3
Laboratório de Virologia Aplicada, Departamento de Ciências Farmacêuticas, Universidade Federal de Santa Catarina, CEP 88.040-900, Florianópolis, SC, Brasil
4
Laboratório de Protozoologia, Departamento de Microbiologia, Imunologia e Parasitologia, Universidade Federal de Santa Catarina, CEP 88.040-900, Florianópolis, SC, Brasil
5
Programa de Pós-graduação em Ecologia, Universidade Federal do Rio Grande do Sul, CEP 91.501-970, Porto Alegre, RS, Brasil
†
These authors contributed equally to this work.
*
Author to whom correspondence should be addressed.
Received: 28 March 2013 / Revised: 3 May 2013 / Accepted: 10 May 2013 / Published: 16 May 2013
Abstract
This manuscript describes the evaluation of anti-infective potential
in vitro
of organic extracts from nine sponges, one ascidian, two octocorals, one bryozoan, and 27 seaweed species collected along the Brazilian coast. Antimicrobial activity was tested against
Staphylococcus aureus
(ATCC 25923),
Enterococcus faecalis
(ATCC 29212),
Pseudomonas aeruginosa
(ATCC 27853),
Escherichia coli
(ATCC 25922) and
Candida albicans
(ATCC 10231) by the disk diffusion method. Antiprotozoal activity was evaluated against
Leishmania braziliensis
(MHOM/BR/96/LSC96-H3) promastigotes and
Trypanosoma cruzi
(MHOM/BR/00/Y) epimastigotes by MTT assay. Activity against intracellular amastigotes of
T. cruzi
and
L. brasiliensis
in murine macrophages was also evaluated. Antiviral activity was tested against Herpes Simplex Virus type 1 (HSV-1, KOS strain) by the plaque number reduction assay (IC
50
). Cytotoxicity on VERO cells was evaluated by the MTT assay (CC
50
). The results were expressed as SI = CC
50
/IC
50
. The most promising antimicrobial results were obtained against
S. aureus
and
C. albicans
with
Dragmacidon reticulatum
. Among the seaweeds, only
Osmundaria obtusiloba
showed moderate activity against
P. aeruginosa
. Concerning antiprotozoal activity,
Bugula neritina
,
Carijoa riseii
,
Dragmaxia anomala
and
Haliclona
(
Halichoclona
)
sp. showed the most interesting results, mainly against extracellular promastigote forms of
L. braziliensis
(66, 35.9, 97.2, and 43.6% inhibition, respectively). Moreover, six species of seaweeds
Anadyomene saldanhae
,
Caulerpa
cupressoides
,
Canistrocarpus cervicornis
,
Dictyota
sp.,
Ochtodes secundiramea
, and
Padina
sp. showed promising results against
L. braziliensis
(87.9, 51.7, 85.9, 93.3, 99.7, and 80.9% inhibition, respectively), and only
Dictyota
sp. was effective against
T. cruzi
(60.4% inhibition). Finally, the antiherpes activity was also evaluated, with
Haliclona
(
Halichoclona
)
sp. and
Petromica citrina
showing the best results (SI = 11.9 and SI > 5, respectively). All the active extracts deserve special attention in further studies to chemically characterize the bioactive compounds, and to perform more refined biological assays.
View Full-Text
►

▼

Figures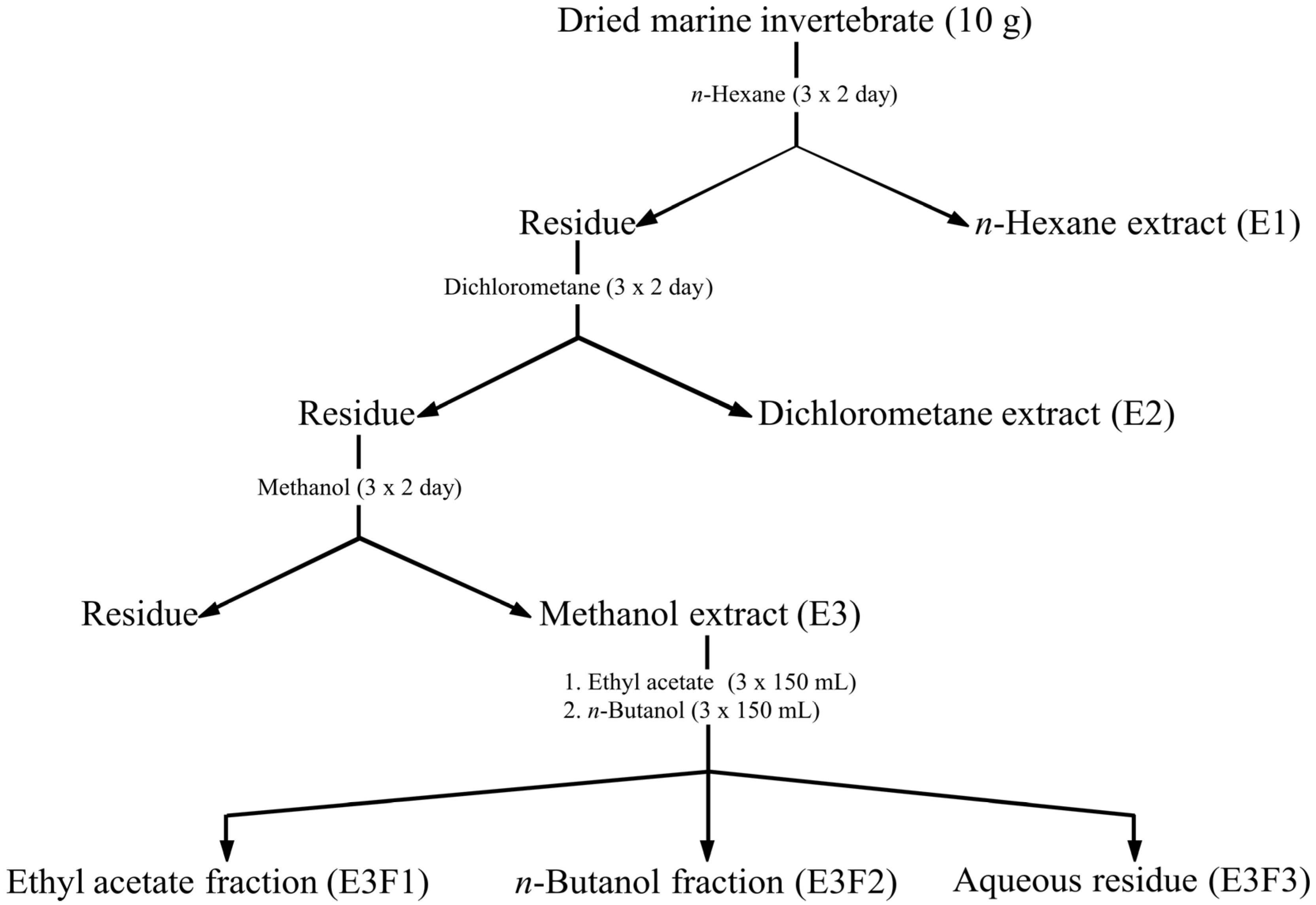 Figure 1
Share & Cite This Article
MDPI and ACS Style
Bianco, É.M.; de Oliveira, S.Q.; Rigotto, C.; Tonini, M.L.; da Rosa Guimarães, T.; Bittencourt, F.; Gouvêa, L.P.; Aresi, C.; de Almeida, M.T.R.; Moritz, M.I.G.; Martins, C.D.L.; Scherner, F.; Carraro, J.L.; Horta, P.A.; Reginatto, F.H.; Steindel, M.; Simões, C.M.O.; Schenkel, E.P. Anti-Infective Potential of Marine Invertebrates and Seaweeds from the Brazilian Coast. Molecules 2013, 18, 5761-5778.
Related Articles
Comments
[Return to top]