Sinulariolide Induced Hepatocellular Carcinoma Apoptosis through Activation of Mitochondrial-Related Apoptotic and PERK/eIF2α/ATF4/CHOP Pathway
1
Department of Physical Medicine and Rehabilitation, Kaohsiung Medical University Hospital, Kaohsiung 80761, Taiwan
2
National Museum of Marine Biology and Aquarium, Pingtung 94450, Taiwan
3
Graduate Institute of Animal Vaccine Technology, National Pingtung University of Science and Technology, Pingtung 91202, Taiwan
4
Department of Ophthalmology, Yuan's General Hospital, Kaohsiung 80249, Taiwan
5
English Division of the Second Faculty of Medicine, Medical University of Warsaw, Warsaw 02091, Poland
6
Graduate Institute of Veterinary Medicine, National Pingtung University of Science and Technology, Pingtung 91202, Taiwan
7
Graduate Institute of Food Science, National Pingtung University of Science and Technology, Pingtung 91202, Taiwan
8
Department of Beauty Science, Meiho University, Pingtung 91202, Taiwan
9
Department of Hospitality Management, Meiho University, Pingtung 91202, Taiwan
†
These authors contributed equally to this work.
*
Author to whom correspondence should be addressed.
Received: 22 July 2013 / Revised: 14 August 2013 / Accepted: 19 August 2013 / Published: 22 August 2013
Abstract
Sinulariolide, an active compound isolated from the cultured soft coral
Sinularia flexibilis
, has potent anti-microbial and anti-tumorigenesis effects towards melanoma and bladder cancer cells. In this study, we investigated the effects of sinulariolide on hepatocellular carcinoma (HCC) cell growth and protein expression. Sinulariolide suppressed the proliferation and colony formation of HCC HA22T cells in a dose-dependent manner and induced both early and late apoptosis according to flow cytometry, Annexin V/PI stain and TUNEL/DAPI stain analyses. A mechanistic analysis demonstrated that sinulariolide-induced apoptosis was activated through a mitochondria-related pathway, showing up-regulation of Bax, Bad and AIF, and down- regulation of Bcl-2, Bcl-xL, MCl-1 and p-Bad. Sinulariolide treatment led to loss of the mitochondrial membrane potential, release of mitochondrial cytochrome c to the cytosol, and activation of both caspase-9 and caspase-3. Sinulariolide-induced apoptosis was significantly blocked by the caspase inhibitors Z-VAD-FMK and Z-DEVD-FMK. The increased expression of cleaved PARP also suggested that caspase-independent apoptotic pathway was involved. In the western blotting; the elevation of ER chaperones GRP78; GRP94; and CALR; as well as up-regulations of PERK/eIF2α/ATF4/CHOP; and diminished cell death with pre-treatment of eIF2α phosphatase inhibitor; salubrinal; implicated the involvement of ER stress-mediated PERK/eIF2α/ATF4/CHOP apoptotic pathway following sinulariolide treatment in hepatoma cells. The current study suggested sinulariolide-induced hepatoma cell cytotoxicity involved multiple apoptotic signal pathways. This may implicate that sinulariolide is a potential compound for the treatment of hepatocellular carcinoma.
View Full-Text
►

▼

Figures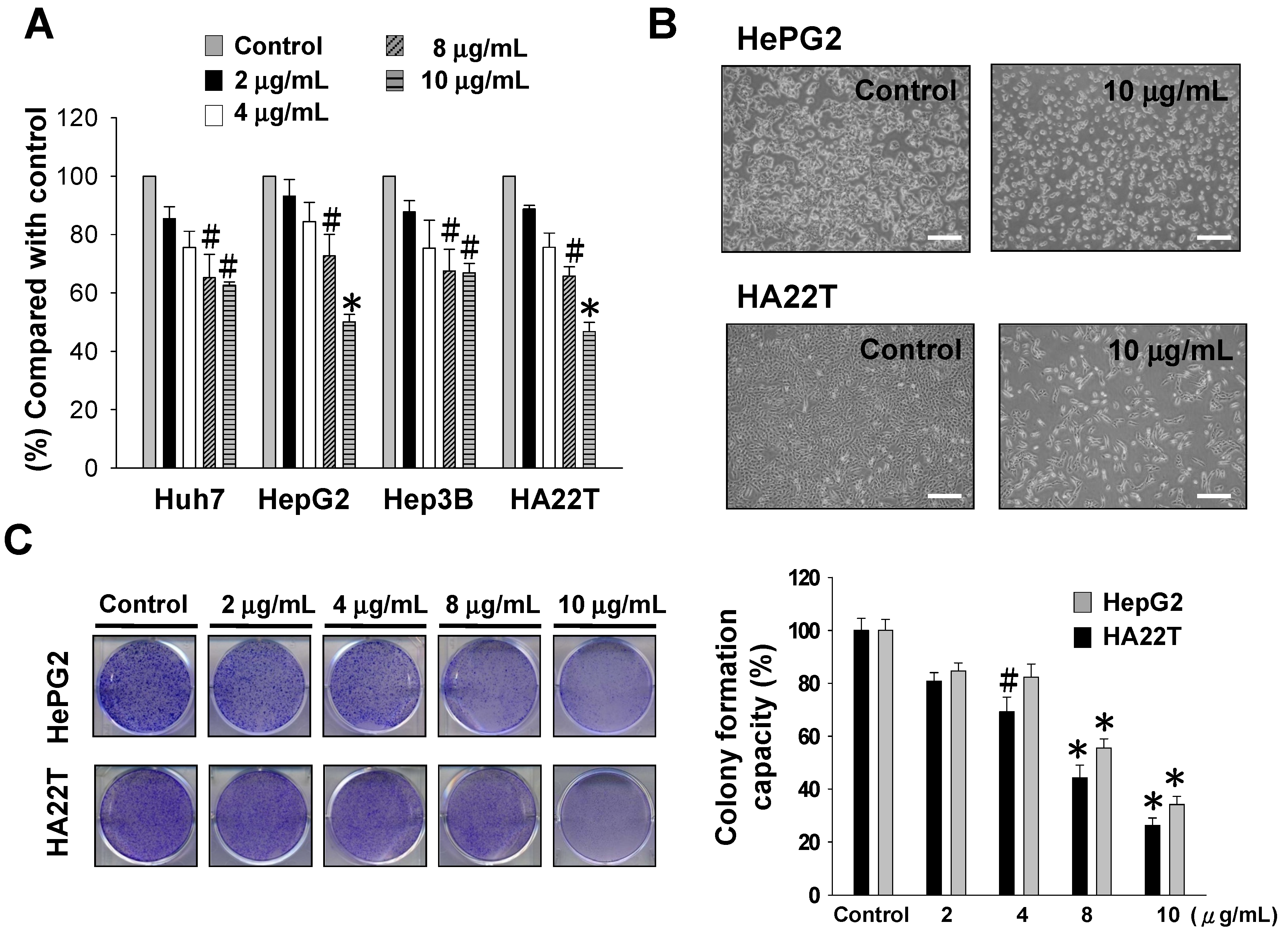 Figure 1
Scifeed alert for new publications
Never miss any articles
matching your research
from any publisher
Get alerts for new papers matching your research
Find out the new papers from selected authors
Updated daily for 49'000+ journals and 6000+ publishers
Share & Cite This Article
MDPI and ACS Style
Chen, Y.-J.; Su, J.-H.; Tsao, C.-Y.; Hung, C.-T.; Chao, H.-H.; Lin, J.-J.; Liao, M.-H.; Yang, Z.-Y.; Huang, H.H.; Tsai, F.-J.; Weng, S.-H.; Wu, Y.-J. Sinulariolide Induced Hepatocellular Carcinoma Apoptosis through Activation of Mitochondrial-Related Apoptotic and PERK/eIF2α/ATF4/CHOP Pathway. Molecules 2013, 18, 10146-10161.
Related Articles
Comments
[Return to top]