Characterization of a Wheat Heme Oxygenase-1 Gene and Its Responses to Different Abiotic Stresses
1
College of Life Sciences, Cooperative Demonstration Laboratory of Centrifuge Technique, Nanjing Agricultural University, Nanjing 210095, China
2
Institute of Plant Protection, Jiangsu Academy of Agricultural Sciences, Nanjing 210014, Jiangsu, China
*
Authors to whom correspondence should be addressed.
Received: 4 September 2011 / Revised: 31 October 2011 / Accepted: 1 November 2011 / Published: 8 November 2011
Abstract
In animals and recently in plants, heme oxygenase-1 (HO1) has been found to confer protection against a variety of oxidant-induced cell and tissue injuries. In this study, a wheat (
Triticum aestivum
) HO1 gene
TaHO1
was cloned and sequenced. It encodes a polypeptide of 31.7 kD with a putative
N
-terminal plastid transit peptide. The amino acid sequence of TaHO1 was found to be 78% similar to that of maize HO1. Phylogenetic analysis revealed that TaHO1 clusters together with the HO1-like sequences in plants. The purified recombinant TaHO1 protein expressed in
Escherichia coli
was active in the conversion of heme to biliverdin IXa (BV), and showed that the
V
max
was 8.8 U·mg
−1
protein with an apparent
Km
value for hemin of 3.04 μM. The optimum Tm and pH were 35 °C and 7.4, respectively. The result of subcellular localization of TaHO1 showed that the putative transit peptide was sufficient for green fluorescent protein (GFP) to localize in chloroplast and implied that TaHO1 gene product is at least localized in the chloroplast. Moreover, we found that
TaHO1
mRNA could be differentially induced by the well-known nitric oxide (NO) donor sodium nitroprusside (SNP), gibberellin acid (GA), abscisic acid (ABA), hydrogen peroxide (H
2
O
2
) and NaCl treatments. Therefore, the results suggested that
TaHO1
might play an important role in abiotic stress responses.
View Full-Text
►

▼

Figures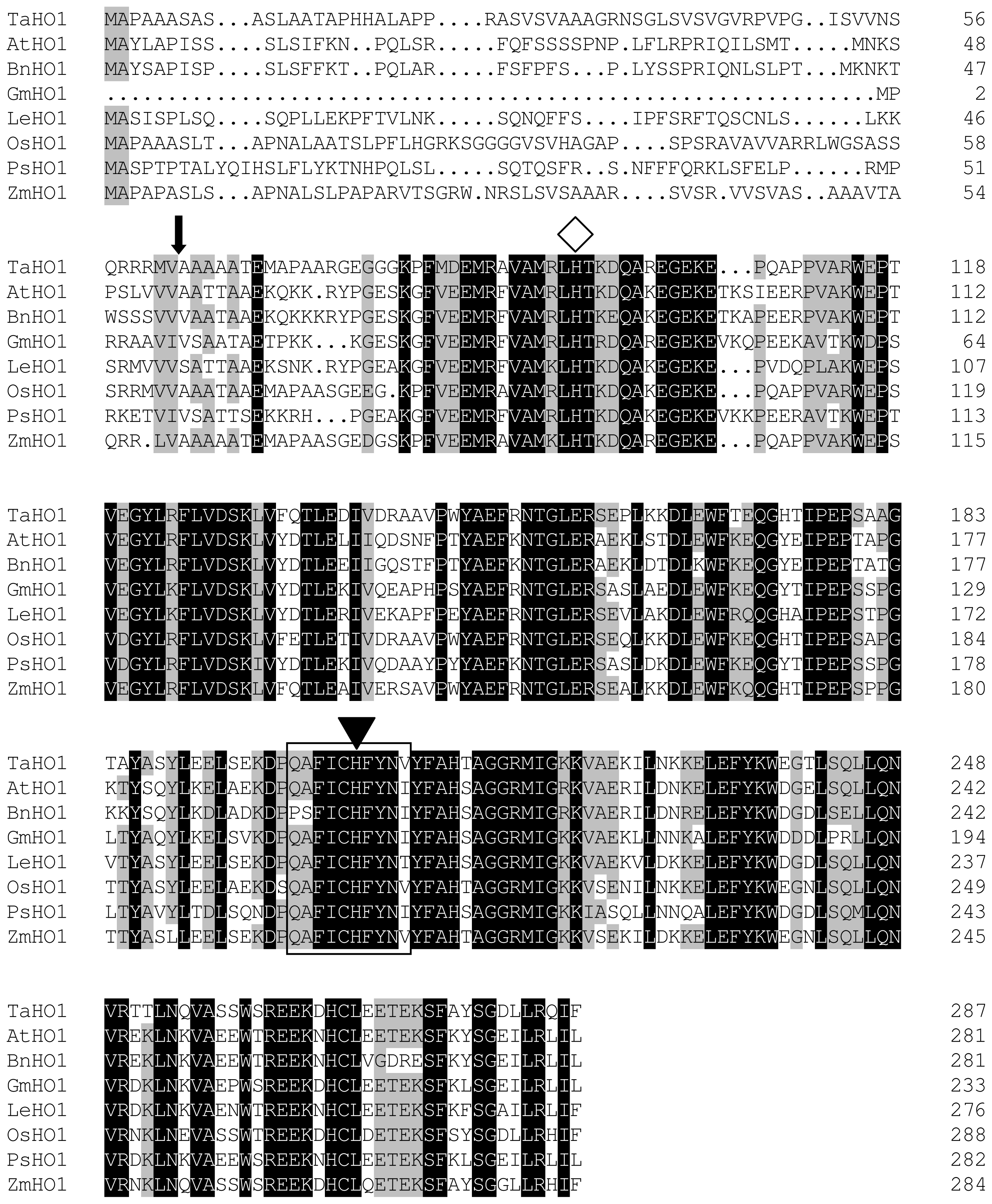 Share & Cite This Article
MDPI and ACS Style
Xu, D.-K.; Jin, Q.-J.; Xie, Y.-J.; Liu, Y.-H.; Lin, Y.-T.; Shen, W.-B.; Zhou, Y.-J. Characterization of a Wheat Heme Oxygenase-1 Gene and Its Responses to Different Abiotic Stresses. Int. J. Mol. Sci. 2011, 12, 7692-7707.
Related Articles
Comments
[Return to top]