Anti-Epidermal Growth Factor Receptor (EGFR) Antibodies Overcome Resistance of Ovarian Cancer Cells to Targeted Therapy and Natural Cytotoxicity
1
Department of Otorhinolaryngology, University of Duisburg-Essen, 45147 Essen, Germany
2
Department of Gynecology and Obstetrics, University of Duisburg-Essen, 45157 Essen, Germany
3
Lionex Diagnostics and Therapeutics, 38126 Braunschweig, Germany
*
Author to whom correspondence should be addressed.
Received: 16 July 2012 / Revised: 5 September 2012 / Accepted: 11 September 2012 / Published: 20 September 2012
Abstract
The poor outcome of advanced ovarian cancer under conventional therapy stimulated the exploration of new strategies to improve therapeutic efficacy. In our preclinical
in vitro
study we investigated a combination of targeted therapy and immunotherapy. Combination treatment with the anti-EGFR-antibody Cetuximab, related tyrosine kinase inhibitors (TKI) and cytolytic NK cells was tested against different ovarian cancer cell lines and primary tumour cells cultured from patient ascites. We found that selected ovarian cancer cells were susceptible to cetuximab and anti-EGFR-TKI-treatment, while the majority of cell lines were resistant to single or combination treatment with both substances. In addition, most ovarian cancer cells displayed low susceptibility to natural cytotoxicity of unstimulated NK cells. Notably, NK cytotoxicity against resistant ovarian cancer cells could be effectively enhanced by addition of Cetuximab mediating antibody-dependent cellular cytotoxicity (ADCC). Neither natural cytotoxicity nor ADCC of NK cells were negatively affected by the presence of TKIs. ADCC could be further increased when NK cells were pre-stimulated with monocytes and the immunostimulatory mycobacterial protein PstS-1. Our data suggest that targeted antibody therapy could be beneficial even against resistant tumour cells by augmenting supplementary cytolytic NK functions. Future studies should evaluate the combination of targeted therapy and immunotherapeutic approaches in patients with advanced ovarian cancer being resistant to standard treatment.
View Full-Text
►

▼

Figures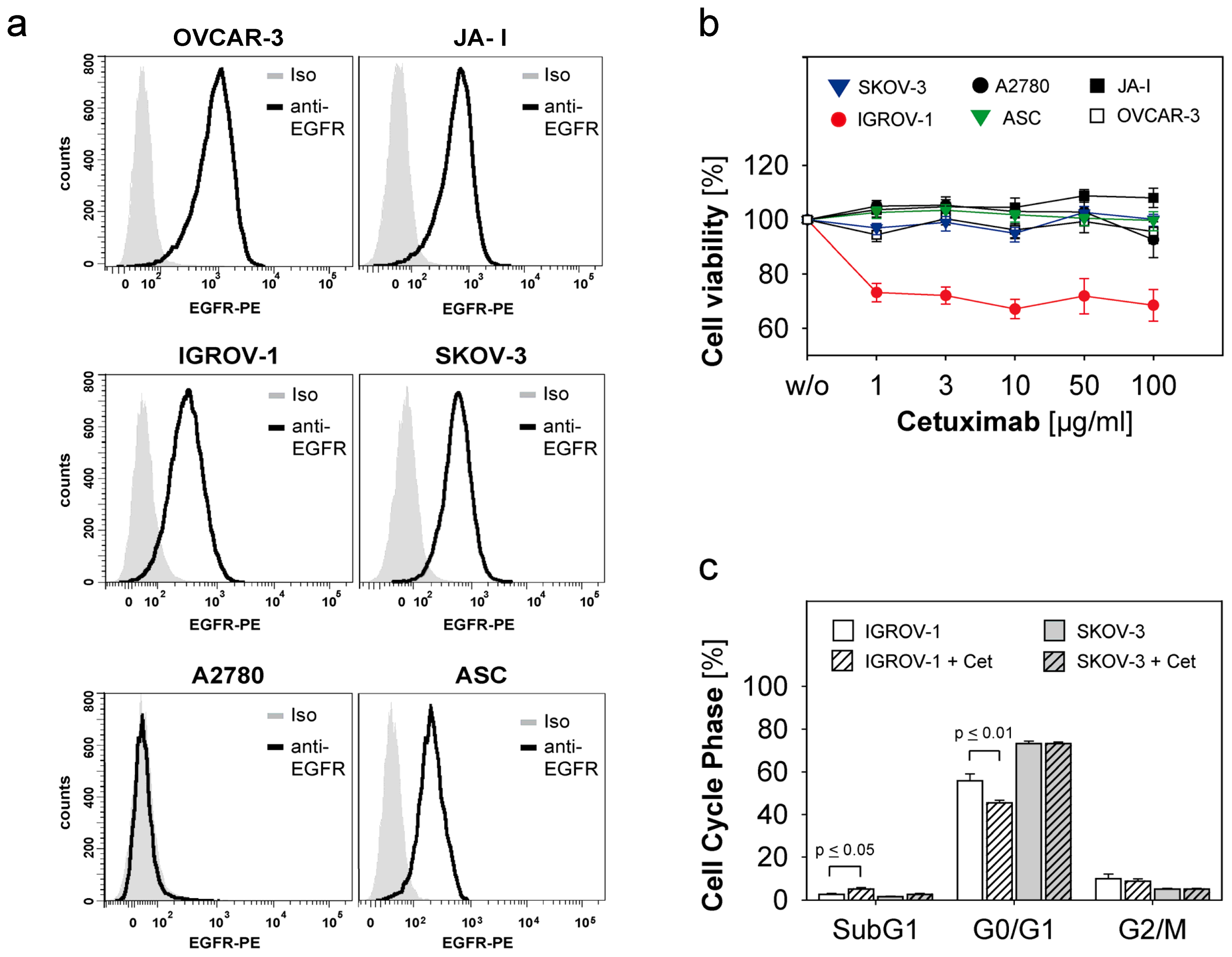 Share & Cite This Article
MDPI and ACS Style
Gottschalk, N.; Kimmig, R.; Lang, S.; Singh, M.; Brandau, S. Anti-Epidermal Growth Factor Receptor (EGFR) Antibodies Overcome Resistance of Ovarian Cancer Cells to Targeted Therapy and Natural Cytotoxicity. Int. J. Mol. Sci. 2012, 13, 12000-12016.
Related Articles
Comments
[Return to top]