Metabolic Profiles of Brain Metastases
1
MI Lab, Department of Circulation and Medical Imaging, Norwegian University of Science and Technology (NTNU), Trondheim N-7491, Norway
2
St. Olavs University Hospital HF, Trondheim N-7006, Norway
3
Department of Neuroscience, NTNU, Trondheim N-7491, Norway
4
Department of Neurosurgery, St. Olavs University Hospital HF, Trondheim N-7006, Norway
5
Department of Oncology, St. Olavs University Hospital HF, Trondheim N-7006, Norway
6
Department of Cancer Research and Molecular Medicine, NTNU, Trondheim N-7491, Norway
7
Department of Pathology and Medical Genetics, St. Olavs University Hospital HF, Trondheim N-7491, Norway
8
Department of Laboratory Medicine, Children and Women's Health, NTNU, Trondheim N-7491, Norway
†
These authors contributed equally to this work.
*
Author to whom correspondence should be addressed.
Received: 26 October 2012 / Accepted: 9 January 2013 / Published: 22 January 2013
Abstract
Metastasis to the brain is a feared complication of systemic cancer, associated with significant morbidity and poor prognosis. A better understanding of the tumor metabolism might help us meet the challenges in controlling brain metastases. The study aims to characterize the metabolic profile of brain metastases of different origin using high resolution magic angle spinning (HR-MAS) magnetic resonance spectroscopy (MRS) to correlate the metabolic profiles to clinical and pathological information. Biopsy samples of human brain metastases (
n
= 49) were investigated. A significant correlation between lipid signals and necrosis in brain metastases was observed (
p
< 0.01), irrespective of their primary origin. The principal component analysis (PCA) showed that brain metastases from malignant melanomas cluster together, while lung carcinomas were metabolically heterogeneous and overlap with other subtypes. Metastatic melanomas have higher amounts of glycerophosphocholine than other brain metastases. A significant correlation between microscopically visible lipid droplets estimated by Nile Red staining and MR visible lipid signals was observed in metastatic lung carcinomas (
p
= 0.01), indicating that the proton MR visible lipid signals arise from cytoplasmic lipid droplets. MRS-based metabolomic profiling is a useful tool for exploring the metabolic profiles of metastatic brain tumors.
View Full-Text
►

▼

Figures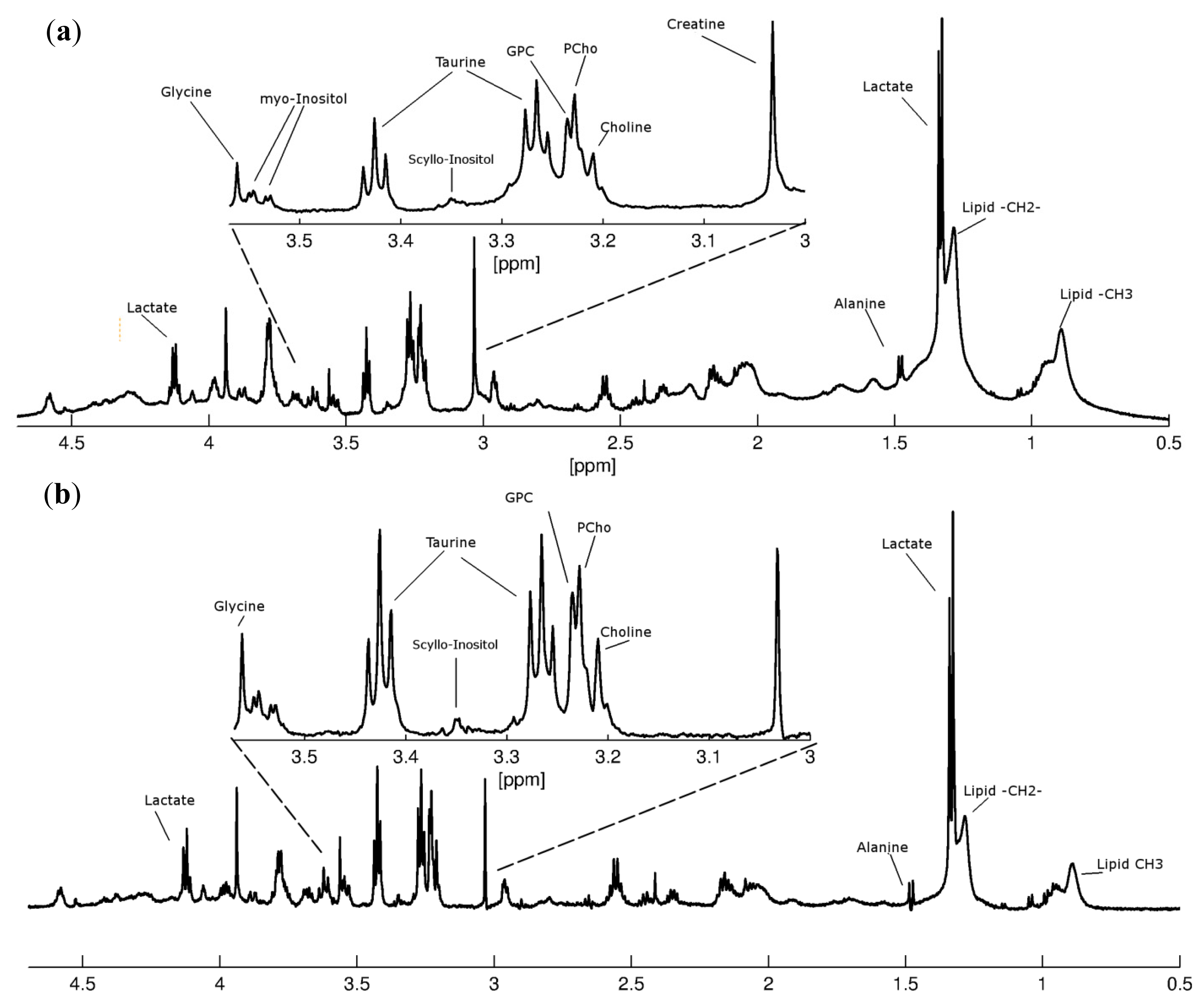 Share & Cite This Article
MDPI and ACS Style
Sjøbakk, T.E.; Vettukattil, R.; Gulati, M.; Gulati, S.; Lundgren, S.; Gribbestad, I.S.; Torp, S.H.; Bathen, T.F. Metabolic Profiles of Brain Metastases. Int. J. Mol. Sci. 2013, 14, 2104-2118.
Related Articles
Comments
[Return to top]