AKIP1, a Cardiac Hypertrophy Induced Protein that Stimulates Cardiomyocyte Growth via the Akt Pathway
1
Department of Cardiology, University Medical Center Groningen, University of Groningen, Hanzeplein 1, 9713 GZ Groningen, P.O. Box 30.001, Groningen 9700 RB, The Netherlands
2
Department of Hematology, the First Affiliated Hospital of Harbin Medical University, 23 Youzheng Street, Nangang District, Harbin 150001, China
†
Present address: Department of Cardiology, the Second Affiliated Hospital of Harbin Medical University, 246 Xuefu Road, Nangang District, Harbin 150086, China.
*
Author to whom correspondence should be addressed.
Received: 9 August 2013 / Revised: 17 September 2013 / Accepted: 25 September 2013 / Published: 28 October 2013
Abstract
Cardiac adaptation to unremitting physiological stress typically involves hypertrophic growth of cardiomyocytes, a compensatory response that often fails and causes heart disease. Gene array analysis identified
AKIP1
(A Kinase Interacting Protein 1) as a hypertrophic gene and we therefore hypothesized a potential role in the hypertrophic response. We show for the first time that both AKIP1 mRNA and protein levels increased in hypertrophic cardiomyocytes under conditions of sustained cardiac stress, including pressure overload and after myocardial infarction and
in vitro
in phenylephrine (PE) stimulated neonatal rat ventricular cardiomyocytes (NRVCs). AKIP1 overexpression in NRVCs markedly stimulated hypertrophic growth responses, including significantly increased cell size, augmented cytoskeletal organization and protein synthesis. Although, AKIP1 was not essential for PE induced hypertrophy in NRVCs, it did potentiate neurohormonal induced protein synthesis. AKIP1 did, however, not induce expression of pathological marker genes like ANP and β-MHC. ERK and Akt kinase signaling pathways have been linked to hypertrophy and AKIP1 specifically induced phosphorylation of Akt. This phosphorylation of Akt was essential for activation of ribosomal rpS6 and translation elongation factor eEF2 and this readily explains the increased protein synthesis. Akt inhibition fully blocked AKIP1 induced hypertrophy, showing that this pathway is critically involved. In conclusion, our results show that AKIP1 is induced in hypertrophic hearts and can stimulate adaptive cardiomyocyte growth, which involves Akt signaling.
View Full-Text
►

▼

Figures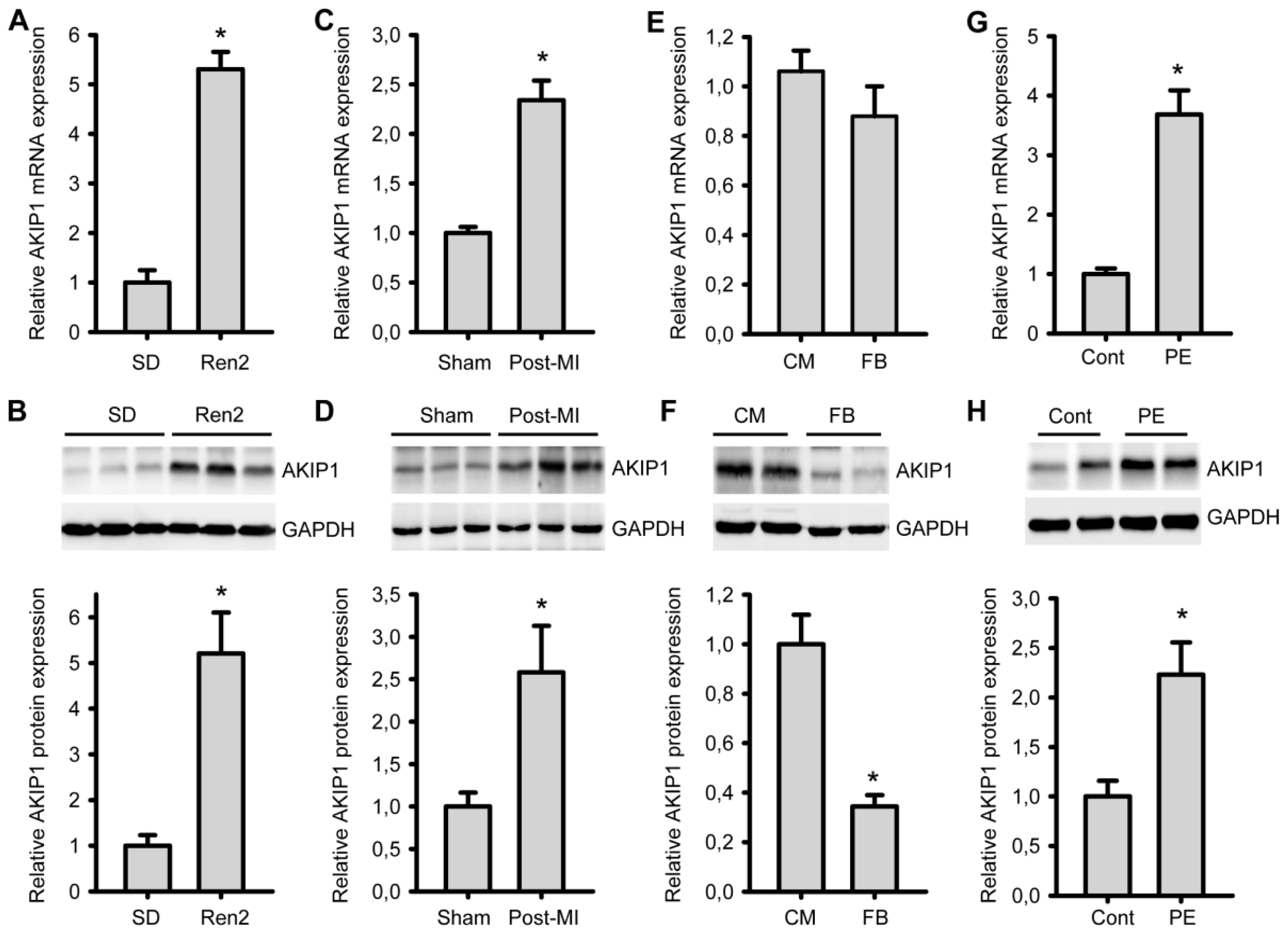 Share & Cite This Article
MDPI and ACS Style
Yu, H.; Tigchelaar, W.; Lu, B.; van Gilst, W.H.; de Boer, R.A.; Westenbrink, B.D.; Silljé, H.H.W. AKIP1, a Cardiac Hypertrophy Induced Protein that Stimulates Cardiomyocyte Growth via the Akt Pathway. Int. J. Mol. Sci. 2013, 14, 21378-21393.
Related Articles
Comments
[Return to top]