Short-Chain Fatty Acids Inhibit Growth Hormone and Prolactin Gene Transcription via cAMP/PKA/CREB Signaling Pathway in Dairy Cow Anterior Pituitary Cells
1
College of Veterinary Medicine, Jilin University, Changchun 130062, China
2
College of Animal Science and Veterinary Medicine, Heilongjiang Bayi Agricultural University, Daqing 163319, China
3
Laboratory of the Animal Center, Academy of Military Medical Sciences, Beijing 100850, China
†
These authors contributed equally to this work.
*
Authors to whom correspondence should be addressed.
Received: 6 August 2013 / Revised: 26 September 2013 / Accepted: 30 September 2013 / Published: 30 October 2013
Abstract
Short-chain fatty acids (SCFAs) play a key role in altering carbohydrate and lipid metabolism, influence endocrine pancreas activity, and as a precursor of ruminant milk fat. However, the effect and detailed mechanisms by which SCFAs mediate bovine growth hormone (
GH
) and prolactin (
PRL
) gene transcription remain unclear. In this study, we detected the effects of SCFAs (acetate, propionate, and butyrate) on the activity of the cAMP/PKA/CREB signaling pathway,
GH
,
PRL
, and
Pit-1
gene transcription in dairy cow anterior pituitary cells (DCAPCs). The results showed that SCFAs decreased intracellular cAMP levels and a subsequent reduction in PKA activity. Inhibition of PKA activity decreased CREB phosphorylation, thereby inhibiting
GH
and
PRL
gene transcription. Furthermore, PTX blocked SCFAs- inhibited cAMP/PKA/CREB signaling pathway. These data showed that the inhibition of
GH
and
PRL
gene transcription induced by SCFAs is mediated by Gi activation and that propionate is more potent than acetate and butyrate in inhibiting
GH
and
PRL
gene transcription. In conclusion, this study identifies a biochemical mechanism for the regulation of SCFAs on bovine
GH
and
PRL
gene transcription in DCAPCs, which may serve as one of the factors that regulate pituitary function in accordance with dietary intake.
View Full-Text
►

▼

Figures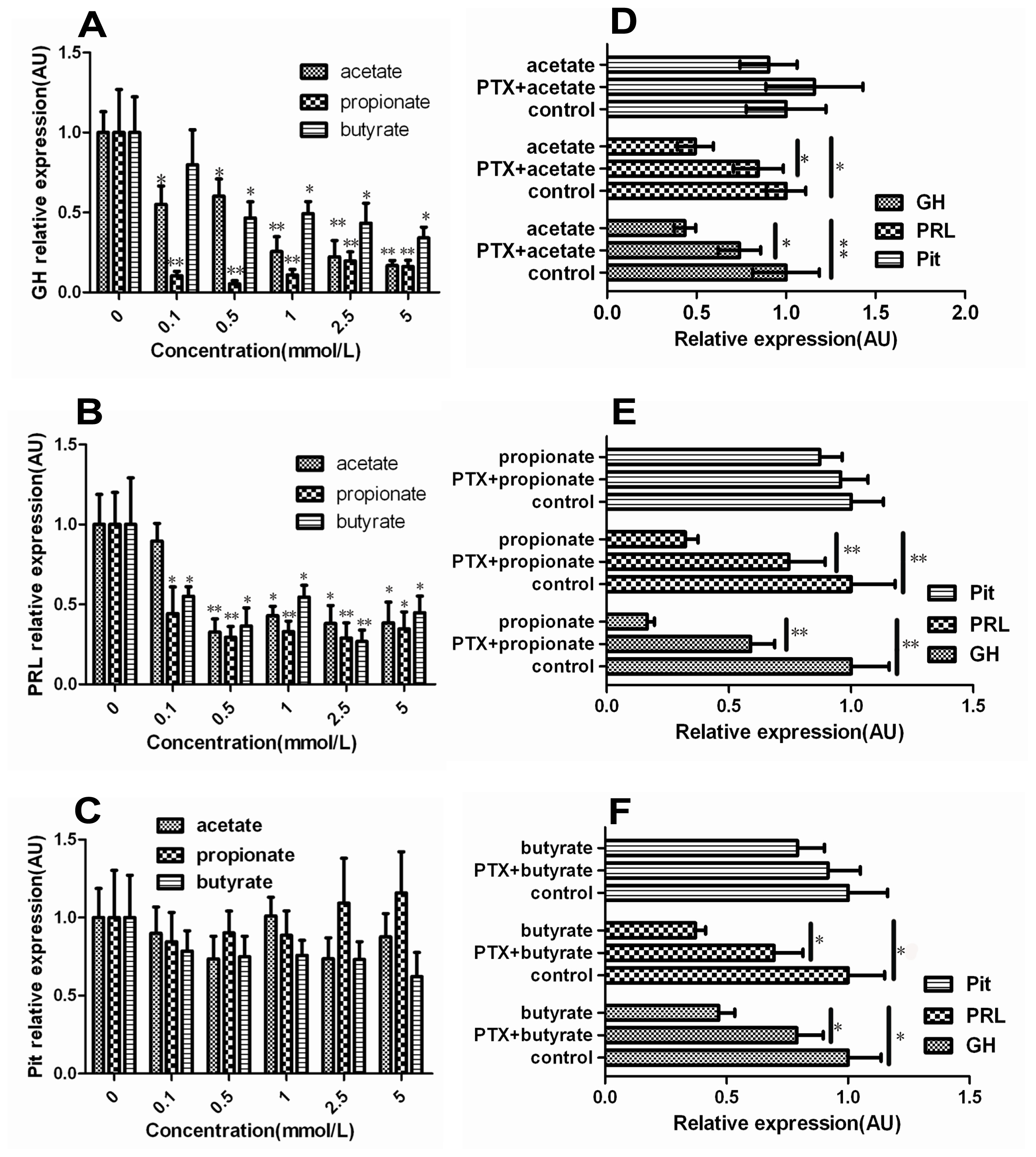 Share & Cite This Article
MDPI and ACS Style
Wang, J.-F.; Fu, S.-P.; Li, S.-N.; Hu, Z.-M.; Xue, W.-J.; Li, Z.-Q.; Huang, B.-X.; Lv, Q.-K.; Liu, J.-X.; Wang, W. Short-Chain Fatty Acids Inhibit Growth Hormone and Prolactin Gene Transcription via cAMP/PKA/CREB Signaling Pathway in Dairy Cow Anterior Pituitary Cells. Int. J. Mol. Sci. 2013, 14, 21474-21488.
Related Articles
Comments
[Return to top]