HE4 Transcription- and Splice Variants-Specific Expression in Endometrial Cancer and Correlation with Patient Survival
1
Department of Biomedical Science, School of Medicine, Mercer University, Savannah, GA 31404, USA
2
Division of Gynecologic Surgery, Mayo Clinic, Rochester, MN 55902, USA
3
Department of Laboratory Oncology Research, Curtis and Elizabeth Anderson Cancer Institute, Memorial University Medical Center, Savannah, GA 31404, USA
4
Department of Histology and Embryology, Shantou University Medical College, Shantou 515041, Guangdong, China
5
Healthcare Analytics, Mayo Clinic, Rochester, MN 55902, USA
6
Department of Pathology, Harvard Medical School, Boston, MA 02115, USA
7
Department of Pathology, the University of Texas MD Anderson Cancer Center, Houston, TX 77030, USA
†
These authors contributed equally to this work.
*
Author to whom correspondence should be addressed.
Received: 16 June 2013 / Revised: 14 October 2013 / Accepted: 15 October 2013 / Published: 18 November 2013
Abstract
We investigated the
HE4
variant-specific expression patterns in various normal tissues as well as in normal and malignant endometrial tissues. The relationships between mRNA variants and age, body weight, or survival are analyzed. ICAT-labeled normal and endometrial cancer (EC) tissues were analyzed with multidimensional liquid chromatography followed by tandem mass spectrometry. Levels of HE4 mRNA variants were measured by real-time PCR. Mean mRNA levels were compared among 16 normal endometrial samples, 14 grade 1 and 14 grade 3 endometrioid EC, 15 papillary serous EC, and 14 normal human tissue samples. The relationship between levels of
HE4
variants and EC patient characteristics was analyzed with the use of Pearson correlation test. We found that, although all five HE4 mRNA variants are detectable in normal tissue samples, their expression is highly tissue-specific, with epididymis, trachea, breast and endometrium containing the highest levels.
HE4
-V0, -V1, and -V3 are the most abundant variants in both normal and malignant tissues. All variants are significantly increased in both endometrioid and papillary serous EC, with higher levels observed in grade 3 endometrioid EC. In the EC group,
HE4
-V1, -V3, and -V4 levels inversely correlate with EC patient survival, whereas
HE4
-V0 levels positively correlate with age.
HE4
variants exhibit tissue-specific expression, suggesting that each variant may exert distinct functions in normal and malignant cells.
HE4
levels appear to correlate with EC patient survival in a variant-specific manner. When using HE4 as a biomarker for EC management, the effects of age should be considered.
View Full-Text
►

▼

Figures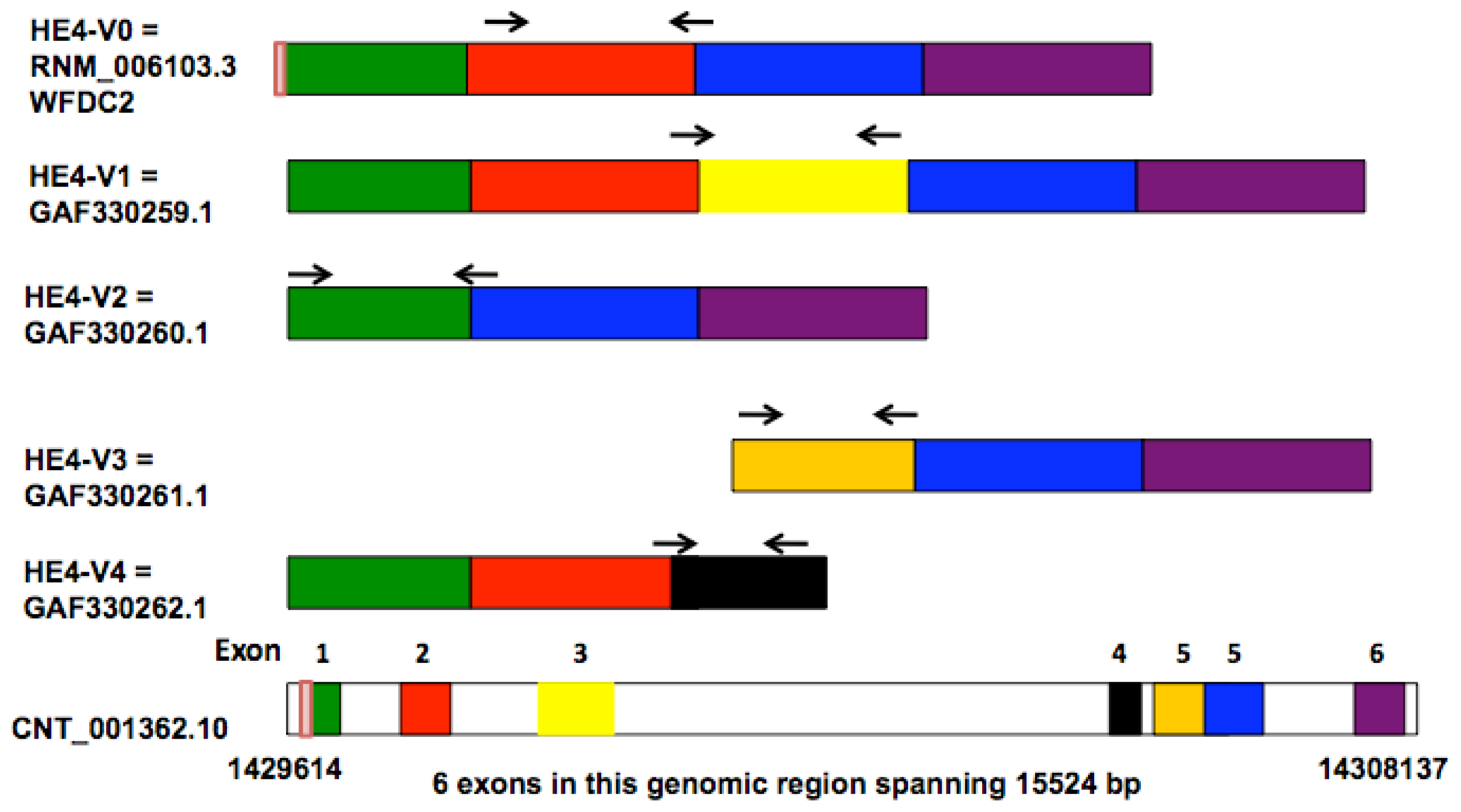 Share & Cite This Article
MDPI and ACS Style
Jiang, S.-W.; Chen, H.; Dowdy, S.; Fu, A.; Attewell, J.; Kalogera, E.; Drapkin, R.; Podratz, K.; Broaddus, R.; Li, J. HE4 Transcription- and Splice Variants-Specific Expression in Endometrial Cancer and Correlation with Patient Survival. Int. J. Mol. Sci. 2013, 14, 22655-22677.
Related Articles
Comments
[Return to top]