Comparative Analysis of the Symbiotic Efficiency of Medicago truncatula and Medicago sativa under Phosphorus Deficiency
1
Signaling Pathway Research Unit, Plant Science Center, RIKEN Yokohama Institute, 1-7-22, Suehiro-cho, Tsurumi, Yokohama 230-0045, Japan
2
Department of Agronomy, Faculty of Agriculture, University of Khartoum, Shambat, Khartoum North 13314, Sudan
3
Department of Crop Sciences, Section of Plant Nutrition, Georg-August-University of Göttingen, Carl-Sprengel-Weg 1, Göttingen 37075, Germany
*
Author to whom correspondence should be addressed.
Received: 28 January 2013 / Revised: 14 February 2013 / Accepted: 26 February 2013 / Published: 4 March 2013
Abstract
Phosphorus (P)-deficiency is a major abiotic stress that limits legume growth in many types of soils. The relationship between Medicago and Sinorhizobium, is known to be affected by different environmental conditions. Recent reports have shown that, in combination with S. meliloti 2011, Medicago truncatula had a lower symbiotic efficiency than Medicago sativa. However, little is known about how Medicago–Sinorhizobium is affected by P-deficiency at the whole-plant level. The objective of the present study was to compare and characterize the symbiotic efficiency of N2 fixation of M. truncatula and M. sativa grown in sand under P-limitation. Under this condition, M. truncatula exhibited a significantly higher rate of N2 fixation. The specific activity of the nodules was much higher in M. truncatula in comparison to M. sativa, partially as a result of an increase in electron allocation to N2 versus H+. Although the main organic acid, succinate, exhibited a strong tendency to decrease under P-deficiency, the more efficient symbiotic ability observed in M. truncatula coincided with an apparent increase in the content of malate in its nodules. Our results indicate that the higher efficiency of the M. truncatula symbiotic system is related to the ability to increase malate content under limited P-conditions.
View Full-Text
►

▼

Figures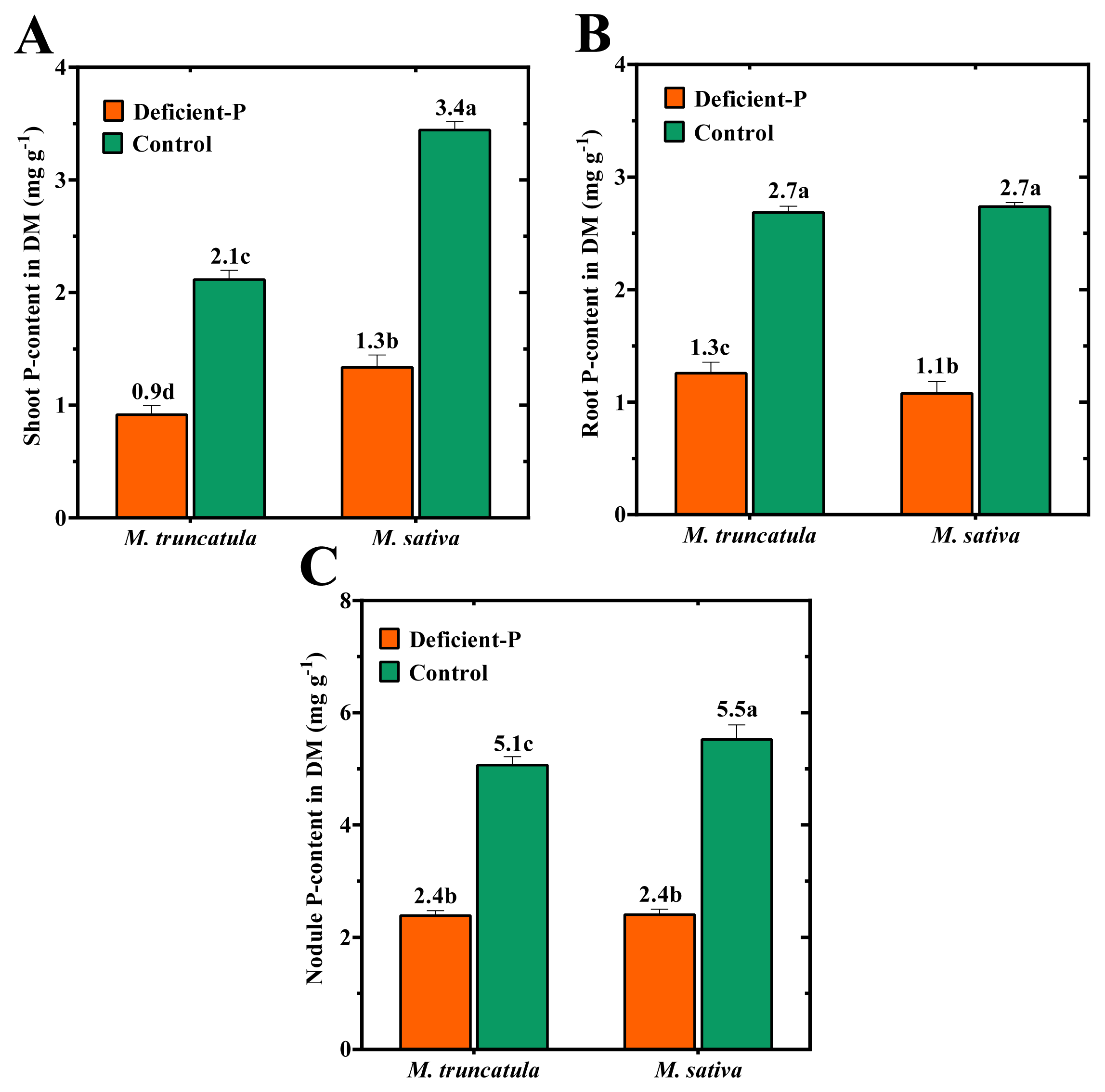 Share & Cite This Article
MDPI and ACS Style
Sulieman, S.; Schulze, J.; Tran, L.-S.P. Comparative Analysis of the Symbiotic Efficiency of Medicago truncatula and Medicago sativa under Phosphorus Deficiency. Int. J. Mol. Sci. 2013, 14, 5198-5213.
Related Articles
Comments
[Return to top]