Caffeic Acid Phenethyl Ester as a Potential Treatment for Advanced Prostate Cancer Targeting Akt Signaling
1
Institute of Cellular and System Medicine, National Health Research Institutes, Miaoli 35053, Taiwan
2
Translational Center for Glandular Malignancies, National Health Research Institutes, Miaoli 35053, Taiwan
3
National Institute of Cancer Research, National Health Research Institutes, Miaoli 35053, Taiwan
4
Division of Cardiology, Department of Internal Medicine, Mackay Memorial Hospital, Taipei City 10449, Taiwan
5
Mackay Medical College, New Taipei City 25245, Taiwan
6
Mackay Medicine, Nursing and Management College, New Taipei City 25245, Taiwan
7
Department of Life Sciences, National Central University, Taoyuan City 32001, Taiwan
8
Institute of Molecular and Cellular Biology, National Tsing Hua University, Hsinchu City 30013, Taiwan
9
Department of Urology, Mackay Memorial Hospital, Taipei City 10449, Taiwan
10
Department of Pathology, Mackay Memorial Hospital, Taipei City 10449, Taiwan
11
Graduate Program for Aging, China Medical University, Taichung City 40402, Taiwan
12
Ph.D. Program in Tissue Engineering and Regenerative Medicine, National Chung Hsing University, Taichung City 40227, Taiwan
†
These authors contributed equally to this work.
*
Author to whom correspondence should be addressed.
Received: 30 January 2013 / Revised: 19 February 2013 / Accepted: 28 February 2013 / Published: 6 March 2013
Abstract
Prostate cancer is the fifth most common cancer overall in the world. Androgen ablation therapy is the primary treatment for metastatic prostate cancer. However, most prostate cancer patients
receiving
the androgen ablation therapy ultimately develop recurrent castration-resistant tumors within 1–3 years after treatment. The median overall survival time is 1–2 years after tumor relapse. Chemotherapy shows little effect on prolonging survival for patients with metastatic hormone-refractory prostate cancer. More than 80% of prostate tumors acquire mutation or deletion of tumor suppressor phosphatase and tensin homolog (PTEN), a negative regulator of PI3K/Akt signaling, indicating that inhibition of PI3K/Akt might be a potential therapy for advanced prostate tumors. Caffeic acid phenethyl ester (CAPE) is a strong antioxidant extracted from honeybee hive propolis. CAPE is a well-known NF-κB inhibitor. CAPE has been used in folk medicine as a potent anti-inflammatory agent. Recent studies indicate that CAPE treatment suppresses tumor growth and Akt signaling in human prostate cancer cells. We discuss the potential of using CAPE as a treatment for patients with advanced prostate cancer targeting Akt signaling pathway in this review article.
View Full-Text
►

▼

Figures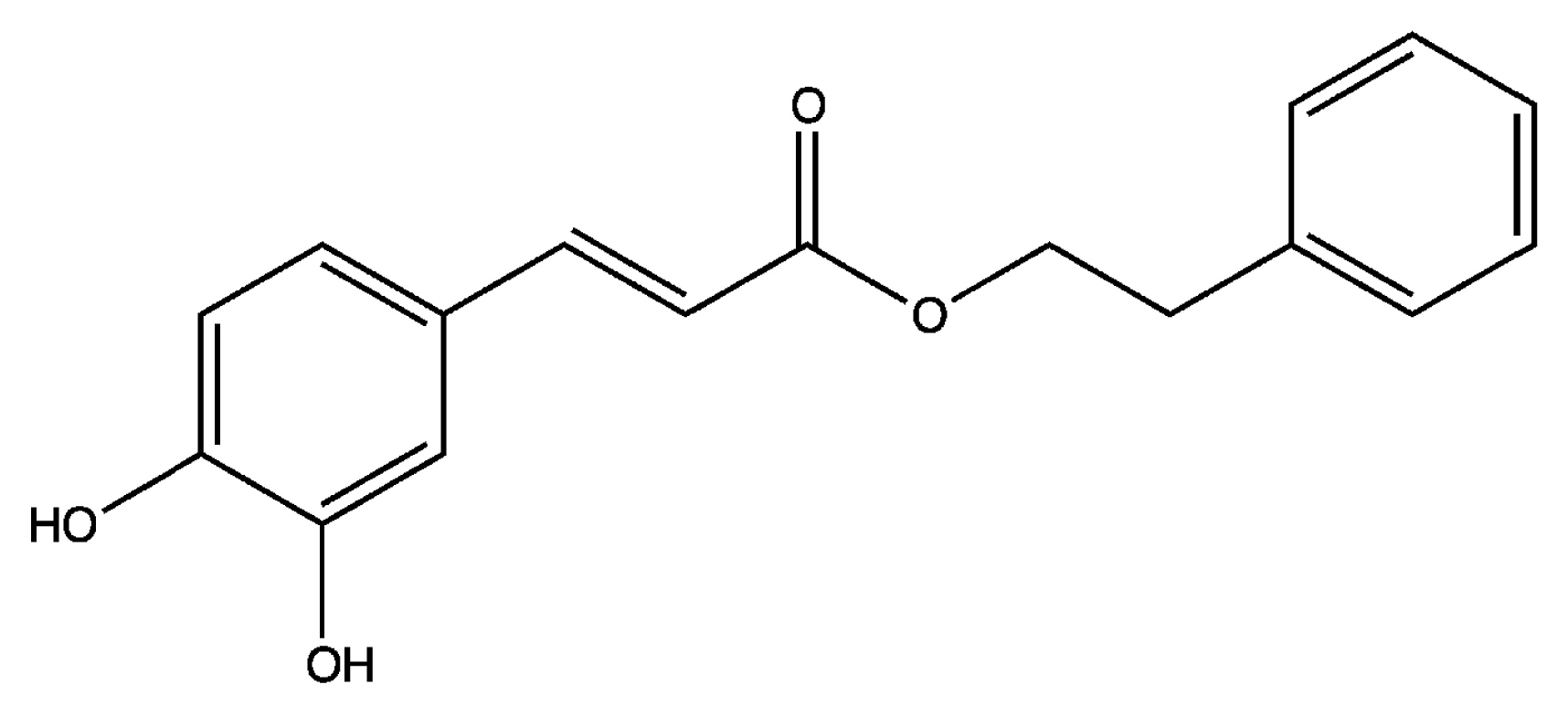 Share & Cite This Article
MDPI and ACS Style
Lin, H.-P.; Lin, C.-Y.; Liu, C.-C.; Su, L.-C.; Huo, C.; Kuo, Y.-Y.; Tseng, J.-C.; Hsu, J.-M.; Chen, C.-K.; Chuu, C.-P. Caffeic Acid Phenethyl Ester as a Potential Treatment for Advanced Prostate Cancer Targeting Akt Signaling. Int. J. Mol. Sci. 2013, 14, 5264-5283.
Related Articles
Comments
[Return to top]