Thermostable Mismatch-Recognizing Protein MutS Suppresses Nonspecific Amplification during Polymerase Chain Reaction (PCR)
1
RIKEN SPring-8 Center, Harima Institute, 1-1-1 Kouto, Sayo-cho, Sayo-gun, Hyogo 679-5148, Japan
2
Department of Biological Sciences, Graduate School of Science, Osaka University, 1-1, Machikaneyama-cho, Toyonaka, Osaka 560-0043, Japan
3
RIKEN Systems and Structural Biology Center, 1-7-22 Suehiro-cho, Tsurumi, Yokohama 230-0045, Japan
*
Author to whom correspondence should be addressed.
Received: 31 January 2013 / Revised: 28 February 2013 / Accepted: 11 March 2013 / Published: 21 March 2013
Abstract
Polymerase chain reaction (PCR)-related technologies are hampered mainly by two types of error: nonspecific amplification and DNA polymerase-generated mutations. Here, we report that both errors can be suppressed by the addition of a DNA mismatch-recognizing protein, MutS, from a thermophilic bacterium. Although it had been expected that MutS has a potential to suppress polymerase-generated mutations, we unexpectedly found that it also reduced nonspecific amplification. On the basis of this finding, we propose that MutS binds a mismatched primer-template complex, thereby preventing the approach of DNA polymerase to the 3' end of the primer. Our simple methodology improves the efficiency and accuracy of DNA amplification and should therefore benefit various PCR-based applications, ranging from basic biological research to applied medical science.
View Full-Text
►

▼

Figures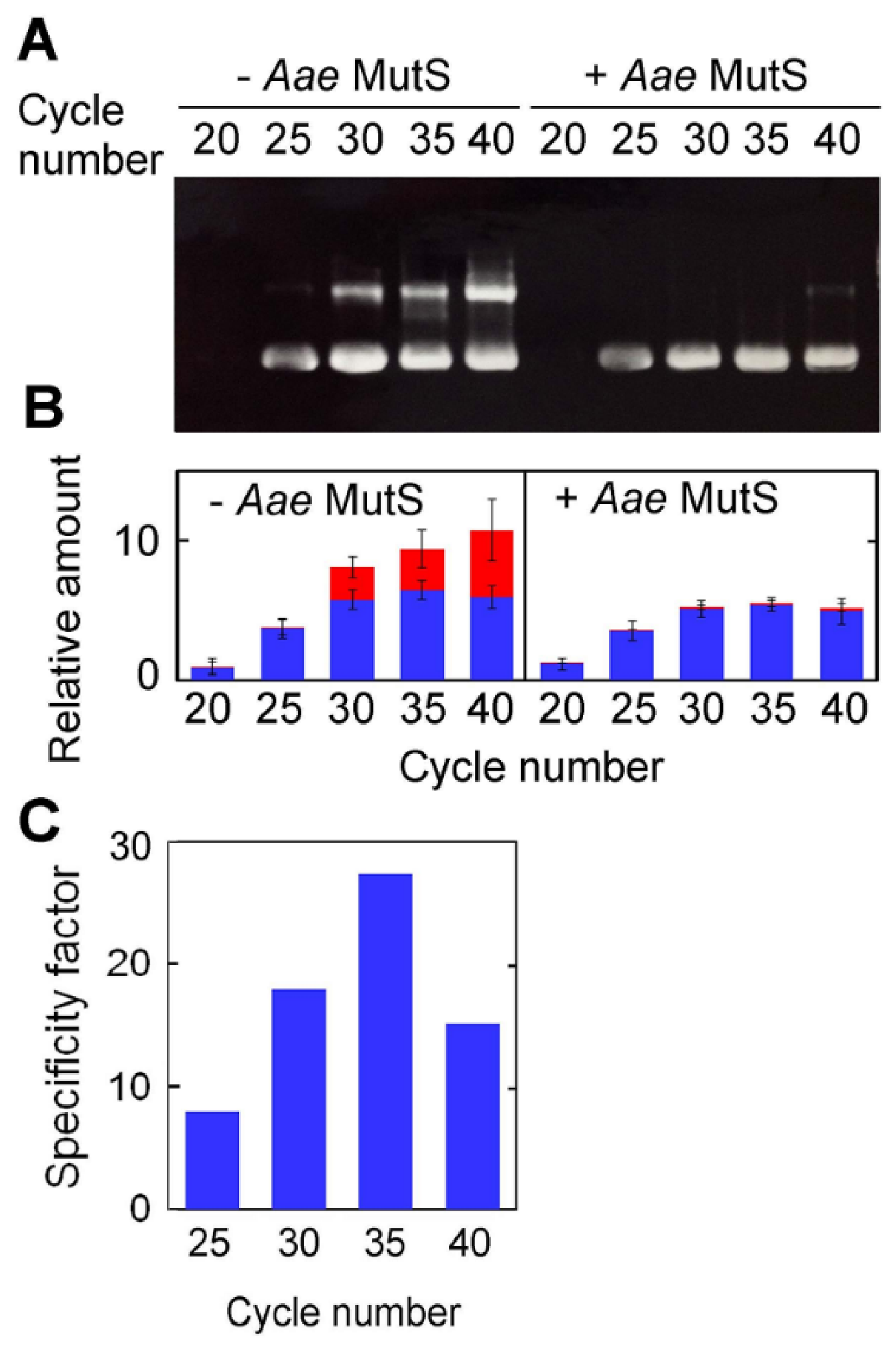 Share & Cite This Article
MDPI and ACS Style
Fukui, K.; Bessho, Y.; Shimada, A.; Yokoyama, S.; Kuramitsu, S. Thermostable Mismatch-Recognizing Protein MutS Suppresses Nonspecific Amplification during Polymerase Chain Reaction (PCR). Int. J. Mol. Sci. 2013, 14, 6436-6453.
Related Articles
Comments
[Return to top]