Auxin and Cytokinin Metabolism and Root Morphological Modifications in Arabidopsis thaliana Seedlings Infected with Cucumber mosaic virus (CMV) or Exposed to Cadmium
1
School of Agricultural, Forestry, Food and Environmental Sciences, University of Basilicata, Viale dell'Ateneo Lucano 10, I-85100 Potenza, Italy
2
Environmental Biology Centre for Environmental Sciences, Hasselt University, Agoralaan, building D, B-3590 Diepenbeek, Belgium
*
Author to whom correspondence should be addressed.
Received: 15 February 2013 / Revised: 15 March 2013 / Accepted: 20 March 2013 / Published: 26 March 2013
Abstract
Arabidopsis thaliana
L. is a model plant but little information is available about morphological root changes as part of a phytohormonal common response against both biotic and abiotic stressors. For this purpose, two-week-old Arabidopsis seedlings were treated with 10 µM CdSO
4
or infected with CMV. After 12 days the entire aerial parts and the root system were analyzed, and the presence of CMV or the accumulation of Cd were detected. Microscopic analysis revealed that both CMV and Cd influenced root morphology by a marked development in the length of root hairs and an intense root branching if compared to controls. Among the three treatments, Cd-treated seedlings showed a shorter root axis length and doubled their lateral root diameter, while the lateral roots of CMV-infected seedlings were the longest. The root growth patterns were accompanied by significant changes in the levels of indole-3-acetic acid,
trans
-zeatin riboside, dihydrozeatin riboside, as a probable consequence of the regulation of some genes involved in their biosynthesis/degradation. The opposite role on root development played by the phythormones studied is discussed in detail. The results obtained could provide insights into novel strategies for plant defense against pathogens and plant protection against pollutants.
View Full-Text
►

▼

Figures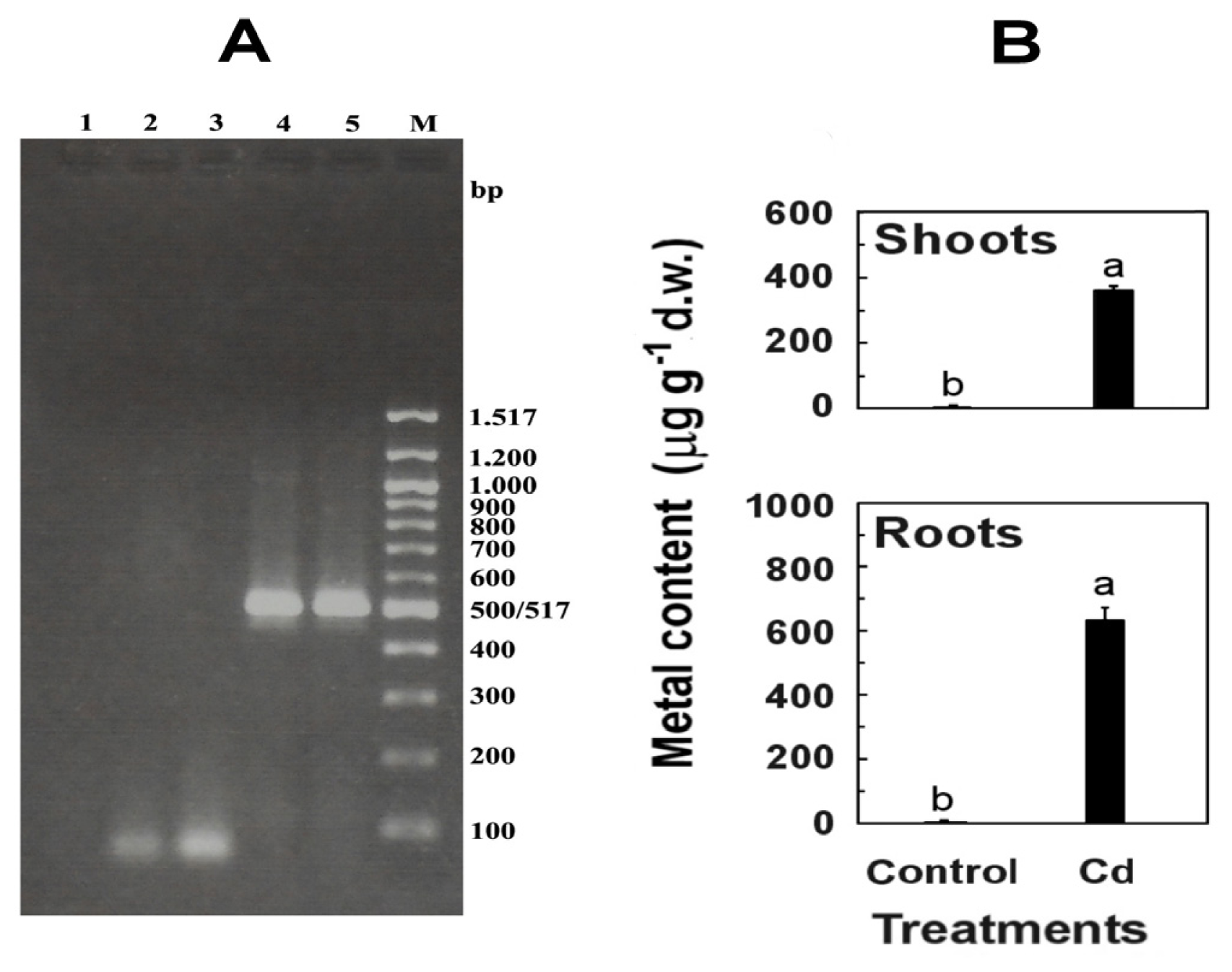 Share & Cite This Article
MDPI and ACS Style
Vitti, A.; Nuzzaci, M.; Scopa, A.; Tataranni, G.; Remans, T.; Vangronsveld, J.; Sofo, A. Auxin and Cytokinin Metabolism and Root Morphological Modifications in Arabidopsis thaliana Seedlings Infected with Cucumber mosaic virus (CMV) or Exposed to Cadmium. Int. J. Mol. Sci. 2013, 14, 6889-6902.
Related Articles
Comments
[Return to top]