Melatonin Inhibits GnRH-1, GnRH-3 and GnRH Receptor Expression in the Brain of the European Sea Bass, Dicentrarchus labrax
1
Department of Biology, Faculty of Marine and Environmental Sciences, University of Cadiz, Marine International Campus of Excellence (CEI·MAR), University Campus of Puerto Real, Puerto Real E-11510, Spain
2
Andalusian Center of Marine Sciences and Technologies (CACYTMAR), Research Institutes, University Campus of Puerto Real, Puerto Real E-11510, Spain
†
Present address: Department of Marine Biotechnology and Institute of Marine and Environmental Technology, University of Maryland Baltimore County, Baltimore, MD 21202, USA;
*
Author to whom correspondence should be addressed.
Received: 11 March 2013 / Revised: 24 March 2013 / Accepted: 26 March 2013 / Published: 8 April 2013
Abstract
Several evidences supported the existence of melatonin effects on reproductive system in fish. In order to investigate whether melatonin is involved in the modulation of GnRH systems in the European sea bass, we have injected melatonin (0.5 µg/g body mass) in male specimens. The brain mRNA transcript levels of the three GnRH forms and the five GnRH receptors present in this species were determined by real time quantitative PCR. Our findings revealed day–night variations in the brain expression of GnRH-1, GnRH-3 and several GnRH receptors (dlGnRHR-II-1c, -2a), which exhibited higher transcript levels at mid-light compared to mid-dark phase of the photocycle. Moreover, an inhibitory effect of melatonin on the nocturnal expression of GnRH-1, GnRH-3, and GnRH receptors subtypes 1c, 2a and 2b was also demonstrated. Interestingly, the inhibitory effect of melatonin affected the expression of hypophysiotrophic GnRH forms and GnRH receptors that exhibit day–night fluctuations, suggesting that exogenous melatonin reinforce physiological mechanisms already established. These interactions between melatoninergic and GnRH systems could be mediating photoperiod effects on reproductive and other rhythmic physiological events in the European sea bass.
View Full-Text
►

▼

Figures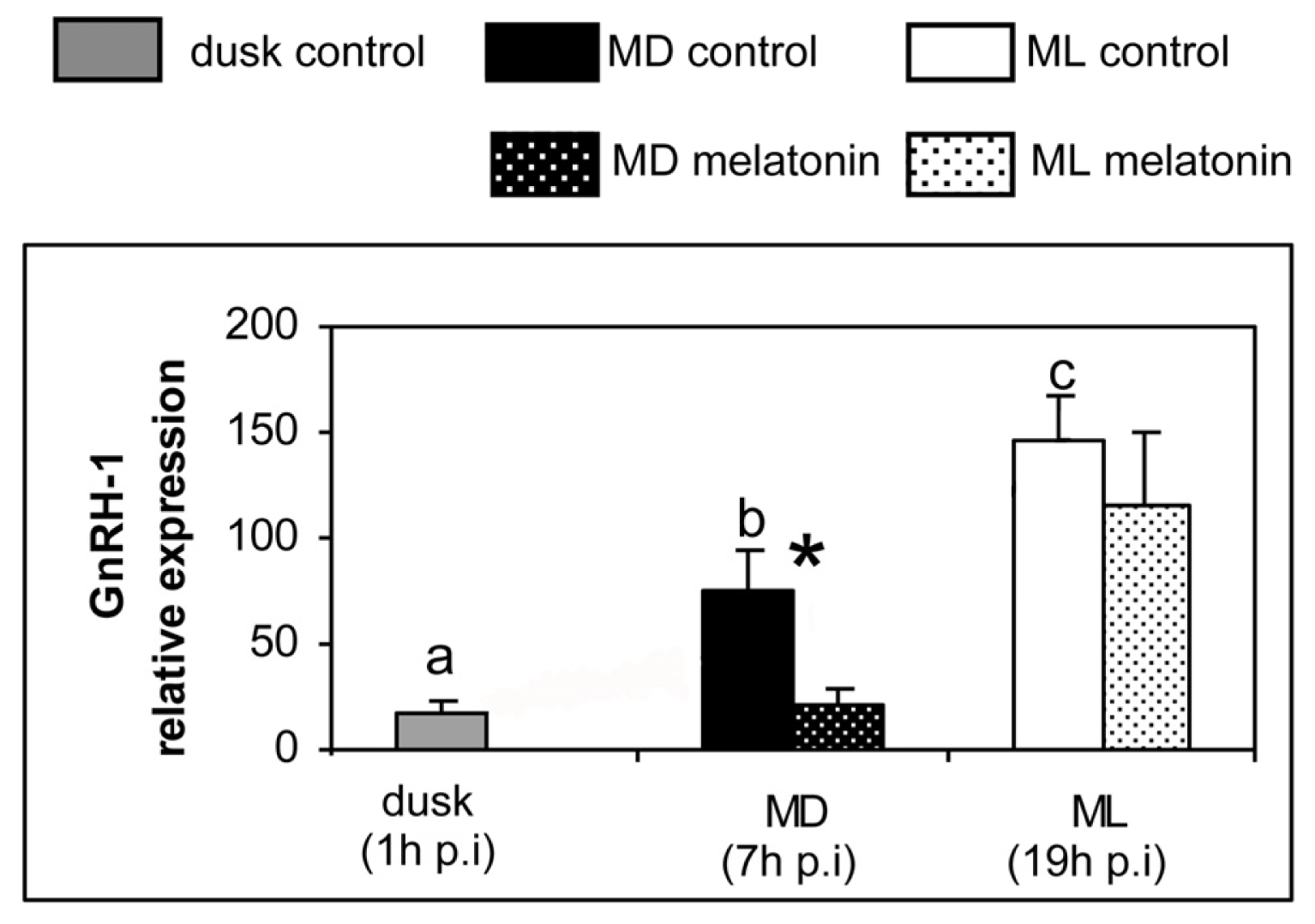 Share & Cite This Article
MDPI and ACS Style
Servili, A.; Herrera-Pérez, P.; del Carmen Rendón, M.; Muñoz-Cueto, J.A. Melatonin Inhibits GnRH-1, GnRH-3 and GnRH Receptor Expression in the Brain of the European Sea Bass, Dicentrarchus labrax. Int. J. Mol. Sci. 2013, 14, 7603-7616.
Related Articles
Comments
[Return to top]