Two Common Bean Genotypes with Contrasting Response to Phosphorus Deficiency Show Variations in the microRNA 399-Mediated PvPHO2 Regulation within the PvPHR1 Signaling Pathway
1
Centro de Ciencias Genómicas, Universidad Nacional Autónoma de México (UNAM), Av. Universidad 1001, Cuernavaca 62210, Morelos, Mexico
2
Departamento de Biología Molecular de Plantas, Instituto de Biotecnología, UNAM, Av. Universidad 2001, Cuernavaca 62210, Morelos, Mexico
3
Institut National de la Recherche Agronomique, UMR Eco&Sols-Ecologie Fonctionnelle & Biogéochimie des Sols & Agroécosystèmes, 2 Place Viala, Montpellier F34060, France
*
Author to whom correspondence should be addressed.
Received: 20 February 2013 / Revised: 2 April 2013 / Accepted: 2 April 2013 / Published: 16 April 2013
Abstract
Crop production of the important legume, the common bean (
Phaseolus vulgaris
), is often limited by low phosphorus (P) in the soil. The genotypes, BAT477 and DOR364, of the common bean have contrasting responses to P starvation. Plants from the BAT477 P deficiency tolerant genotype showed higher phosphate content and root biomass as compared to the DOR364 plants under P starvation. The PvPHR1 transcription factor-signaling pathway plays an essential role in the response to P starvation.
PvPHO2
, a
negative regulator of this pathway, encodes an ubiquitin E2 conjugase that promotes degradation of P-responsive proteins and is the target gene of PvmiR399.
PvPHO2
is downregulated in BAT477 plants under P deficiency, while such a response is not observed in P-starved DOR364 plants. Five putative PvmiR399 binding sites were identified in the 5' UTR region in both genotypes. While four sites showed an identical DNA sequence, the fifth (binding site of
PvPHO2
one) showed three base changes and higher complementarity scores in DOR364 as compared to BAT477. Modified 5'RACE experiments indicated that PvmiR399 binding and/or processing was affected in DOR364 P-starved plants. We propose that a less efficient cleavage of the
PvPHO2
mRNA directed by PvmiR399 would result in a higher PvPHO2-mediated degradation of P-responsive proteins in the DOR364 genotype with decreased P deficiency tolerance.
View Full-Text
►

▼

Figures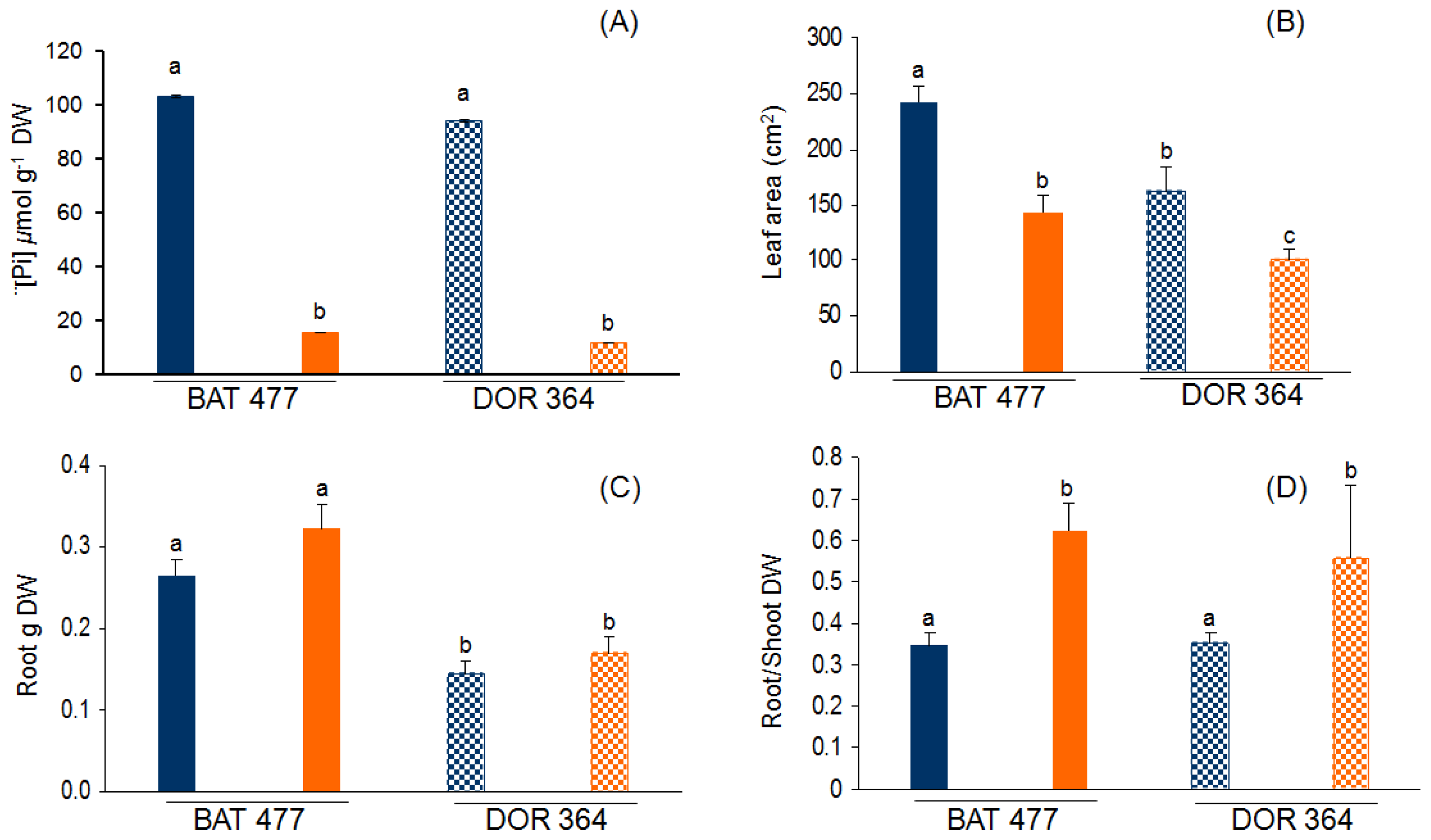 Share & Cite This Article
MDPI and ACS Style
Ramírez, M.; Flores-Pacheco, G.; Reyes, J.L.; Luz Alvarez, A.; Drevon, J.J.; Girard, L.; Hernández, G. Two Common Bean Genotypes with Contrasting Response to Phosphorus Deficiency Show Variations in the microRNA 399-Mediated PvPHO2 Regulation within the PvPHR1 Signaling Pathway. Int. J. Mol. Sci. 2013, 14, 8328-8344.
Related Articles
Comments
[Return to top]