MiR199b Suppresses Expression of Hypoxia-Inducible Factor 1α (HIF-1α) in Prostate Cancer Cells
1
Laboratory of Pathology, State Key Laboratory of Biotherapy and Department of Pathology, West China Hospital, West China Medical School, Sichuan University, Chengdu 610041, China
2
Department of Urology, West China Hospital, Sichuan University, Chengdu 610041, China
*
Author to whom correspondence should be addressed.
Received: 17 February 2013 / Revised: 8 April 2013 / Accepted: 10 April 2013 / Published: 17 April 2013
Abstract
MicroRNAs (miRNAs) are a class of small noncoding RNAs that post-transcriptionally repress expression of target genes
via
imperfect base-pairing with the 3'-untranslated region (3'-UTR). The transcription factor hypoxia-inducible factor-1α (HIF-1α) plays important roles in physiology and pathology. Constitutive over-expression of HIF-1α is observed in many types of cancers including prostate carcinoma, but the mechanisms underlying this event remain largely unknown. Here we investigated the expression of miR199b and HIF-1α in normal prostate tissue, prostate cancer tissues and prostate carcinoma (PCa) cell lines LNCaP, PC-3 and DU145.We found that miR-199b expression level was decreased in prostate cancer while HIF-1α was significantly over-expressed. Furthermore, we postulated the posttranscriptional regulation of HIF-1α by miR199b through bioinformatics analysis, and herein we experimentally demonstrated that miR199b negatively regulated HIF-1α by targeting its 3'-untranslated region. Artificial over-expression of miR199b by using adenoviral vectors in prostate cancer PC-3 and DU145 cells significantly down-regulated HIF-1α, together with reduced cell growth and increased cell death.
View Full-Text
►

▼

Figures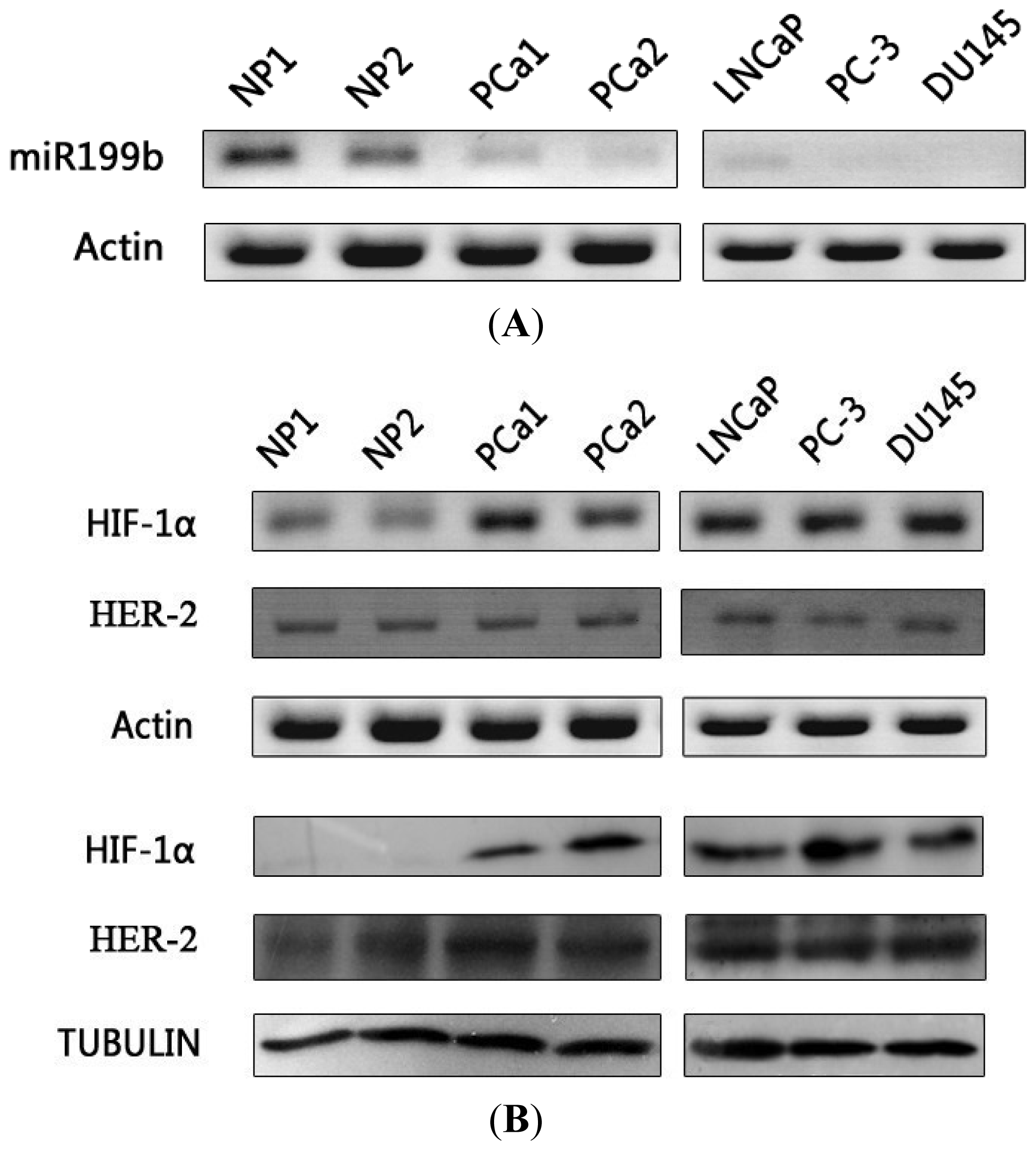 Share & Cite This Article
MDPI and ACS Style
Shang, W.; Chen, X.; Nie, L.; Xu, M.; Chen, N.; Zeng, H.; Zhou, Q. MiR199b Suppresses Expression of Hypoxia-Inducible Factor 1α (HIF-1α) in Prostate Cancer Cells. Int. J. Mol. Sci. 2013, 14, 8422-8436.
Related Articles
Comments
[Return to top]