Antibacterial Activity of the Alkaloid-Enriched Extract from Prosopis juliflora Pods and Its Influence on in Vitro Ruminal Digestion
1
Department of Instrumental and Basic Studies, State University of Southeast of Bahia, BR 415, Km 03, s/n, 45.700-000 Itapetinga, Bahia, Brazil
2
Department of Exact and Earth Sciences, University of Bahia, Rua Silveira Martins, 2555, Cabula, 41150-000 Salvador, Bahia, Brazil
3
Chemistry Institute, Federal University of Bahia, Rua Barão de Geremoabo, s/n, Ondina, 40170-290 Salvador, Bahia, Brazil
4
Chemistry and Biotechnology Institute, Federal University of Alagoas, Cidade Universitária, BR 101, Km 14, Norte Tabuleiro dos Martins, 57072-970 Maceió, Alagoas, Brazil
5
Chemistry Department, Federal University of Minas Gerais, Av. Pres. Antônio Carlos, 6627, Campus Pampulha, 31270-901, Belo Horizonte, MG, Brazil
6
Department of Fundamental Chemistry, Chemistry Institute, University of São Paulo, 05508-000 São Paulo-SP, Brazil
7
Department of Plant and Animal Science, State University of Southeast of Bahia, Estrada do Bem Querer, Km 04, s/n, 45.083-900 Vitória da Conquista, Bahia, Brazil
8
Department of Exact and Technological Sciences, State University of Santa Cruz, Rodovia Ilhéus/Itabuna, Km 16, Salobrinho, 45662-900 Ilhéus, Bahia, Brazil
*
Author to whom correspondence should be addressed.
Received: 8 October 2012 / Revised: 17 January 2013 / Accepted: 20 March 2013 / Published: 17 April 2013
Abstract
The purpose of this study was to assess the
in vitro
antimicrobial activity of alkaloid-enriched extracts from
Prosopis juliflora
(Fabaceae) pods in order to evaluate them as feed additives for ruminants. As only the basic chloroformic extract (BCE), whose main constituents were juliprosopine (juliflorine), prosoflorine and juliprosine, showed Gram-positive antibacterial activity against
Micrococcus luteus
(MIC = 25 μg/mL),
Staphylococcus aureus
(MIC = 50 μg/mL) and
Streptococcus mutans
(MIC = 50 μg/mL), its influence on ruminal digestion was evaluated using a semi-automated
in vitro
gas production technique, with monensin as the positive control. Results showed that BCE has decreased gas production as efficiently as monensin after 36 h of fermentation, revealing its positive influence on gas production during ruminal digestion. Since
P. juliflora
is a very affordable plant, this study points out this alkaloid enriched extract from the pods of
Prosopis juliflora
as a potential feed additive to decrease gas production during ruminal digestion.
View Full-Text
►

▼

Figures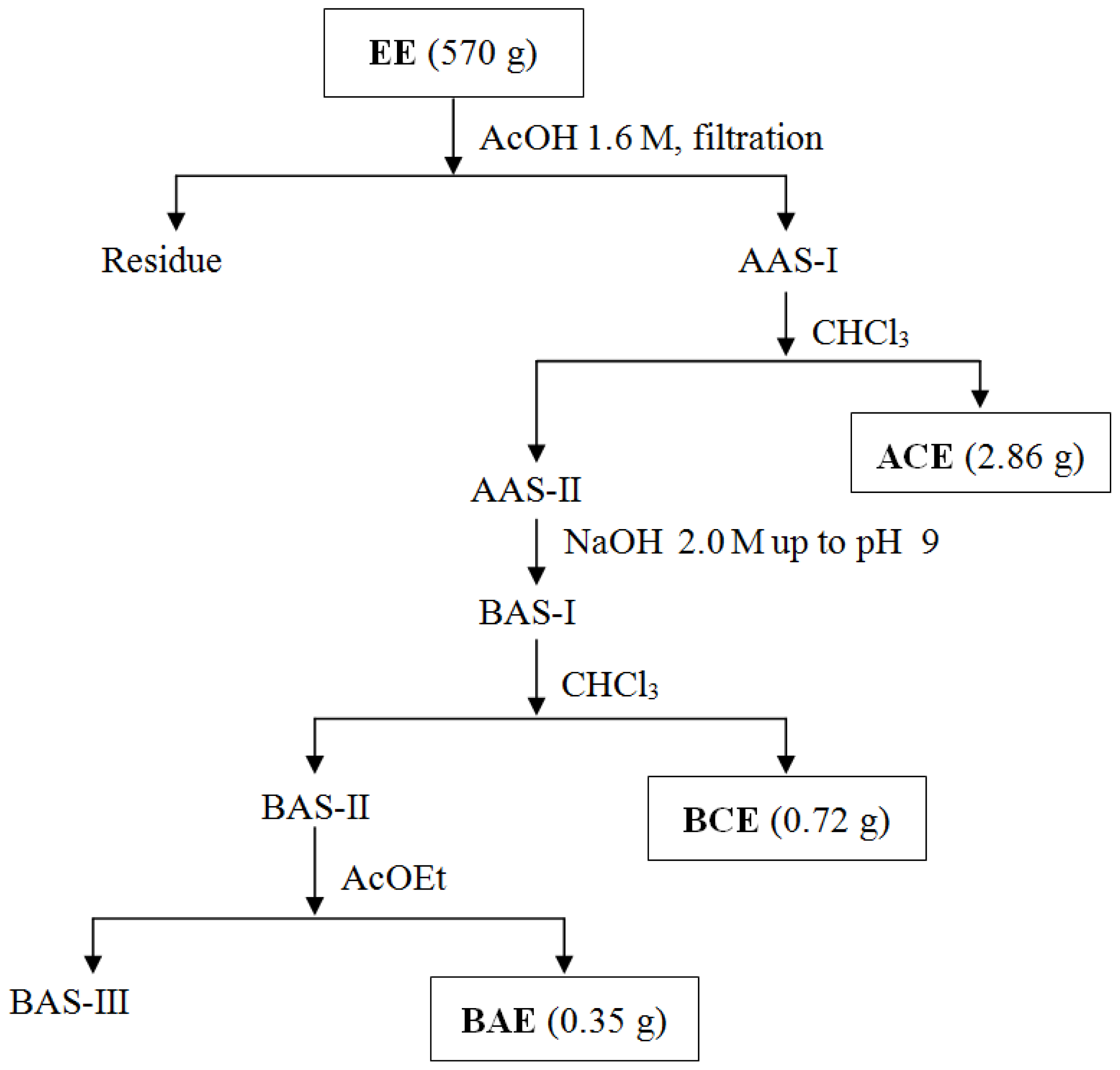 Share & Cite This Article
MDPI and ACS Style
dos Santos, E.T.; Pereira, M.L.A.; da Silva, C.F.P.; Souza-Neta, L.C.; Geris, R.; Martins, D.; Santana, A.E.G.; Barbosa, L.C.A.; Silva, H.G.O.; Freitas, G.C.; Figueiredo, M.P.; de Oliveira, F.F.; Batista, R. Antibacterial Activity of the Alkaloid-Enriched Extract from Prosopis juliflora Pods and Its Influence on in Vitro Ruminal Digestion. Int. J. Mol. Sci. 2013, 14, 8496-8516.
Related Articles
Comments
[Return to top]