Antioxidant Systems from Pepper (Capsicum annuum L.): Involvement in the Response to Temperature Changes in Ripe Fruits
1
Department of Biochemistry, Cell and Molecular Biology of Plants, Estación Experimental del Zaidín, CSIC, Apartado 419, Granada E-18080, Spain
2
Department of Stress Biology and Plant Pathology, Centro de Edafología y Biología Aplicada del Segura, CSIC, Apartado 164, Murcia E-30100, Spain
3
Syngenta Seeds, S.A., El Ejido E-04710, Almería, Spain
4
Estación Experimental del Zaidín, CSIC, Apartado 419, Granada E-18080, Spain
†
Present address: Research Unit, Hospital Universitario Puerta del Mar, Cádiz, Spain
*
Author to whom correspondence should be addressed.
Received: 21 February 2013 / Revised: 18 April 2013 / Accepted: 23 April 2013 / Published: 2 May 2013
Abstract
Sweet pepper is susceptible to changes in the environmental conditions, especially temperatures below 15 °C. In this work, two sets of pepper fruits (
Capsicum annuum
L.) which underwent distinct temperature profiles
in planta
were investigated. Accordingly, two harvesting times corresponding to each set were established: Harvest 1, whose fruits developed and ripened at 14.9 °C as average temperature; and Harvest 2, with average temperature of 12.4 °C. The oxidative metabolism was analyzed in all fruits. Although total ascorbate content did not vary between Harvests, a shift from the reduced to the oxidized form (dehydroascorbate), accompanied by a higher ascorbate peroxidase activity, was observed in Harvest 2 with respect to Harvest 1. Moreover, a decrease of the ascorbate-generating enzymatic system, the γ-galactono-lactone dehydrogenase, was found at Harvest 2. The activity values of the NADP-dependent dehydrogenases analyzed seem to indicate that a lower NADPH synthesis may occur in fruits which underwent lower temperature conditions. In spite of the important changes observed in the oxidative metabolism in fruits subjected to lower temperature, no oxidative stress appears to occur, as indicated by the lipid peroxidation and protein oxidation profiles. Thus, the antioxidative systems of pepper fruits seem to be involved in the response against temperature changes.
View Full-Text
►

▼

Figures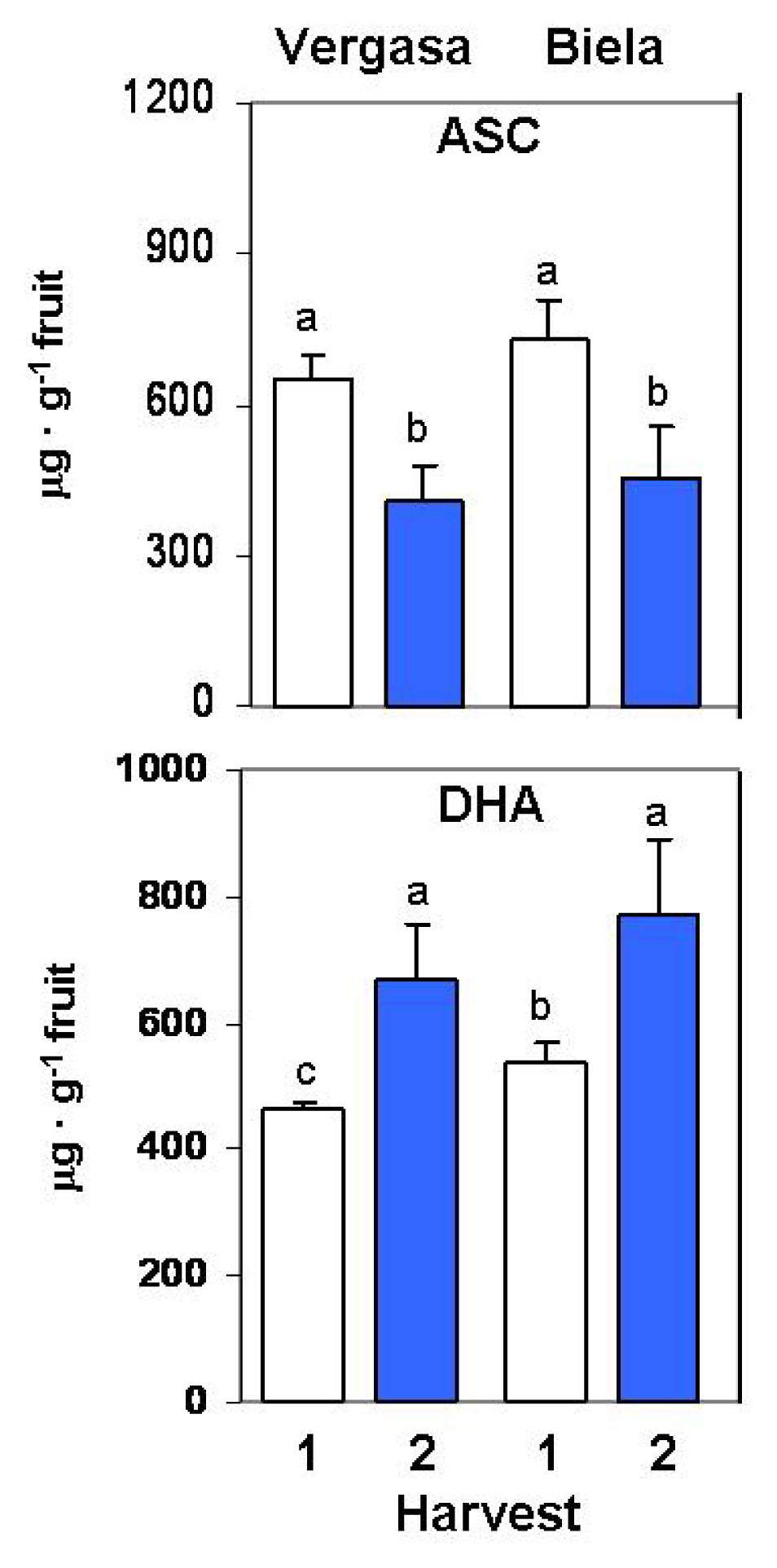 Share & Cite This Article
MDPI and ACS Style
Mateos, R.M.; Jiménez, A.; Román, P.; Romojaro, F.; Bacarizo, S.; Leterrier, M.; Gómez, M.; Sevilla, F.; del Río, L.A.; Corpas, F.J.; Palma, J.M. Antioxidant Systems from Pepper (Capsicum annuum L.): Involvement in the Response to Temperature Changes in Ripe Fruits. Int. J. Mol. Sci. 2013, 14, 9556-9580.
Related Articles
Comments
[Return to top]