Characterization of a Gene Encoding Clathrin Heavy Chain in Maize Up-Regulated by Salicylic Acid, Abscisic Acid and High Boron Supply
College of Life Sciences, Zhongkai University of Agriculture and Engineering, Guangzhou 510225, China
†
These authors contributed equally to this work.
*
Authors to whom correspondence should be addressed.
Received: 16 May 2013 / Revised: 1 July 2013 / Accepted: 16 July 2013 / Published: 22 July 2013
Abstract
Clathrin, a three-legged triskelion composed of three clathrin heavy chains (CHCs) and three light chains (CLCs), plays a critical role in clathrin-mediated endocytosis (CME) in eukaryotic cells. In this study, the genes
ZmCHC1
and
ZmCHC2
encoding clathrin heavy chain in maize were cloned and characterized for the first time in monocots.
ZmCHC1
encodes a 1693-amino acid-protein including 29 exons and 28 introns, and
ZmCHC2
encodes a 1746-amino acid-protein including 28 exons and 27 introns. The high similarities of gene structure, protein sequences and 3D models among
ZmCHC1
, and Arabidopsis
AtCHC1
and
AtCHC2
suggest their similar functions in CME.
ZmCHC1
gene is predominantly expressed in maize roots instead of ubiquitous expression of
ZmCHC2
. Consistent with a typical predicted salicylic acid (SA)-responsive element and four predicted ABA-responsive elements (ABREs) in the promoter sequence of
ZmCHC1
, the expression of
ZmCHC1
instead of
ZmCHC2
in maize roots is significantly up-regulated by SA or ABA, suggesting that
ZmCHC1
gene may be involved in the SA signaling pathway in maize defense responses. The expressions of
ZmCHC1
and
ZmCHC2
genes in maize are down-regulated by azide or cold treatment, further revealing the energy requirement of CME and suggesting that CME in plants is sensitive to low temperatures.
View Full-Text
►

▼

Figures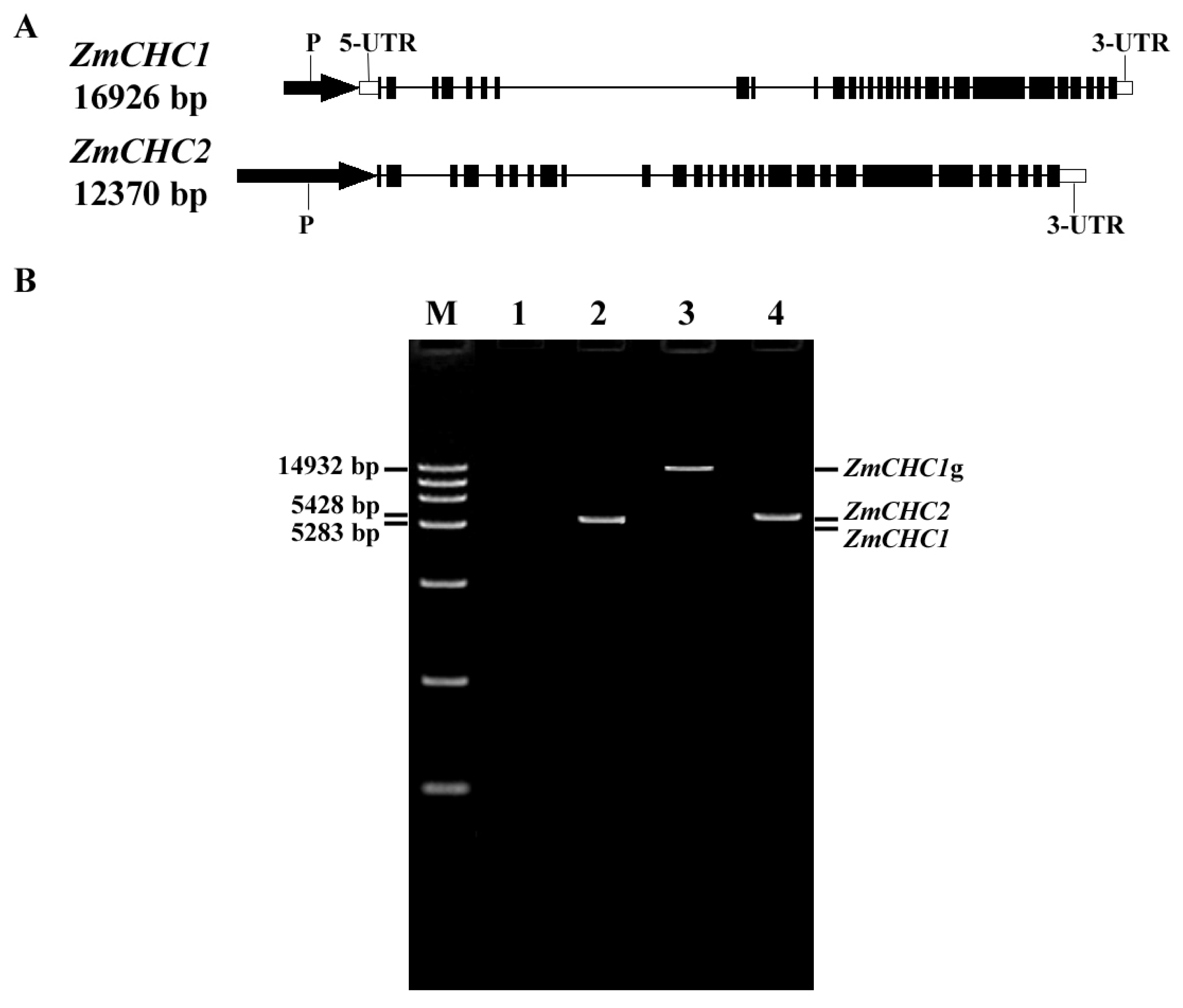 Share & Cite This Article
MDPI and ACS Style
Zeng, M.-H.; Liu, S.-H.; Yang, M.-X.; Zhang, Y.-J.; Liang, J.-Y.; Wan, X.-R.; Liang, H. Characterization of a Gene Encoding Clathrin Heavy Chain in Maize Up-Regulated by Salicylic Acid, Abscisic Acid and High Boron Supply. Int. J. Mol. Sci. 2013, 14, 15179-15198.
Related Articles
Comments
[Return to top]