Apigenin Protects Endothelial Cells from Lipopolysaccharide (LPS)-Induced Inflammation by Decreasing Caspase-3 Activation and Modulating Mitochondrial Function
1
Department of Molecular Genetics, the Ohio State University, 484 West 12th Avenue, Columbus, OH 43210, USA
2
Department of Internal Medicine, Division of Pulmonary, Allergy, Critical Care and Sleep, the Ohio State University, 473 West 12th Avenue, Columbus, OH 43210, USA
3
The Heart and Lung Research Institute, the Ohio State University, 473 West 12th Avenue, Columbus, OH 43210, USA
4
Molecular, Cellular and Development Biology Graduate Program, the Ohio State University, 333 West 10th Avenue, Columbus, OH 43210, USA
5
Department of Biological Sciences, Government Postgraduate College of Excellence, Vikram University, Dashehra Maidan, Ujjain 456010, MP, India
6
Department of Molecular and Cellular Biochemistry, the Ohio State University, 1645 Neil Avenue, Columbus, OH 43210, USA
†
These authors contributed equally to this work.
*
Author to whom correspondence should be addressed.
Received: 14 June 2013 / Revised: 30 July 2013 / Accepted: 16 August 2013 / Published: 28 August 2013
Abstract
Acute and chronic inflammation is characterized by increased reactive oxygen species (ROS) production, dysregulation of mitochondrial metabolism and abnormal immune function contributing to cardiovascular diseases and sepsis. Clinical and epidemiological studies suggest potential beneficial effects of dietary interventions in inflammatory diseases but understanding of how nutrients work remains insufficient. In the present study, we evaluated the effects of apigenin, an anti-inflammatory flavonoid abundantly found in our diet, in endothelial cells during inflammation. Here, we show that apigenin reduced lipopolysaccharide (LPS)-induced apoptosis by decreasing ROS production and the activity of caspase-3 in endothelial cells. Apigenin conferred protection against LPS-induced mitochondrial dysfunction and reestablished normal mitochondrial complex I activity, a major site of electron leakage and superoxide production, suggesting its ability to modulate endothelial cell metabolic function during inflammation. Collectively, these findings indicate that the dietary compound apigenin stabilizes mitochondrial function during inflammation preventing endothelial cell damage and thus provide new translational opportunities for the use of dietary components in the prevention and treatment of inflammatory diseases.
View Full-Text
►

▼

Figures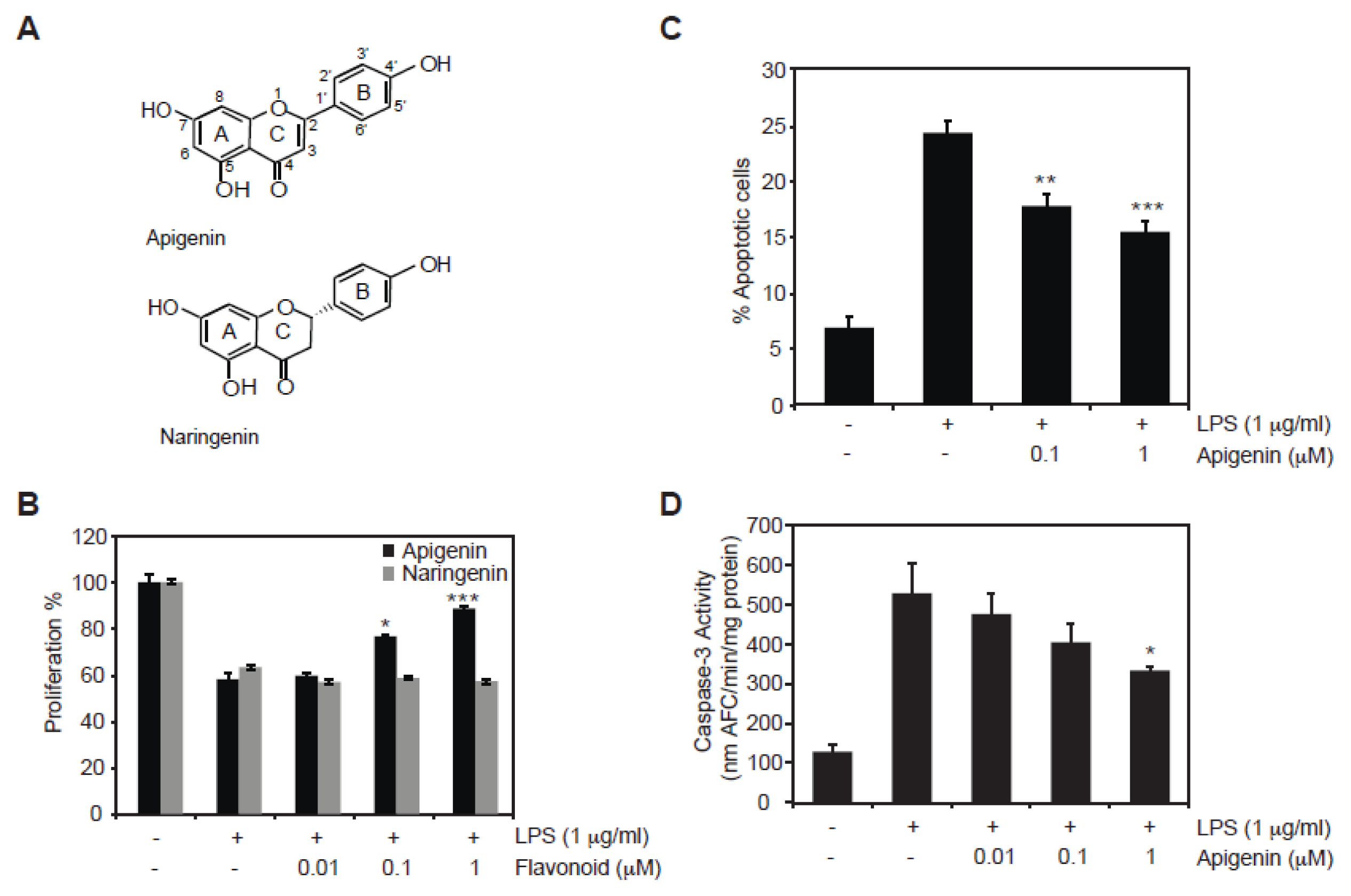 Share & Cite This Article
MDPI and ACS Style
Duarte, S.; Arango, D.; Parihar, A.; Hamel, P.; Yasmeen, R.; Doseff, A.I. Apigenin Protects Endothelial Cells from Lipopolysaccharide (LPS)-Induced Inflammation by Decreasing Caspase-3 Activation and Modulating Mitochondrial Function. Int. J. Mol. Sci. 2013, 14, 17664-17679.
Related Articles
Comments
[Return to top]