Cinnamomum cassia Essential Oil Inhibits α-MSH-Induced Melanin Production and Oxidative Stress in Murine B16 Melanoma Cells
1
Department of Food and Nutrition, Providence University, 200, Sec. 7, Taiwan Boulevard, Shalu Dist., Taichung City 43301, Taiwan
2
Department of Cosmetic Science, Providence University, 200, Sec. 7, Taiwan Boulevard, Shalu Dist., Taichung City 43301, Taiwan
3
Department of Applied Chemistry, Providence University, 200, Sec. 7, Taiwan Boulevard, Shalu Dist., Taichung City 43301, Taiwan
4
Department of Education and Research, Taichung Veterans General Hospital, 1650, Sec. 4, Taiwan Boulevard, Taichung City 40705, Taiwan
*
Author to whom correspondence should be addressed.
Received: 29 July 2013 / Revised: 28 August 2013 / Accepted: 29 August 2013 / Published: 18 September 2013
Abstract
Essential oils extracted from aromatic plants exhibit important biological activities and have become increasingly important for the development of aromatherapy for complementary and alternative medicine. The essential oil extracted from
Cinnamomum cassia
Presl (CC-EO) has various functional properties; however, little information is available regarding its anti-tyrosinase and anti-melanogenic activities. In this study, 16 compounds in the CC-EO have been identified; the major components of this oil are
cis
-2-methoxycinnamic acid (43.06%) and cinnamaldehyde (42.37%). CC-EO and cinnamaldehyde exhibited anti-tyrosinase activities; however,
cis
-2-methoxycinnamic acid did not demonstrate tyrosinase inhibitory activity. In murine B16 melanoma cells stimulated with α-melanocyte-stimulating hormone (α-MSH), CC-EO and cinnamaldehyde not only reduced the melanin content and tyrosinase activity of the cells but also down-regulated tyrosinase expression without exhibiting cytotoxicity. Moreover, CC-EO and cinnamaldehyde decreased thiobarbituric acid-reactive substance (TBARS) levels and restored glutathione (GSH) and catalase activity in the α-MSH-stimulated B16 cells. These results demonstrate that CC-EO and its major component, cinnamaldehyde, possess potent anti-tyrosinase and anti-melanogenic activities that are coupled with antioxidant properties. Therefore, CC-EO may be a good source of skin-whitening agents and may have potential as an antioxidant in the future development of complementary and alternative medicine-based aromatherapy.
View Full-Text
►

▼

Figures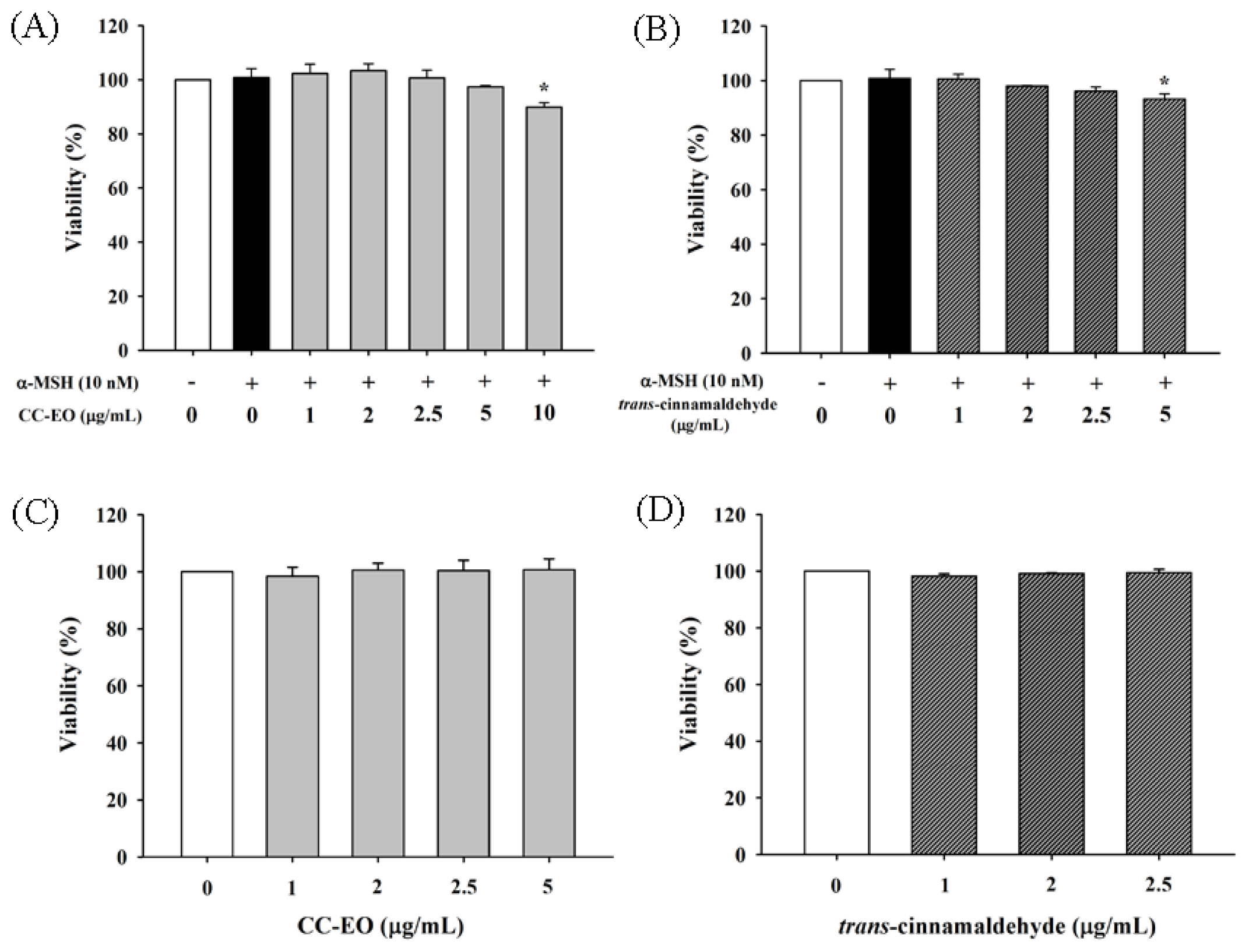 Share & Cite This Article
MDPI and ACS Style
Chou, S.-T.; Chang, W.-L.; Chang, C.-T.; Hsu, S.-L.; Lin, Y.-C.; Shih, Y. Cinnamomum cassia Essential Oil Inhibits α-MSH-Induced Melanin Production and Oxidative Stress in Murine B16 Melanoma Cells. Int. J. Mol. Sci. 2013, 14, 19186-19201.
Related Articles
Comments
[Return to top]