Structure of N-Terminal Sequence Asp-Ala-Glu-Phe-Arg-His-Asp-Ser of Aβ-Peptide with Phospholipase A2 from Venom of Andaman Cobra Sub-Species Naja naja sagittifera at 2.0 Å Resolution
1
Proteomics and Structural Biology Unit, Fundamental and Applied Biology Group, King Fahd Medical Research Center, King Abdulaziz University, P.O. Box 80216, Jeddah 21589, Saudi Arabia
2
Department of Biophysics, All India Institute of Medical Sciences, New Delhi 110029, India
3
Children's Hospital of Philadelphia, Philadelphia, PA 19104, USA
4
Gordon Life Science Institute, Boston, MA 02478, USA
*
Author to whom correspondence should be addressed.
Received: 16 January 2014 / Revised: 20 February 2014 / Accepted: 5 March 2014 / Published: 10 March 2014
Abstract
Alzheimer's disease (AD) is one of the most significant social and health burdens of the present century. Plaques formed by extracellular deposits of amyloid β (Aβ) are the prime player of AD's neuropathology. Studies have implicated the varied role of phospholipase A
2
(PLA
2
) in brain where it contributes to neuronal growth and inflammatory response. Overall contour and chemical nature of the substrate-binding channel in the low molecular weight PLA
2
s are similar. This study involves the reductionist fragment-based approach to understand the structure adopted by
N
-terminal fragment of Alzheimer's Aβ peptide in its complex with PLA
2
. In the current communication, we report the structure determined by X-ray crystallography of
N
-terminal sequence Asp-Ala-Glu-Phe-Arg-His-Asp-Ser (DAEFRHDS) of Aβ-peptide with a Group I PLA
2
purified from venom of Andaman Cobra sub-species
Naja naja sagittifera
at 2.0 Å resolution (Protein Data Bank (PDB) Code: 3JQ5). This is probably the first attempt to structurally establish interaction between amyloid-β peptide fragment and hydrophobic substrate binding site of PLA
2
involving H bond and van der Waals interactions. We speculate that higher affinity between Aβ and PLA
2
has the therapeutic potential of decreasing the Aβ–Aβ interaction, thereby reducing the amyloid aggregation and plaque formation in AD.
View Full-Text
►

▼

Figures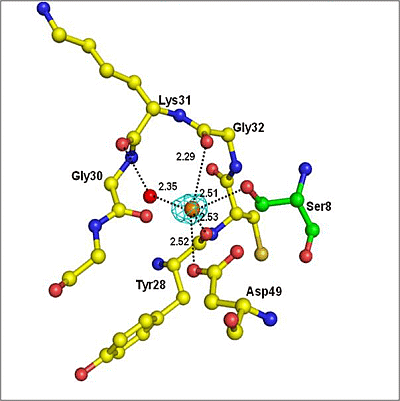 Share & Cite This Article
MDPI and ACS Style
Mirza, Z.; Pillai, V.G.; Zhong, W.-Z. Structure of N-Terminal Sequence Asp-Ala-Glu-Phe-Arg-His-Asp-Ser of Aβ-Peptide with Phospholipase A2 from Venom of Andaman Cobra Sub-Species Naja naja sagittifera at 2.0 Å Resolution. Int. J. Mol. Sci. 2014, 15, 4221-4236.
Related Articles
Comments
[Return to top]