Direct Analysis of hCGβcf Glycosylation in Normal and Aberrant Pregnancy by Matrix-Assisted Laser Desorption/Ionization Time-of-Flight Mass Spectrometry
1
Williamson Laboratory for Molecular Oncology, St Bartholomews Hospital, London EC1A 7BE, UK
2
ELK Foundation for Health Research, An Scoil Monzaird, Crieff PH7 4JT, UK
3
MAP Diagnostics Ltd., Ely, Cambridgeshire CB6 3FQ, UK
4
USA hCG Reference Service, Angel Fire, NM 87710, USA
*
Author to whom correspondence should be addressed.
Received: 25 April 2014 / Revised: 20 May 2014 / Accepted: 21 May 2014 / Published: 5 June 2014
Abstract
The analysis of human chorionic gonadotropin (hCG) in clinical chemistry laboratories by specific immunoassay is well established. However, changes in glycosylation are not as easily assayed and yet alterations in hCG glycosylation is associated with abnormal pregnancy. hCGβ-core fragment (hCGβcf) was isolated from the urine of women, pregnant with normal, molar and hyperemesis gravidarum pregnancies. Each sample was subjected to matrix-assisted laser desorption/ionization time-of-flight mass spectrometry (MALDI TOF MS) analysis following dithiothreitol (DTT) reduction and fingerprint spectra of peptide hCGβ 6–40 were analyzed. Samples were variably glycosylated, where most structures were small, core and largely mono-antennary. Larger single bi-antennary and mixtures of larger mono-antennary and bi-antennary moieties were also observed in some samples. Larger glycoforms were more abundant in the abnormal pregnancies and tri-antennary carbohydrate moieties were only observed in the samples from molar and hyperemesis gravidarum pregnancies. Given that such spectral profiling differences may be characteristic, development of small sample preparation for mass spectral analysis of hCG may lead to a simpler and faster approach to glycostructural analysis and potentially a novel clinical diagnostic test.
View Full-Text
►

▼

Figures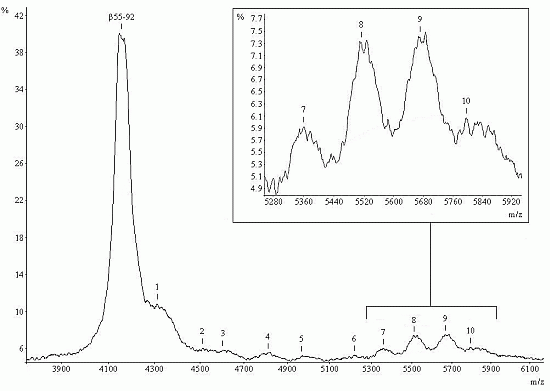 Share & Cite This Article
MDPI and ACS Style
Iles, R.K.; Cole, L.A.; Butler, S.A. Direct Analysis of hCGβcf Glycosylation in Normal and Aberrant Pregnancy by Matrix-Assisted Laser Desorption/Ionization Time-of-Flight Mass Spectrometry. Int. J. Mol. Sci. 2014, 15, 10067-10082.
Related Articles
Comments
[Return to top]