Expression of Human Endogenous Retrovirus env Genes in the Blood of Breast Cancer Patients
1
Department of Surgery, Kosin University College of Medicine, Busan 602-072, Korea
2
Department of Parasitology and Genetics, Kosin University College of Medicine, Busan 602-072, Korea
3
Department of Biological Sciences, College of Natural Sciences, Pusan National University, Busan 609-735, Korea
4
Department of Biochemistry, College of Oriental Medicine, Dongeui University, Busan 614-052, Korea
5
Department of Urology, College of Medicine, Chungbuk National University, Cheongju 361-763, Korea
6
Department of Biological Science, Dong-A University, Busan 604-714, Korea
7
Dongnam Institute of Radiological & Medicine Sciences, Busan 619-953, Korea
8
Institute for Medical Science, Kosin University College of Medicine, Busan 602-072, Korea
*
Authors to whom correspondence should be addressed.
Received: 28 February 2014 / Revised: 13 May 2014 / Accepted: 13 May 2014 / Published: 26 May 2014
Abstract
Human endogenous retroviruses (HERV)
env
proteins have been recently reported to be significantly up-regulated in certain cancers. Specifically, mRNA and protein levels of HERV-K (HML-2) are up-regulated in the blood plasma or serum of breast cancer patients. Here, we collected blood samples of 49 breast cancer patients and analyzed mRNA expressions of various HERVs
env
genes including HERV-R, HERV-H, HERV-K, and HERV-P by real-time PCR. The expression of
env
genes were significantly increased in the blood of primary breast cancer patients but were decreased in patients undergoing chemotherapy to a similar level with benign patients. When we compared the group currently undergoing chemotherapy and those patients undergoing chemotherapy simultaneously with radiotherapy, HERVs
env
genes were reduced more in the chemotherapy only group, suggesting that chemotherapy is more effective in reducing HERV
env
gene expression than is radiotherapy. Among chemotherapy groups, HERV
env
gene expression was the lowest in the taxotere- or taxol-treated group, suggesting that taxotere and taxol can reduce HERVs
env
expression. These data suggest the potential to use HERVs
env
genes as a diagnosis marker for primary breast cancer, and further studies are needed to identify the mechanism and physiological significance of the reduction of HERV
env
gene expression during chemotherapy.
View Full-Text
►

▼

Figures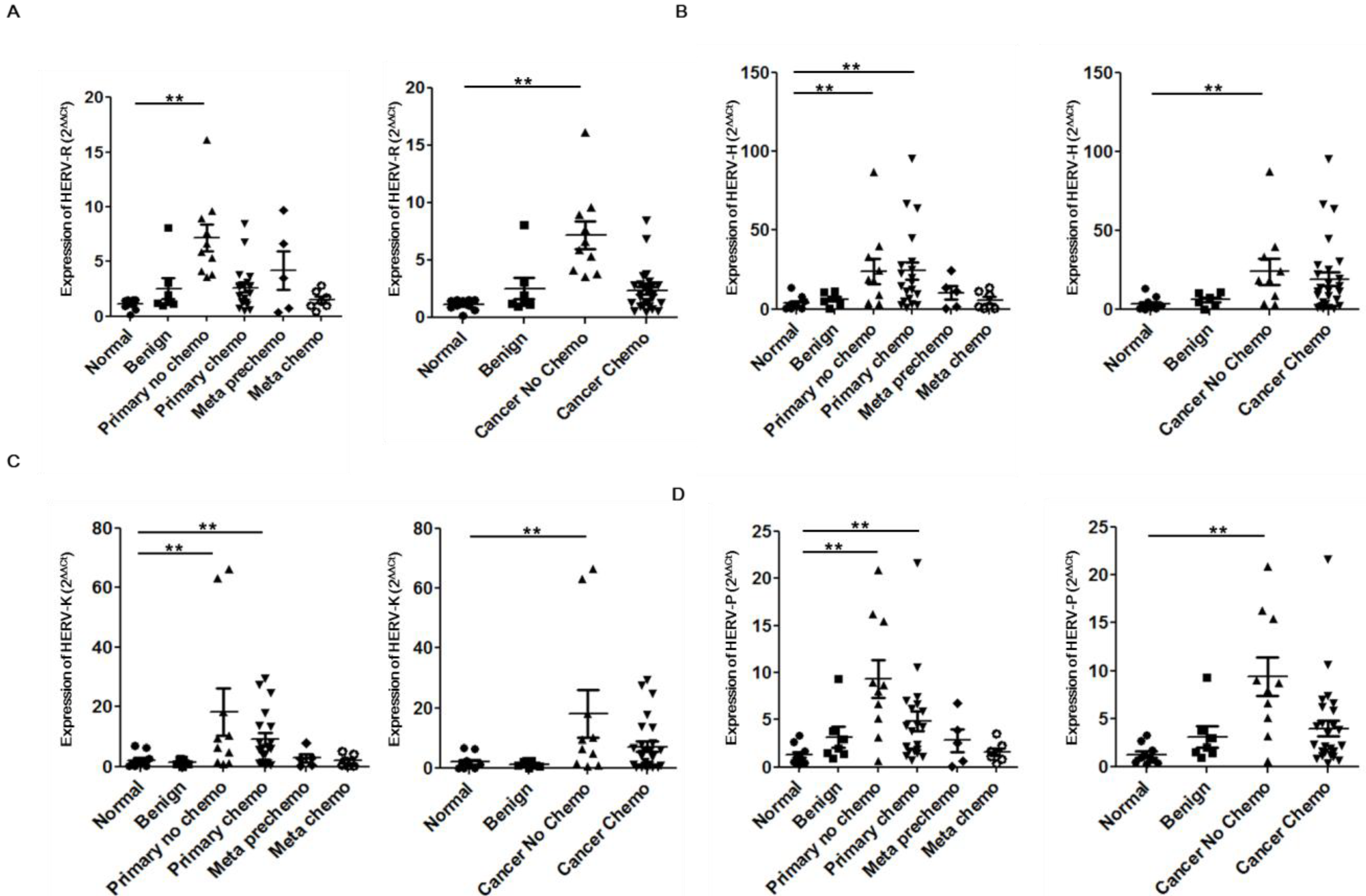 Figure 1
Share & Cite This Article
MDPI and ACS Style
Rhyu, D.-W.; Kang, Y.-J.; Ock, M.-S.; Eo, J.-W.; Choi, Y.-H.; Kim, W.-J.; Leem, S.-H.; Yi, J.-M.; Kim, H.-S.; Cha, H.-J. Expression of Human Endogenous Retrovirus env Genes in the Blood of Breast Cancer Patients. Int. J. Mol. Sci. 2014, 15, 9173-9183.
Related Articles
Comments
[Return to top]