Sphingosine-1-Phosphate-Specific G Protein-Coupled Receptors as Novel Therapeutic Targets for Atherosclerosis
Department of Physiology, Kanazawa University Graduate School of Medical Science, 13-1 Takara-machi, Kanazawa, Ishikawa 920-8640, Japan
*
Authors to whom correspondence should be addressed.
Received: 30 November 2010 / Revised: 25 December 2010 / Accepted: 4 January 2011 / Published: 4 January 2011
Abstract
Atherosclerosis is a chronic inflammatory process involving complex interactions of modified lipoproteins, monocyte-derived macrophages or foam cells, lymphocytes, endothelial cells (ECs), and vascular smooth muscle cells. Sphingosine-1-phosphate (S1P), a biologically active blood-borne lipid mediator, exerts pleiotropic effects such as cell proliferation, migration and cell-cell adhesion in a variety of cell types via five members of S1P-specific high-affinity G protein-coupled receptors (S1P
1
-S1P
5
). Among them, S1P
1
, S1P
2
and S1P
3
are major receptor subtypes which are widely expressed in various tissues. Available evidence suggest that S1P and HDL-bound S1P exert atheroprotective effects including inhibition of leukocyte adhesion and stimulation of endothelial nitric oxide synthase (eNOS) in endothelial cells (ECs) through the activation of G
i
signaling pathway via S1P
3
and probably S1P
1
, although there is still controversy. FTY720, the phosphorylation product of which is a high-affinity agonist for all S1P receptors except S1P
2
and act as an immunosuppressant by downregulating S1P
1
on lymphocytes, inhibits atherosclerosis in LDL receptor-null mice and apoE-null mice through the inhibition of lymphocyte and macrophage functions and probably stimulation of EC functions, without influencing plasma lipid concentrations. In contrast to S1P
1
and S1P
3
, S1P
2
facilitates atherosclerosis by activating G
12/13
-Rho-Rho kinase (ROCK) in apoE-null mice. S1P
2
mediates transmigration of monocytes into the arterial intima, oxidized LDL accumulation and cytokine secretion in monocyte-derived macrophages, and eNOS inhibition and cytokine secretion in ECs through Rac inhibition, NF-kB activation and 3'-specific phosphoinositide phosphatase (PTEN) stimulation downstream of G
12/13
-Rho-ROCK. Systemic long-term administration of a selective S1P
2
-blocker remarkably inhibits atherosclerosis without overt toxicity. Thus, multiple S1P receptors positively and negatively regulate atherosclerosis through multitudes of mechanisms. Considering the essential and multi-faceted role of S1P
2
in atherogenesis and the impact of S1P
2
inactivation on atherosclerosis, S1P
2
is a particularly promising therapeutic target for atherosclerosis.
View Full-Text
►

▼

Figures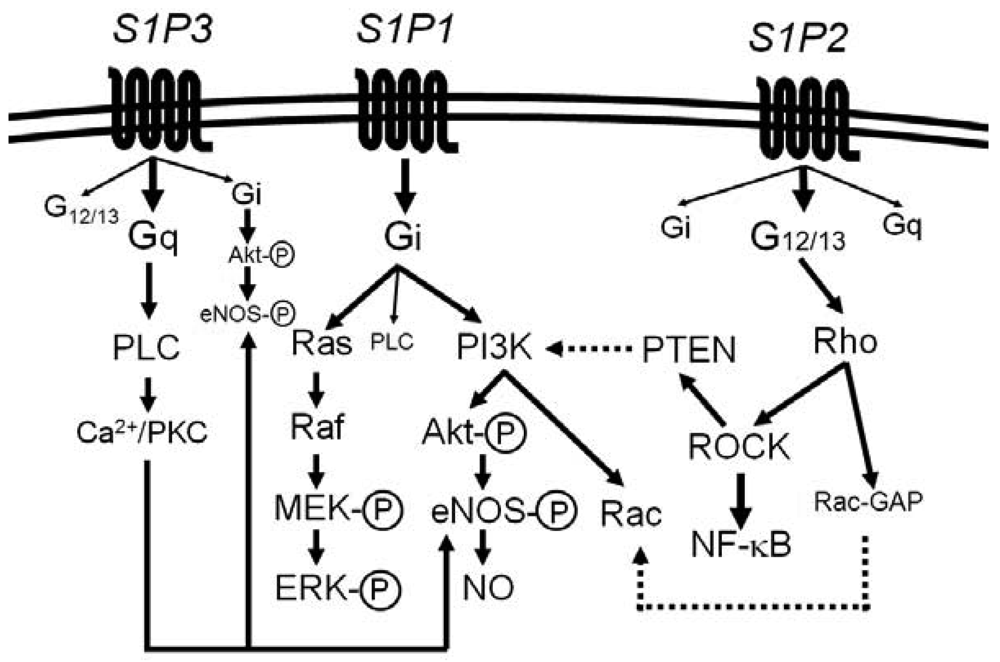 Share & Cite This Article
MDPI and ACS Style
Okamoto, Y.; Wang, F.; Yoshioka, K.; Takuwa, N.; Takuwa, Y. Sphingosine-1-Phosphate-Specific G Protein-Coupled Receptors as Novel Therapeutic Targets for Atherosclerosis. Pharmaceuticals 2011, 4, 117-137.
Related Articles
Comments
[Return to top]