Characterization and Cytotoxicity Studies of the Rare 21:4 n-7 Acid and Other Polyunsaturated Fatty Acids from the Marine Opisthobranch Scaphander lignarius, Isolated Using Bioassay Guided Fractionation
1
Norut—Northern Research Institute, PO Box 6434, Tromsø Science Park, N-9294 Tromsø, Norway
2
Department of Pharmacy, University of Tromsø, Breivika, N-9037 Tromsø, Norway
3
Marbio, University of Tromsø, Breivika, N-9037 Tromsø, Norway
4
Department of Chemistry, University of Tromsø, Breivika, N-9037 Tromsø, Norway
*
Author to whom correspondence should be addressed.
Received: 9 October 2012 / Revised: 12 November 2012 / Accepted: 15 November 2012 / Published: 26 November 2012
Abstract
The marine opisthobranch
Scaphander lignarius
has been analyzed in the systematic search for novel bioactive compounds in Arctic marine organisms using bioassay guided fractionation. A number of highly cytotoxic fractions were shown to contain mainly polyunsaturated fatty acids (PUFAs). Selected PUFAs were isolated and identified using both liquid chromatography-mass spectrometry (LC-MS) and nuclear magnetic resonance (NMR). It was shown that the opisthobranch contained unusual PUFAs such as several ω3 fatty acids and the ω7 heneicosa-5,8,11,14-tetraenoic acid (21:4
n
-7) not isolated before. The organism was shown to be a very rich source of PUFAs and the activity of the isolated compounds against a range of human cancer cell lines (melanoma, colon carcinoma and breast carcinoma) is further reported. The ω7 PUFA was significantly more cytotoxic in comparison with reference ω6 arachidonic and ω3 eicosapentaenoic acid. A noteworthy non-selective cytotoxicity against normal lung fibroblasts was also established. The paper contains isolation protocols in addition to cytotoxicity data of the isolated compounds. The potential of marine mollusks as a source for rare PUFAs is also discussed.
View Full-Text
►

▼

Figures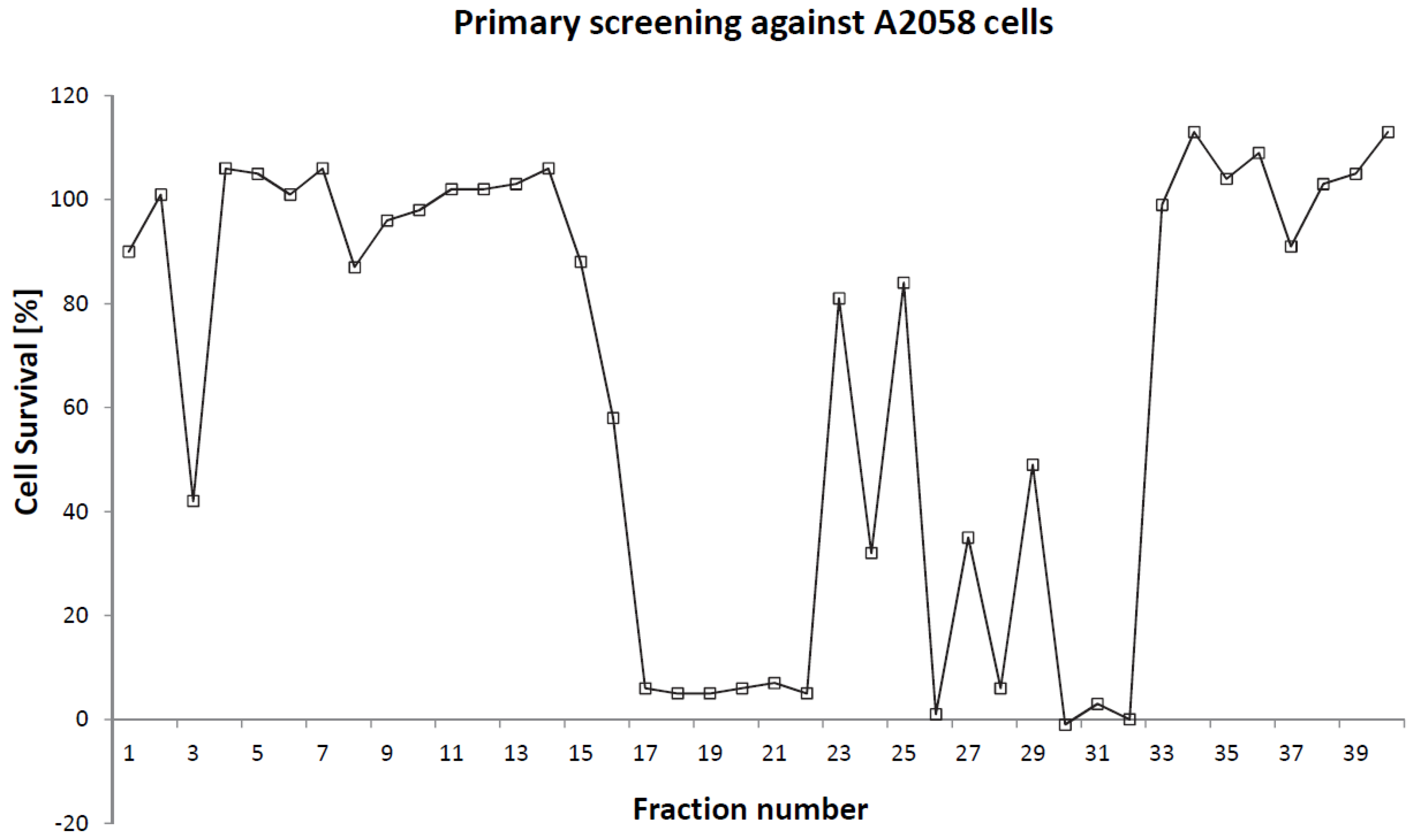 Figure 1
Share & Cite This Article
MDPI and ACS Style
Vasskog, T.; Andersen, J.H.; Hansen, E.; Svenson, J. Characterization and Cytotoxicity Studies of the Rare 21:4 n-7 Acid and Other Polyunsaturated Fatty Acids from the Marine Opisthobranch Scaphander lignarius, Isolated Using Bioassay Guided Fractionation. Mar. Drugs 2012, 10, 2676-2690.
Related Articles
Comments
[Return to top]