A New Dibenz[b,e]oxepine Derivative, 1-Hydroxy-10-methoxy-dibenz[b,e]oxepin-6,11-dione, from a Marine-Derived Fungus, Beauveria bassiana TPU942
1
Department of Natural Product Chemistry, Tohoku Pharmaceutical University, Sendai 981-8558, Japan
2
Faculty of Agriculture, Indonesia Development University, Manado 95361, Indonesia
*
Author to whom correspondence should be addressed.
Received: 28 September 2012 / Revised: 19 October 2012 / Accepted: 14 November 2012 / Published: 27 November 2012
Abstract
1-Hydroxy-10-methoxy-dibenz[
b
,
e
]oxepin-6,11-dione (
1
) was obtained from the culture broth of a marine-derived fungus,
Beauveria bassiana
TPU942, isolated from a marine sponge collected at Iriomote Island in Okinawa,
together with two known compounds, chrysazin (
2
) and globosuxanthone A (
3
). The structure of
1
was elucidated on the basis of its spectroscopic data (HREIMS, 1D and 2D NMR experiments including
1
H–
1
H COSY, HMQC and HMBC spectra). Dibenz[
b
,
e
]oxepines are rare in nature, and only six natural products have been reported. Therefore, compound
1
is the seventh natural product in this class. Compounds
2
and
3
showed an antifungal activity against
Candida albicans
, and
3
inhibited the cell growth against two human cancer cell lines, HCT-15 (colon) and Jurkat (T-cell lymphoma). Compound
1
did not show an apparent activity in the same bioassays.
View Full-Text
►

▼

Figures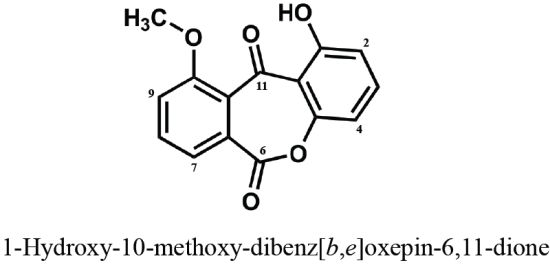 Share & Cite This Article
MDPI and ACS Style
Yamazaki, H.; Rotinsulu, H.; Kaneko, T.; Murakami, K.; Fujiwara, H.; Ukai, K.; Namikoshi, M. A New Dibenz[b,e]oxepine Derivative, 1-Hydroxy-10-methoxy-dibenz[b,e]oxepin-6,11-dione, from a Marine-Derived Fungus, Beauveria bassiana TPU942. Mar. Drugs 2012, 10, 2691-2697.
Related Articles
Comments
[Return to top]