Structural and Immunochemical Studies of the Lipopolysaccharide from the Fish Pathogen, Aeromonas bestiarum Strain K296, Serotype O18
1
Department of Genetics and Microbiology, Maria Curie-Sklodowska University, Akademicka 19, Lublin 20-033, Poland
2
Division of Immunochemistry, Research Center Borstel, Leibniz-Center for Medicine and Biosciences, Parkallee 10, D-23845 Borstel, Germany
3
Department of Fish Diseases, National Veterinary Research Institute, Partyzantow 57, Pulawy 24-100, Poland
4
Division of Structural Biochemistry, Research Center Borstel, Leibniz-Center for Medicine and Biosciences, Airway Research Center North (ARCN), Member of the German Center for Lung Research (DZL), Parkallee 4a/c, D-23845 Borstel, Germany
*
Author to whom correspondence should be addressed.
Received: 25 February 2013 / Revised: 8 March 2013 / Accepted: 18 March 2013 / Published: 17 April 2013
Abstract
Chemical analyses and mass spectrometry were used to study the structure of the lipopolysaccharide (LPS) isolated from
Aeromonas bestiarum
strain K296, serotype O18. ESI-MS revealed that the most abundant
A. bestiarum
LPS glycoforms have a hexa-acylated or tetra-acylated lipid A with conserved architecture of the backbone, consisting of a 1,4′-bisphosphorylated β-(1→6)-linked d-GlcN disaccharide with an AraN residue as a non-stoichiometric substituent and a core oligosaccharide composed of Kdo
1
Hep
6
Hex
1
HexN
1
P
1
. 1D and 2D NMR spectroscopy revealed that the
O
-specific polysaccharide (OPS) of
A. bestiarum
K296 consists of a branched tetrasaccharide repeating unit containing two 6-deoxy-l-talose (6dTal
p
), one Man
p
and one Gal
p
NAc residues; thus, it is similar to that of the OPS of
A. hydrophila
AH-3 (serotype O34) in both the sugar composition and the glycosylation pattern. Moreover, 3-substituted 6dTal
p
was 2-
O
-acetylated and additional
O
-acetyl groups were identified at O-2 and O-4 (or O-3) positions of the terminal 6dTal
p
. Western blots with polyclonal rabbit sera showed that serotypes O18 and O34 share some epitopes in the LPS. The very weak reaction of the anti-O34 serum with the
O
-deacylated LPS of
A. bestiarum
K296 might have been due to the different
O
-acetylation pattern of the terminal 6dTal
p
. The latter suggestion was further confirmed by NMR.
View Full-Text
►

▼

Figures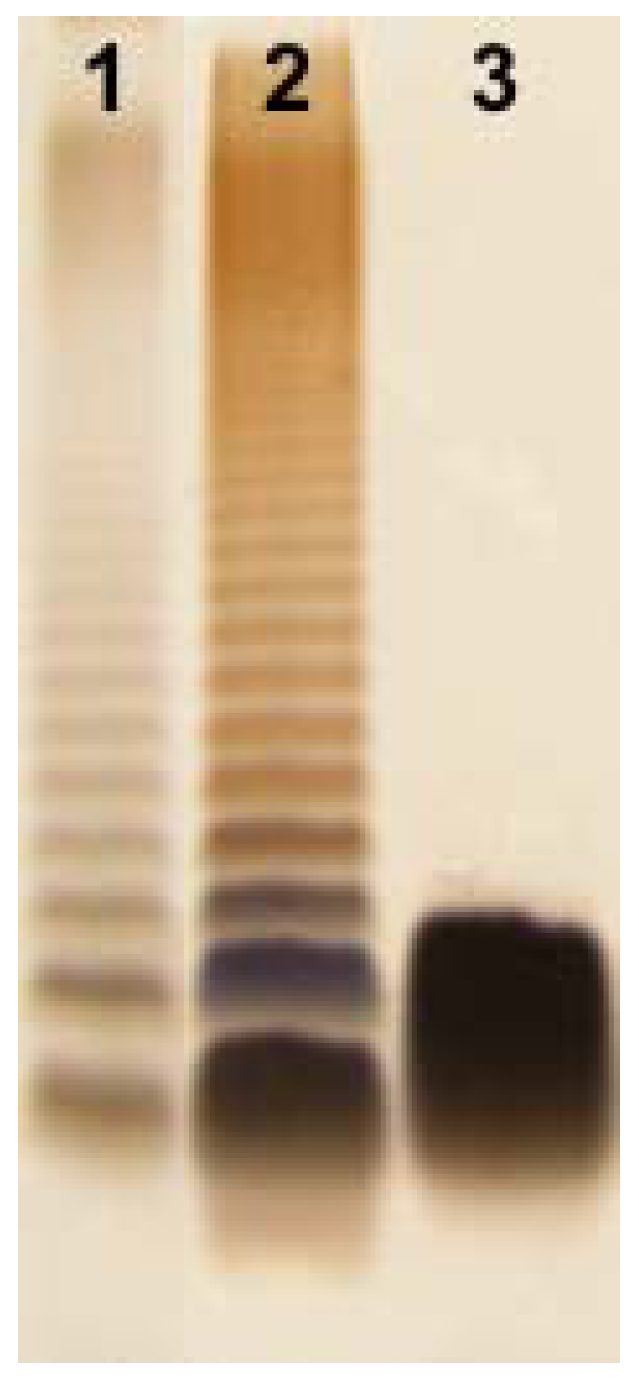 Figure 1
Share & Cite This Article
MDPI and ACS Style
Turska-Szewczuk, A.; Lindner, B.; Komaniecka, I.; Kozinska, A.; Pekala, A.; Choma, A.; Holst, O. Structural and Immunochemical Studies of the Lipopolysaccharide from the Fish Pathogen, Aeromonas bestiarum Strain K296, Serotype O18. Mar. Drugs 2013, 11, 1235-1255.
Related Articles
Comments
[Return to top]