Balibalosides, an Original Family of Glucosylated Sesterterpenes Produced by the Mediterranean Sponge Oscarella balibaloi
1
Nice Institute of Chemistry UMR 7272 CNRS—PCRE, University of Nice-Sophia Antipolis, Parc Valrose, 06108 Nice, France
2
GREENSEA SAS, Promenade du Sergent Jean-Louis Navarro, 34140 Mèze, France
3
Institut Méditerranéen de Biodiversité et d'Ecologie, Aix-Marseille University, UMR 7263 CNRS, Station Marine d'Endoume, 13007 Marseille, France
4
Fundación MEDINA, Centro de Excelencia en Investigación de Medicamentos Innovadores en Andalucía, Avda. Del Conocimiento, 3, Parque Tecnológico de Ciencias de la Salud, 18100 Armilla, Granada, Spain
*
Author to whom correspondence should be addressed.
Received: 25 March 2013 / Revised: 9 April 2013 / Accepted: 22 April 2013 / Published: 6 May 2013
Abstract
The chemical investigation of the recently described Mediterranean Homoscleromorpha sponge
Oscarella balibaloi
revealed an original family of five closely related glucosylated sesterterpenes
1
–
4
, named balibalosides. Their structure elucidation was mainly inferred from NMR and HRMS data analyses. Balibalosides differ by the pattern of acetyl substitutions on the three sugar residues linked to the same aglycone sesterterpenoid core. From a biosynthetic perspective, these compounds may represent intermediates in the pathways leading to more complex sesterterpenes frequently found in Dictyoceratida, a sponge Order belonging to Demospongiae, a clade which is phylogenetically distinct from the Homoscleromorpha. While steroid and triterpenoid saponins were already well known from marine sponges, balibalosides are the first examples of glycosilated sesterterpenes.
View Full-Text
►

▼

Figures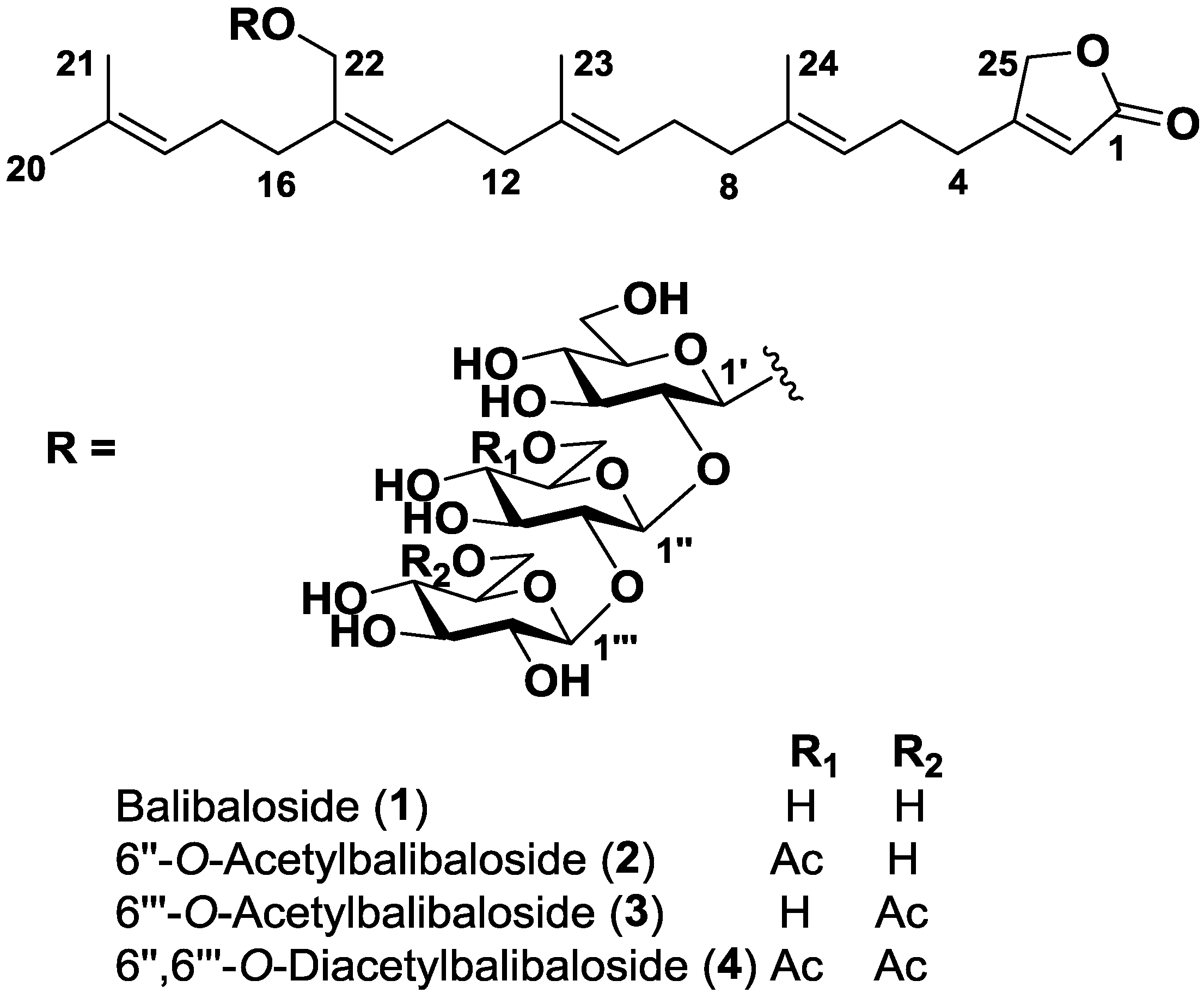 Figure 1
Share & Cite This Article
MDPI and ACS Style
Audoin, C.; Bonhomme, D.; Ivanisevic, J.; Cruz, M.; Cautain, B.; Monteiro, M.C.; Reyes, F.; Rios, L.; Perez, T.; Thomas, O.P. Balibalosides, an Original Family of Glucosylated Sesterterpenes Produced by the Mediterranean Sponge Oscarella balibaloi. Mar. Drugs 2013, 11, 1477-1489.
Related Articles
Comments
[Return to top]