pH-Dependent Solution Structure and Activity of a Reduced Form of the Host-Defense Peptide Myticin C (Myt C) from the Mussel Mytilus galloprovincialis
1
Molecular and Cell Institute, University Miguel Hernández (IBMC-UMH), Elche 03202, Spain
2
LABIOFAM Pharmaceutical Laboratories, La Habana 17800, Cuba
3
Instituto de Investigaciones Marinas (IIM), CSIC, Vigo 36208, Spain
*
Author to whom correspondence should be addressed.
Received: 23 April 2013 / Revised: 30 May 2013 / Accepted: 7 June 2013 / Published: 4 July 2013
Abstract
Myticin C (Myt C) is a highly variable host-defense peptide (HDP) associated to the immune response in the mediterranean mussel (
Mytilus galloprovincialis
), which has shown to be active across species due to its strong antiviral activity against a fish rhabdovirus found in fish cells overexpressing this HDP. However, the potential antimicrobial properties of any synthetic analogue of Myt C has not yet been analysed. Thus, in this work we have synthesised the sequence of the mature peptide of Myt C variant c and analysed the structure activity relationships of its reduced (non-oxidized) form (red-MytCc). In contrast to results previously reported for oxidized isoforms of mussel myticins, red-MytCc was not active against bacteria at physiological pH and showed a moderate antiviral activity against the viral haemorrhagic septicaemia (VHS) rhabdovirus. However, its chemotactic properties remained active. Structure/function studies in neutral and acid environments by means of infrared spectroscopy indicated that the structure of red-MytCc is pH dependent, with acid media increasing its alpha-helical content. Furthermore, red-MytCc was able to efficiently aggregate artificial phospholipid membranes at low pH, as well as to inhibit the
Escherichia coli
growth, suggesting that this activity is attributable to its more structured form in an acidic environment. All together, these results highlight the dynamic and environmentally sensitive behavior of red-Myt C in solution, and provide important insights into Myt C structure/activity relationships and the requirements to exert its antimicrobial/immunomodulatory activities. On the other hand, the pH-dependent direct antimicrobial activity of Myt C suggests that this HDP may be a suitable template for the development of antimicrobial agents that would function selectively in specific pH environments, which are sorely needed in this "antibiotic-resistance era".
View Full-Text
►

▼

Figures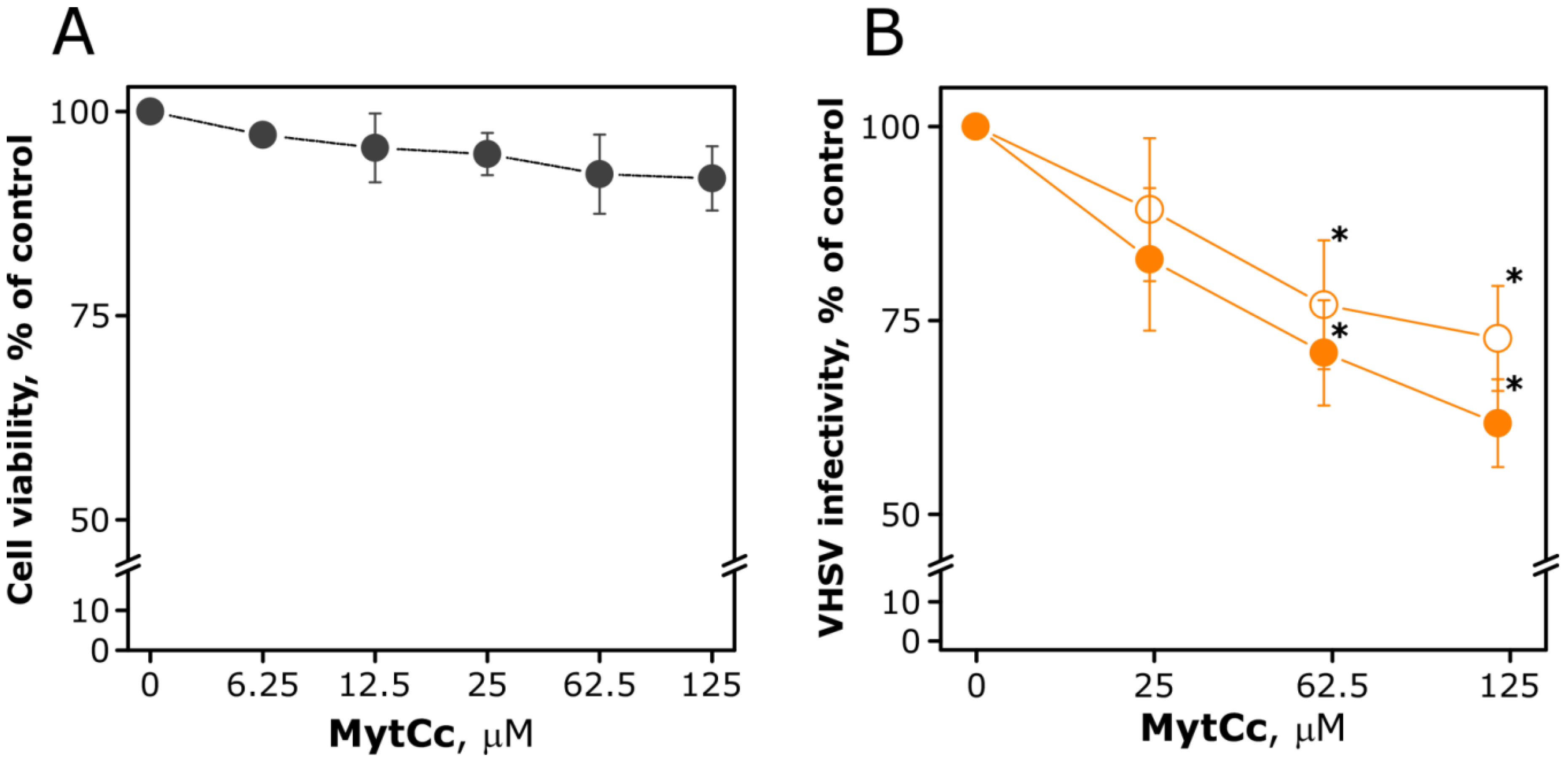 Figure 1
Share & Cite This Article
MDPI and ACS Style
Martinez-Lopez, A.; Encinar, J.A.; Medina-Gali, R.M.; Balseiro, P.; Garcia-Valtanen, P.; Figueras, A.; Novoa, B.; Estepa, A. pH-Dependent Solution Structure and Activity of a Reduced Form of the Host-Defense Peptide Myticin C (Myt C) from the Mussel Mytilus galloprovincialis. Mar. Drugs 2013, 11, 2328-2346.
Related Articles
Comments
[Return to top]