A New Ergosterol Analog, a New Bis-Anthraquinone and Anti-Obesity Activity of Anthraquinones from the Marine Sponge-Associated Fungus Talaromyces stipitatus KUFA 0207
1
ICBAS-Instituto de Ciências Biomédicas Abel Salazar, Rua de Jorge Viterbo Ferreira, 228, 4050-313 Porto, Portugal
2
Interdisciplinary Centre of Marine and Environmental Research (CIIMAR), Terminal de Cruzeiros do Porto de Lexões, Av. General Norton de Matos s/n, 4450-208 Matosinhos, Portugal
3
Department of Plant Pathology, Faculty of Agriculture, Kasetsart University, Bangkok 10240, Thailand
4
Instituto de Biologia Molecular e Celular (IBMC), Universidade do Porto, Rua de Jorge Viterbo Ferreira, 228, 4050-313 Porto, Portugal
5
Department of Chemistry, University of Leicester, University Road, Leicester LE 7 RH, UK
6
Departamento de Química & QOPNA, Universidade de Aveiro, 3810-193 Aveiro, Portugal
7
Laboratório de Química Orgânica, Departamento de Ciências Químicas, Faculdade de Farmácia, Universidade do Porto, Rua de Jorge Viterbo Ferreira, 228, 4050-313 Porto, Portugal
8
Departamento de Biologia, Faculdade de Ciências, Universidade do Porto, Rua do Campo Alegre, s/n, 4169-007 Porto, Portugal
*
Author to whom correspondence should be addressed.
Academic Editor: Alejandro Mayer
Received: 6 April 2017 / Revised: 3 May 2017 / Accepted: 10 May 2017 / Published: 16 May 2017
Abstract
A new ergosterol analog, talarosterone (
1
) and a new
bis
-anthraquinone derivative (
3
) were isolated, together with ten known compounds including palmitic acid, ergosta-4,6,8(14),22-tetraen-3-one, ergosterol-5,8-endoperoxide, cyathisterone (
2
), emodin (
4a
), questinol (
4b
), citreorosein (
4c
), fallacinol (
4d
), rheoemodin (
4e
) and secalonic acid A (
5
), from the ethyl acetate extract of the culture of the marine sponge-associated fungus
Talaromyces stipitatus
KUFA 0207. The structures of the new compounds were established based on extensive 1D and 2D spectral analysis, and in the case of talarosterone (
1
), the absolute configurations of its stereogenic carbons were determined by X-ray crystallographic analysis. The structure and stereochemistry of cyathisterone (
2
) was also confirmed by X-ray analysis. The anthraquinones
4a
–
e
and secalonic acid A (
5
) were tested for their anti-obesity activity using the zebrafish Nile red assay. Only citreorosein (
4c
) and questinol (
4b
) exhibited significant anti-obesity activity, while emodin (
4a
) and secalonic acid A (
5
) caused toxicity (death) for all exposed zebrafish larvae after 24 h.
View Full-Text
►

▼

Figures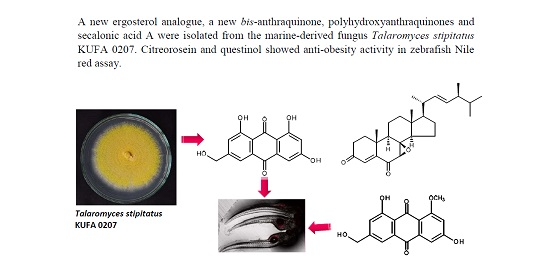 This is an open access article distributed under the
Creative Commons Attribution License
which permits unrestricted use, distribution, and reproduction in any medium, provided the original work is properly cited. (CC BY 4.0).
Share & Cite This Article
MDPI and ACS Style
Noinart, J.; Buttachon, S.; Dethoup, T.; Gales, L.; Pereira, J.A.; Urbatzka, R.; Freitas, S.; Lee, M.; Silva, A.M.S.; Pinto, M.M.M.; Vasconcelos, V.; Kijjoa, A. A New Ergosterol Analog, a New Bis-Anthraquinone and Anti-Obesity Activity of Anthraquinones from the Marine Sponge-Associated Fungus Talaromyces stipitatus KUFA 0207. Mar. Drugs 2017, 15, 139.
Note that from the first issue of 2016, MDPI journals use article numbers instead of page numbers. See further details here.
Related Articles
Comments
[Return to top]