Lobophorin K, a New Natural Product with Cytotoxic Activity Produced by Streptomyces sp. M-207 Associated with the Deep-Sea Coral Lophelia pertusa
1
Departamento de Biología Funcional, Área de Microbiología, Instituto Universitario de Oncología del Principado de Asturias, Universidad de Oviedo, 33006 Oviedo, Spain
2
Fundación MEDINA, Centro de Excelencia en Investigación de Medicamentos Innovadores en Andalucía, Avda. del Conocimiento 3, Parque Tecnológico de Ciencias de la Salud, E-18016 Granada, Spain
3
Departamento de Ingeniería Química y Tecnología del Medio Ambiente, Área de Ingeniería Química, Universidad de Oviedo, 33006 Oviedo, Spain
*
Authors to whom correspondence should be addressed.
Academic Editors: Dong-Chan Oh and Sang-Jip Nam
Received: 24 February 2017 / Revised: 11 May 2017 / Accepted: 15 May 2017 / Published: 19 May 2017
Abstract
The present article describes the isolation of a new natural product of the lobophorin family, designated as lobophorin K (
1
), from cultures of the marine actinobacteria
Streptomyces
sp. M-207, previously isolated from the cold-water coral
Lophelia pertusa
collected at 1800 m depth during an expedition to the submarine Avilés Canyon. Its structure was determined using a combination of spectroscopic techniques, mainly ESI-TOF MS and 1D and 2D NMR. This new natural product displayed cytotoxic activity against two human tumor cell lines, such as pancreatic carcinoma (MiaPaca-2) and breast adenocarcinoma (MCF-7). Lobophorin K also displayed moderate and selective antibiotic activity against pathogenic Gram-positive bacteria such as
Staphylococcus aureus
.
View Full-Text
►

▼

Figures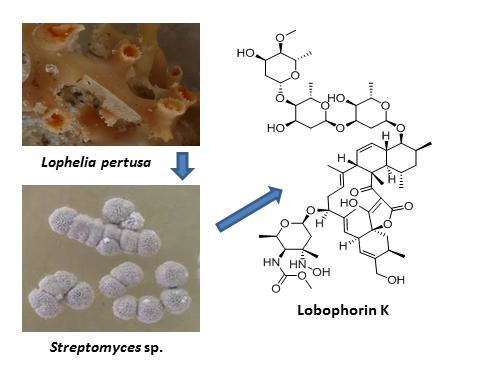 This is an open access article distributed under the
Creative Commons Attribution License
which permits unrestricted use, distribution, and reproduction in any medium, provided the original work is properly cited. (CC BY 4.0).
Share & Cite This Article
MDPI and ACS Style
Braña, A.F.; Sarmiento-Vizcaíno, A.; Osset, M.; Pérez-Victoria, I.; Martín, J.; de Pedro, N.; de la Cruz, M.; Díaz, C.; Vicente, F.; Reyes, F.; García, L.A.; Blanco, G. Lobophorin K, a New Natural Product with Cytotoxic Activity Produced by Streptomyces sp. M-207 Associated with the Deep-Sea Coral Lophelia pertusa. Mar. Drugs 2017, 15, 144.
Note that from the first issue of 2016, MDPI journals use article numbers instead of page numbers. See further details here.
Related Articles
Comments
[Return to top]