European Surveillance for West Nile Virus in Mosquito Populations
1
Spiez Laboratory, Federal Office for Civil Protection, Austrasse, Spiez 3700, Switzerland
2
Zooprofilactic Institute Abruzzo and Molise "G. Caporale", Campo Boario, Teramo 64100, Italy
3
Department of Microbiology, Medical School, Aristotle University of Thessaloniki, Thessaloniki 54124, Greece
4
Department of Wetland Ecology, Estación Biológica de Doñana, CSIC, Avda. Américo Vespucio s/n, Sevilla 41092, Spain
5
Friedrich-Loeffler-Institute, Federal Research Institute for Animal Health, Greifswald—Insel Riems, Südufer 17493, Germany
6
Public Health England, Medical Entomology group, MRA, Emergency Response Department, Porton Down, Salisbury SP4 0JG, UK
7
The Pirbright Institute, Ash Road, Pirbright GU24 0NF, UK
8
Institute of Land Use Systems, Leibnitz Centre for Agricultural Lanscape Research (ZALF), Eberswalder Strasse 84, Müncheberg 15374, Germany
9
German Centre for Infection Research (DZIF), Partner Site Hamburg-Luebeck-Borstel, Hamburg, Germany and German Mosquito Control Association (KABS), Waldsee and Bernhard-Nocht Institute for Tropical Medicine, Hamburg D-20359, Germany
10
Zooprofilactic Institute Venezie, Viale dell' Università, 10, Padua, 35020 Legnaro, Italy
11
Institute of Microbiology, Laboratory of Applied Microbiology, Via Mirasole 22a, Bellinzona CH-6500, Switzerland
12
Mosquito Working Group, via al Castello, Canobbio CH-6952, Switzerland
13
EcoDevelopment SA, Thermi 57001, Greece
14
Servicio de Control de Mosquitos, Diputación Provincial de Huelva, Huelva E-21003, Spain
15
CNM-Instituto de Salud Carlos III, Majadahonda, Madrid 28220, Spain
16
Zooprofilactic Institute Lombardy and Emilia Romagna "B. Ubertini", Brescia 25124, Italy
17
Institute of Parasitology, National Centre for Vector Entomology, University of Zurich, Winterthurerstr 266a, Zurich 8057, Switzerland
18
Animal Health and Veterinary Laboratories Agency, Woodham Lane, Surrey KT15, 3NB, UK
*
Author to whom correspondence should be addressed.
Received: 15 August 2013 / Revised: 20 September 2013 / Accepted: 24 September 2013 / Published: 11 October 2013
Abstract
A wide range of arthropod-borne viruses threaten both human and animal health either through their presence in Europe or through risk of introduction. Prominent among these is West Nile virus (WNV), primarily an avian virus, which has caused multiple outbreaks associated with human and equine mortality. Endemic outbreaks of West Nile fever have been reported in Italy, Greece, France, Romania, Hungary, Russia and Spain, with further spread expected. Most outbreaks in Western Europe have been due to infection with WNV Lineage 1. In Eastern Europe WNV Lineage 2 has been responsible for human and bird mortality, particularly in Greece, which has experienced extensive outbreaks over three consecutive years. Italy has experienced co-circulation with both virus lineages. The ability to manage this threat in a cost-effective way is dependent on early detection. Targeted surveillance for pathogens within mosquito populations offers the ability to detect viruses prior to their emergence in livestock, equine species or human populations. In addition, it can establish a baseline of mosquito-borne virus activity and allow monitoring of change to this over time. Early detection offers the opportunity to raise disease awareness, initiate vector control and preventative vaccination, now available for horses, and encourage personal protection against mosquito bites. This would have major benefits through financial savings and reduction in equid morbidity/mortality. However, effective surveillance that predicts virus outbreaks is challenged by a range of factors including limited resources, variation in mosquito capture rates (too few or too many), difficulties in mosquito identification, often reliant on specialist entomologists, and the sensitive, rapid detection of viruses in mosquito pools. Surveillance for WNV and other arboviruses within mosquito populations varies between European countries in the extent and focus of the surveillance. This study reviews the current status of WNV in mosquito populations across Europe and how this is informing our understanding of virus epidemiology. Key findings such as detection of virus, presence of vector species and invasive mosquito species are summarized, and some of the difficulties encountered when applying a cost-effective surveillance programme are highlighted.
View Full-Text
►

▼

Figures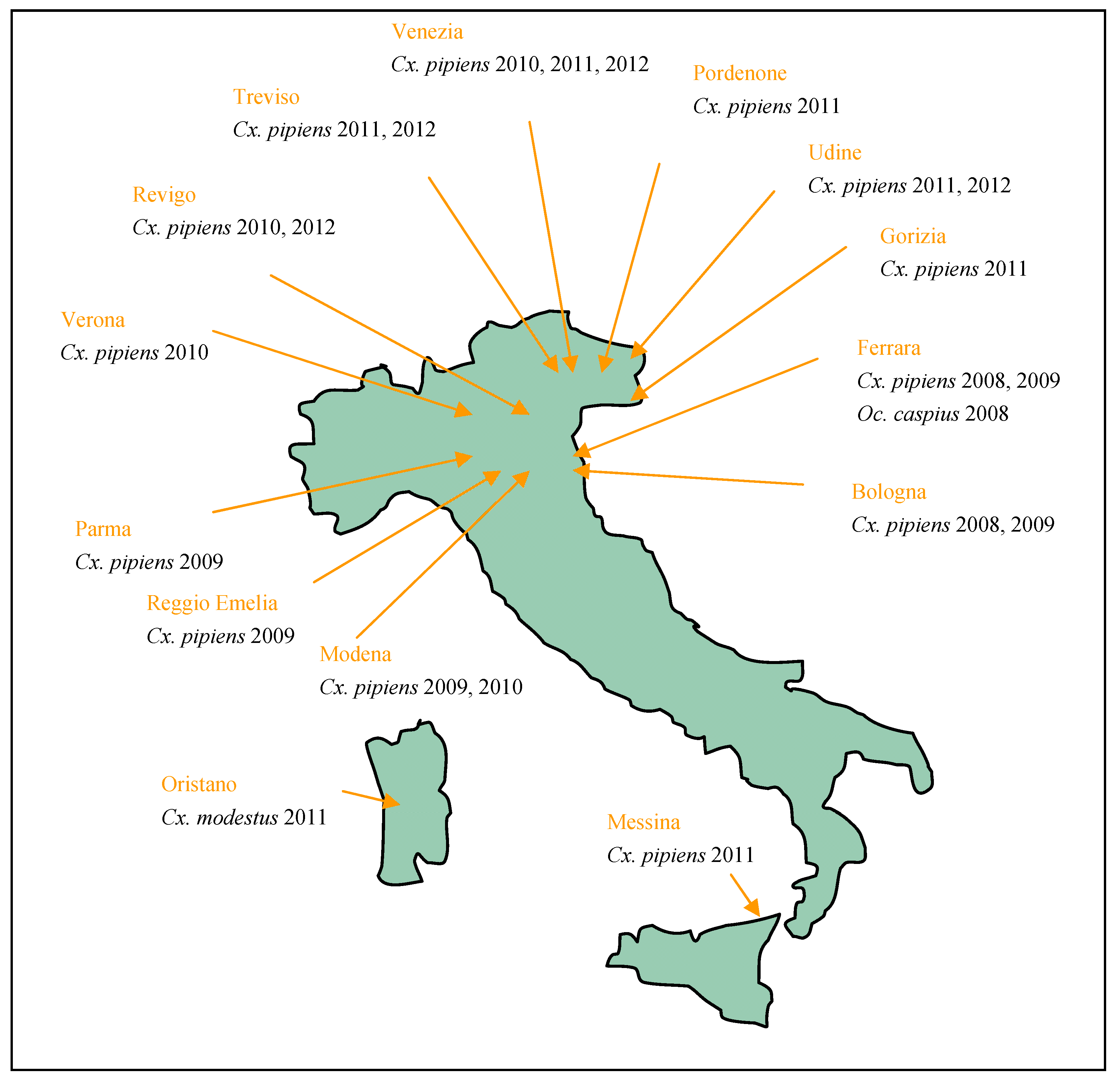 Figure 1
Share & Cite This Article
MDPI and ACS Style
Engler, O.; Savini, G.; Papa, A.; Figuerola, J.; Groschup, M.H.; Kampen, H.; Medlock, J.; Vaux, A.; Wilson, A.J.; Werner, D.; Jöst, H.; Goffredo, M.; Capelli, G.; Federici, V.; Tonolla, M.; Patocchi, N.; Flacio, E.; Portmann, J.; Rossi-Pedruzzi, A.; Mourelatos, S.; Ruiz, S.; Vázquez, A.; Calzolari, M.; Bonilauri, P.; Dottori, M.; Schaffner, F.; Mathis, A.; Johnson, N. European Surveillance for West Nile Virus in Mosquito Populations. Int. J. Environ. Res. Public Health 2013, 10, 4869-4895.
Related Articles
Comments
[Return to top]