Preparation, Characterization and Release of Urea from Wheat Gluten Electrospun Membranes
1
Department of Chemical-Biological Sciences (DCQB), University of Sonora, Hermosillo, Sonora C.P. 83000, Mexico
2
Department of Food Research & Graduate Program (DIPA), University of Sonora, Hermosillo, Sonora C.P. 83000, Mexico
3
Research Department in Polymers & Materials (DIPM), University of Sonora, Hermosillo, Sonora C.P. 83000, Mexico
*
Author to whom correspondence should be addressed.
Received: 6 November 2012 / Revised: 11 December 2012 / Accepted: 11 December 2012 / Published: 18 December 2012
Abstract
Homogeneous and thin porous membranes composed of oriented fibers were obtained from wheat gluten (WG) using the electrospinning technique. SEM micrographs showed an asymmetric structure and some porosity, which, in addition to a small thickness of 40 mm, are desirable characteristics for the membranes' potential application in release systems. The membranes were loaded with urea to obtain pastilles. FT-IR and DSC studies confirmed the existence of interactions via hydrogen bonding between urea and WG proteins. The pastilles were studied as prolonged-released systems of urea in water. The release of urea during the first 10 min was very fast; then, the rate of release decreased as it reached equilibrium at 300 min, with a total of »98% urea released. TGA analysis showed that the release system obtained is thermally stable up to a temperature of 117 °C. It was concluded that a prolonged-release system of urea could be satisfactorily produced using WG fibers obtained by electrospinning for potential application in agricultural crops.
View Full-Text
►

▼

Figures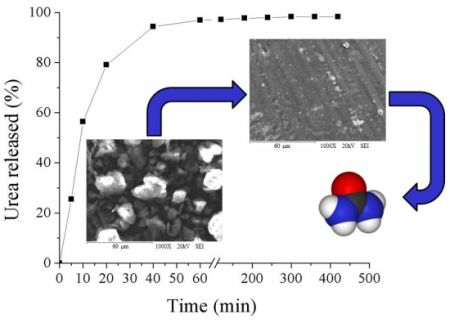 Share & Cite This Article
MDPI and ACS Style
Castro-Enríquez, D.D.; Rodríguez-Félix, F.; Ramírez-Wong, B.; Torres-Chávez, P.I.; Castillo-Ortega, M.M.; Rodríguez-Félix, D.E.; Armenta-Villegas, L.; Ledesma-Osuna, A.I. Preparation, Characterization and Release of Urea from Wheat Gluten Electrospun Membranes. Materials 2012, 5, 2903-2916.
Related Articles
Comments
[Return to top]