Low Concentration Fe-Doped Alumina Catalysts Using Sol-Gel and Impregnation Methods: The Synthesis, Characterization and Catalytic Performance during the Combustion of Trichloroethylene
1
Universidad Autónoma de Nuevo León, UANL, Facultad de Ciencias Químicas, Ave. Universidad S/N, Cd. Universitaria, San Nicolás de los Garza, Nuevo León 64451, Mexico
2
Universidad Autónoma de Nuevo León, UANL, Centro de Innovación, Investigación y Desarrollo en Ingeniería y Tecnología (CIIDIT), Km 10 de la nueva carretera al Aeropuerto Internacional de Monterrey, PIIT Monterrey, Apodaca, Nuevo León 66600, Mexico
3
Universidad Nacional Autónoma de México, UNAM, CNyN, Km. 107 Carretera Tijuana-Ensenada, Ensenada, Baja California 22800, Mexico
4
Instituto Mexicano del Petróleo, Eje Central L. Cárdenas 152, AP 14-805, 07730 Mexico, D.F., Mexico
*
Author to whom correspondence should be addressed.
Received: 3 February 2014 / Revised: 26 February 2014 / Accepted: 4 March 2014 / Published: 12 March 2014
Abstract
The role of iron in two modes of integration into alumina catalysts was studied at 0.39 wt% Fe and tested in trichloroethylene combustion. One modified alumina was synthesized using the sol-gel method with Fe added in situ during hydrolysis; another modification was performed using calcined alumina, prepared using the sol-gel method and impregnated with Fe. Several characterization techniques were used to study the level of Fe modification in the γ-Al
2
O
3
phase formed and to correlate the catalytic properties during trichloroethylene (TCE) combustion. The introduction of Fe in situ during the sol-gel process influenced the crystallite size, and three iron species were generated, namely, magnetite, maghemite and hematite. The impregnated Fe-alumina formed hematite and maghemite, which were highly dispersed on the γ-Al
2
O
3
surface. The X-ray photoelectron spectra (XPS), FT-IR and Mössbauer spectroscopy analyses revealed how Fe interacted with the γ-Al
2
O
3
lattice in both catalysts. The impregnated Fe-catalyst showed the best catalytic performance compared to the catalyst that was Fe-doped in situ by the sol-gel method; both had better catalytic activity than pure alumina. This difference in activity was correlated with the accessibility of the reactants to the hematite iron species on the surface. The chlorine poisoning for all three catalysts was less than 1.8%.
View Full-Text
►

▼

Figures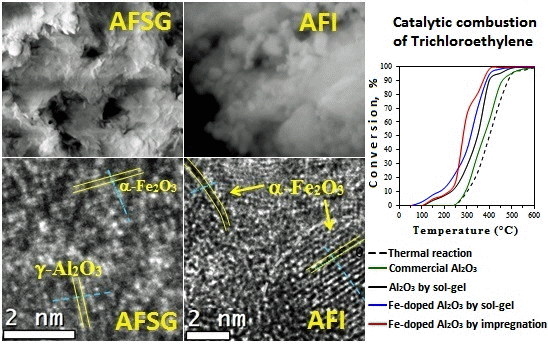 Share & Cite This Article
MDPI and ACS Style
Maldonado, C.S.; De la Rosa, J.R.; Lucio-Ortiz, C.J.; Hernández-Ramírez, A.; Barraza, F.F.C.; Valente, J.S. Low Concentration Fe-Doped Alumina Catalysts Using Sol-Gel and Impregnation Methods: The Synthesis, Characterization and Catalytic Performance during the Combustion of Trichloroethylene. Materials 2014, 7, 2062-2086.
Related Articles
Comments
[Return to top]