Ricin Toxin Activates the NALP3 Inflammasome
Department of Cell and Developmental Biology, Oregon Health and Science University, 3181 S.W. Sam Jackson Park Rd., Portland, OR 97239, USA
†
These authors contributed equally to this work.
*
Author to whom correspondence should be addressed.
Received: 20 April 2010 / Revised: 30 April 2010 / Accepted: 4 May 2010 / Published: 17 June 2010
Abstract
Ricin exhibits well characterized ribotoxic actions that lead to the inhibition of protein synthesis and the phosphorylation of stress activated protein kinases (SAPKs). Proinflammatory effects of ricin are thought to be caused by upregulation of genes encoding proinflammatory transcripts as a result of the activation of c-Jun
N
-terminal kinase (JNK) and p38 MAPK. We reported previously that macrophages and interleukin-1β (IL-1β) signaling are required for murine host immune responses to ricin delivered to the lungs. Here we report that ricin-mediated IL-1β release from bone-marrow derived macrophages is dependent on the NALP3 inflammasome, a scaffolding complex that mediates pro-IL-1β cleavage to active IL-1β by caspase-1. Release of IL-1β from macrophages was suppressed by the reactive oxygen species (ROS) scavenger
N
-acetyl cysteine (NAC) and high extracellular K
+
, which are two agents known to inhibit NALP3/cryopyrin/CIAS1 inflammasome formation. By employing inhibitors of p38 MAPK and JNK, we demonstrated that ricin-mediated release of IL-1β was enhanced, rather than suppressed, by inhibition of SAPK phosphorylation. In contrast, proteasomal inhibitors bortezomib and MG-132 completely suppressed ricin-induced IL-1β release from macrophages. These data suggest that ricin-mediated translational inhibition itself, by fostering the disappearance of labile protein(s) that normally suppress inflammasome formation, may constitute the mechanism underlying IL-1-dependent inflammatory signaling by ricin.
View Full-Text
►

▼

Figures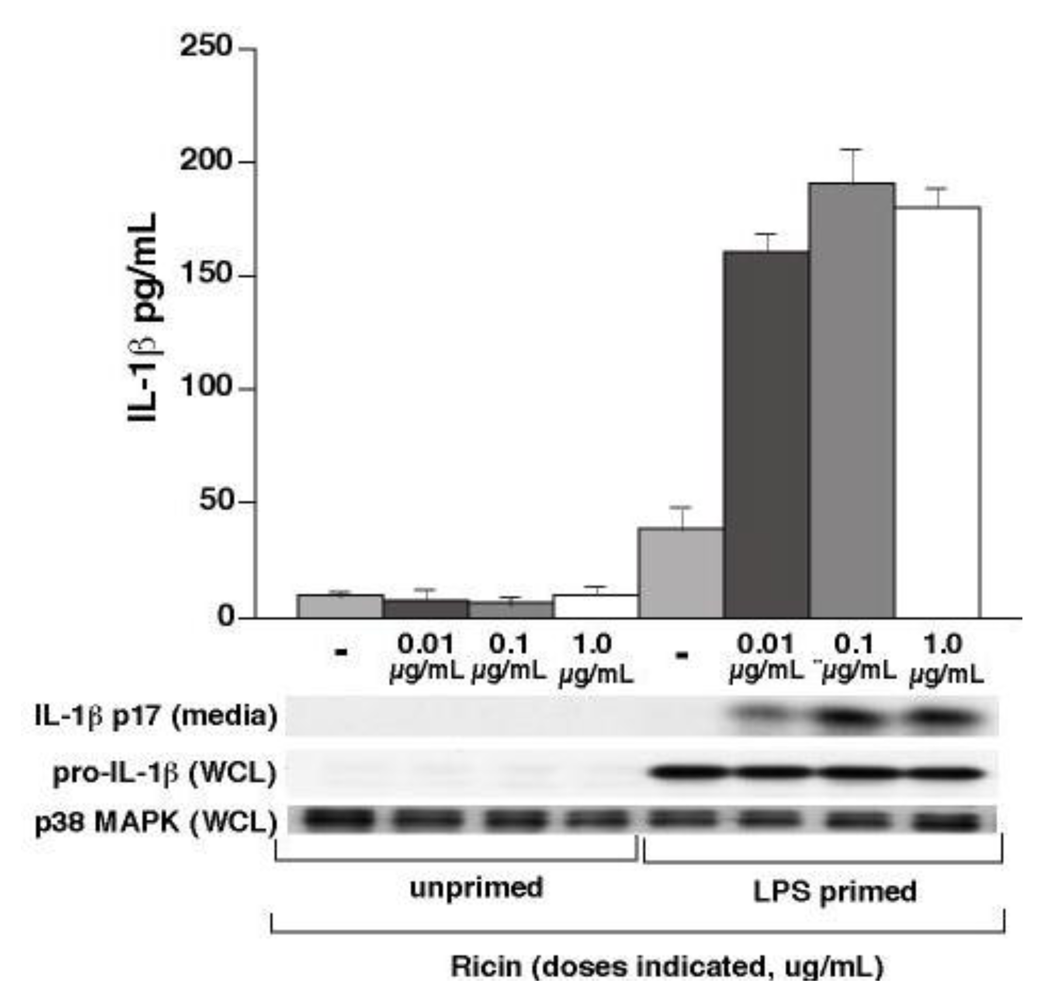 Figure 1
Share & Cite This Article
MDPI and ACS Style
Lindauer, M.; Wong, J.; Magun, B. Ricin Toxin Activates the NALP3 Inflammasome. Toxins 2010, 2, 1500-1514.
Related Articles
Comments
[Return to top]