Development and Evaluation of Monoclonal Antibodies for the Glucoside of T-2 Toxin (T2-Glc)
1
Bacterial Foodborne Pathogens and Mycology Research Unit, USDA-ARS-NCAUR, 1815 N. University St., Peoria, IL 61604, USA
2
Renewable Product Technology Research Unit, USDA-ARS-NCAUR, 1815 N. University St., Peoria, IL 61604, USA
*
Author to whom correspondence should be addressed.
Received: 5 June 2013 / Revised: 11 July 2013 / Accepted: 12 July 2013 / Published: 19 July 2013
Abstract
The interactions between fungi and plants can yield metabolites that are toxic in animal systems. Certain fungi are known to produce sesquiterpenoid trichothecenes, such as T-2 toxin, that are biotransformed by several mechanisms including glucosylation. The glucosylated forms have been found in grain and are of interest as potential reservoirs of T-2 toxin that are not detected by many analytical methods. Hence the glucosides of trichothecenes are often termed "masked" mycotoxins. The glucoside of T-2 toxin (T2-Glc) was linked to keyhole limpet hemocyanin and used to produce antibodies in mice. Ten monoclonal antibody (Mab)-producing hybridoma cell lines were developed. The Mabs were used in immunoassays to detect T2-Glc and T-2 toxin, with midpoints of inhibition curves (IC
50
s) in the low ng/mL range. Most of the Mabs demonstrated good cross-reactivity to T-2 toxin, with lower recognition of HT-2 toxin. One of the clones (2-13) was further characterized with in-depth cross-reactivity and solvent tolerance studies. Results suggest Mab 2-13 will be useful for the simultaneous detection of T-2 toxin and T2-Glc.
View Full-Text
►

▼

Figures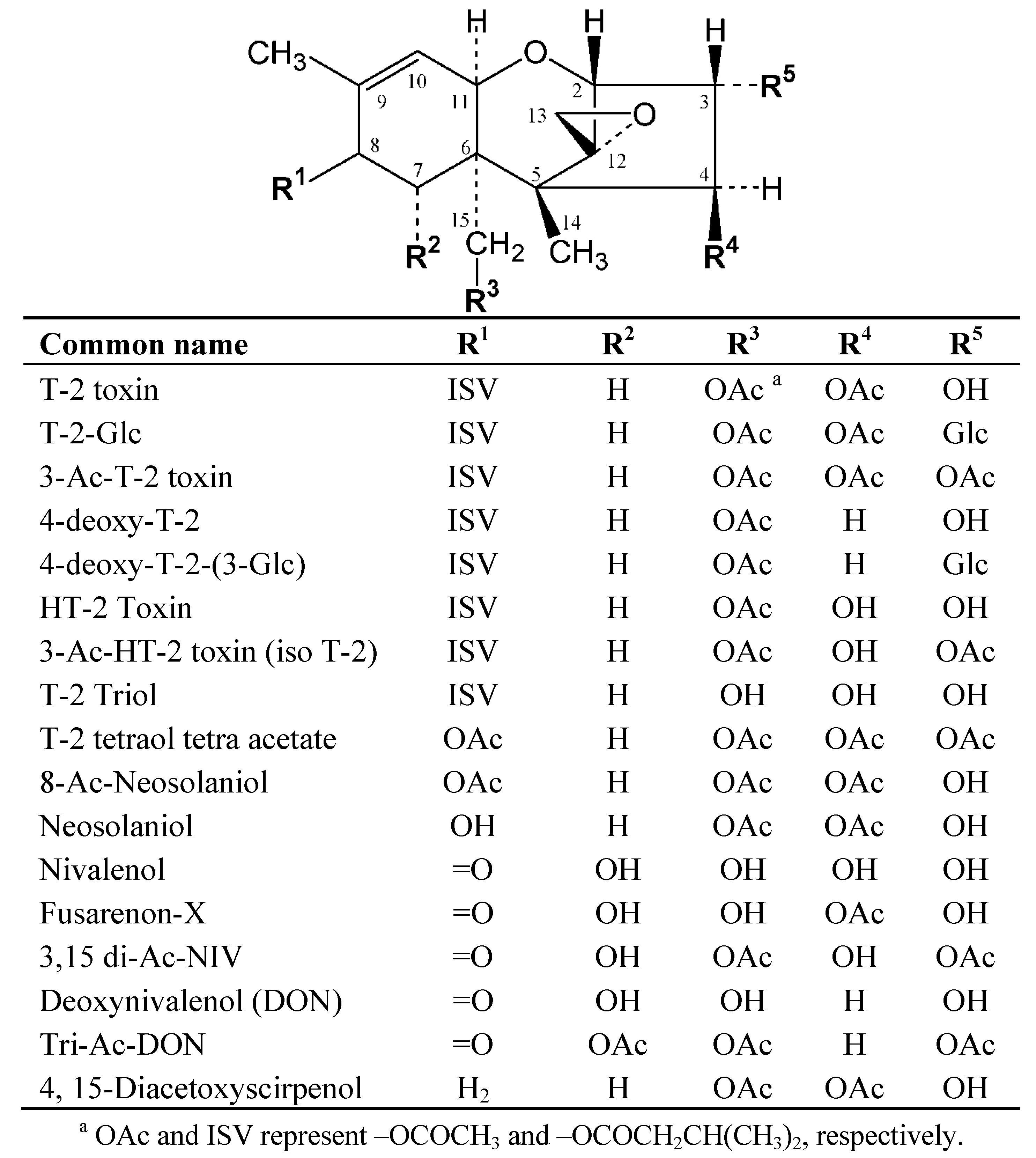 Figure 1
Share & Cite This Article
MDPI and ACS Style
Maragos, C.M.; Kurtzman, C.; Busman, M.; Price, N.; McCormick, S. Development and Evaluation of Monoclonal Antibodies for the Glucoside of T-2 Toxin (T2-Glc). Toxins 2013, 5, 1299-1313.
Related Articles
Comments
[Return to top]