One-Dimensional Coordination Polymers of Lanthanide Cations to Cucurbit[7]uril Built Using a Range of Tetrachloride Transition-Metal Dianion Structure Inducers
1
Key Laboratory of Macrocyclic and Supramolecular Chemistry of Guizhou Province, Guizhou University, Guiyang 550025, China
2
College of Chemistry and Chemical Engineering, Anhui University of Technology, Maanshan 243002, China
3
School of Chemistry and Molecular Biosciences, The University of Queensland, Brisbane St Lucia, QLD 4072, Australia
4
Commonwealth Scientific and Industrial Research Organisation, Materials Science and Engineering, P.O. Box 218, Lindfield, NSW 2070, Australia
*
Authors to whom correspondence should be addressed.
Received: 18 March 2013 / Revised: 30 April 2013 / Accepted: 3 May 2013 / Published: 16 May 2013
Abstract
A number of linear coordination polymers have been assembled from lanthanide cations (Ln
3+
) and cucurbit[7]uril (Q[7]) in the presence of [CuCl
4
]
2−
or [CoCl
4
]
2−
anions acting as inorganic structure inducers in HCl solution. X-ray diffraction analysis has revealed that they form three groups of isomorphous structures. Generally, the complexes of Q[7] with light lanthanide cations (those with atomic number below that of neodymium (Nd
3+
)) are in one group. The other two groups, in which the lanthanide cation has atomic number greater than that of europium (Eu
3+
), seem to follow no obvious rule. For example, the complexes of Q[7] with Eu
3+
and Gd
3+
cations are in the second group in the presence of [CuCl
4
]
2−
anions, while they are in the third group in the presence of [CoCl
4
]
2−
anions. However, whatever group a given complex belongs to, they all show a common honeycomb-patterned supramolecular assembly, in which [CuCl
4
]
2−
or [CoCl
4
]
2−
anions form a honeycomb structure. The Ln
3+
cations then coordinate to neighboring Q[7] molecules to form 1D coordination polymers that are inserted into the channels of the honeycomb framework, such that each individual coordination polymer is surrounded by [CuCl
4
]
2−
or [CoCl
4
]
2−
anions.
View Full-Text
►

▼

Figures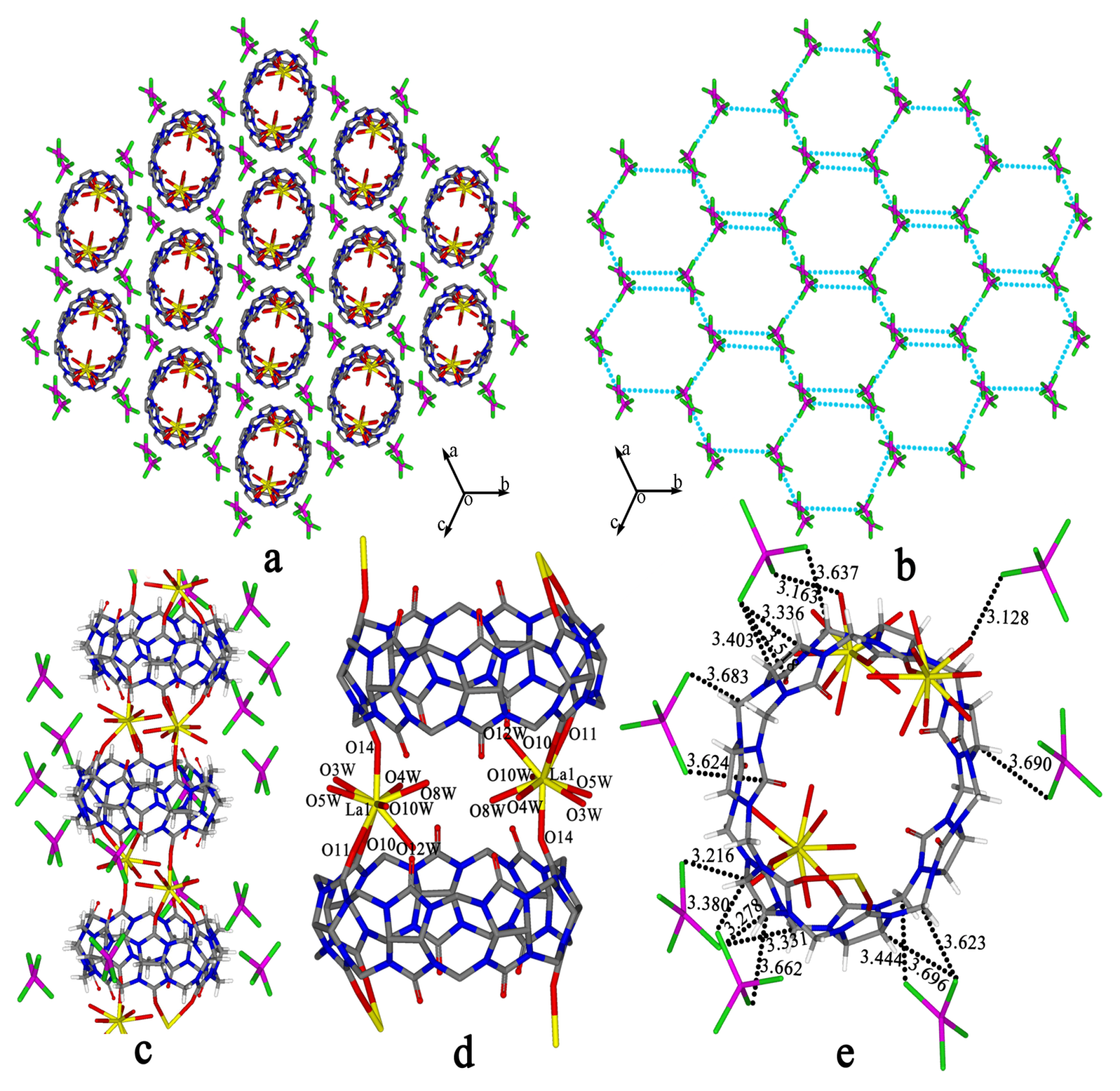 Figure 1
Share & Cite This Article
MDPI and ACS Style
Liang, L.-L.; Zhao, Y.; Chen, K.; Xiao, X.; Clegg, J.K.; Zhang, Y.-Q.; Tao, Z.; Xue, S.-F.; Zhu, Q.-J.; Wei, G. One-Dimensional Coordination Polymers of Lanthanide Cations to Cucurbit[7]uril Built Using a Range of Tetrachloride Transition-Metal Dianion Structure Inducers. Polymers 2013, 5, 418-430.
Related Articles
Comments
[Return to top]