Dating Pupae of the Blow Fly Calliphora vicina Robineau–Desvoidy 1830 (Diptera: Calliphoridae) for Post Mortem Interval—Estimation: Validation of Molecular Age Markers
Institute of Legal Medicine, Goethe University, 60596 Frankfurt, Germany
*
Author to whom correspondence should be addressed.
Received: 31 December 2017 / Revised: 4 March 2018 / Accepted: 5 March 2018 / Published: 9 March 2018
Abstract
Determining the age of juvenile blow flies is one of the key tasks of forensic entomology when providing evidence for the minimum post mortem interval. While the age determination of blow fly larvae is well established using morphological parameters, the current study focuses on molecular methods for estimating the age of blow flies during the metamorphosis in the pupal stage, which lasts about half the total juvenile development. It has already been demonstrated in several studies that the intraspecific variance in expression of so far used genes in blow flies is often too high to assign a certain expression level to a distinct age, leading to an inaccurate prediction. To overcome this problem, we previously identified new markers, which show a very sharp age dependent expression course during pupal development of the forensically-important blow fly
Calliphora vicina
Robineau–Desvoidy 1830 (Diptera: Calliphoridae) by analyzing massive parallel sequencing (MPS) generated transcriptome data. We initially designed and validated two quantitative polymerase chain reaction (qPCR) assays for each of 15 defined pupal ages representing a daily progress during the total pupal development if grown at 17 °C. We also investigated whether the performance of these assays is affected by the ambient temperature, when rearing pupae of
C. vicina
at three different constant temperatures—namely 17 °C, 20 °C and 25 °C. A temperature dependency of the performance could not be observed, except for one marker. Hence, for each of the defined development landmarks, we can present gene expression profiles of one to two markers defining the mentioned progress in development.
View Full-Text
►

▼

Figures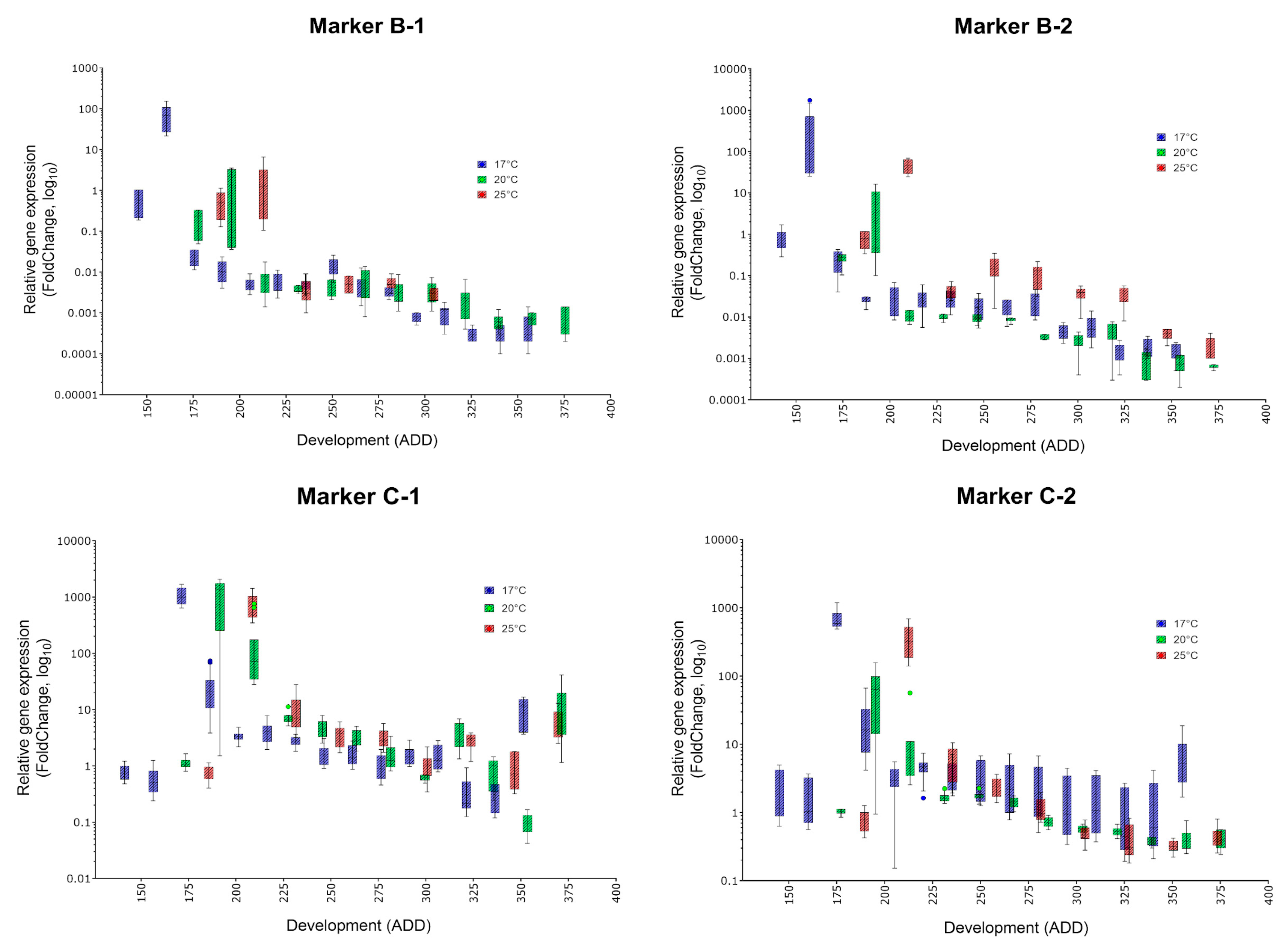 Figure 1a
This is an open access article distributed under the
Creative Commons Attribution License
which permits unrestricted use, distribution, and reproduction in any medium, provided the original work is properly cited. (CC BY 4.0).
Share & Cite This Article
MDPI and ACS Style
Zajac, B.K.; Amendt, J.; Verhoff, M.A.; Zehner, R. Dating Pupae of the Blow Fly Calliphora vicina Robineau–Desvoidy 1830 (Diptera: Calliphoridae) for Post Mortem Interval—Estimation: Validation of Molecular Age Markers. Genes 2018, 9, 153.
Note that from the first issue of 2016, MDPI journals use article numbers instead of page numbers. See further details here.
Related Articles
Comments
[Return to top]