Textural Evidence of Episodic Introduction of Metallic Nanoparticles into Bonanza Epithermal Ores
Department of Geology and Geography, Auburn University, Auburn, AL 36849, USA
Received: 28 June 2012 / Revised: 27 July 2012 / Accepted: 3 August 2012 / Published: 14 August 2012
Abstract
Tertiary low sulfidation (LS) epithermal deposits in the western USA often show evidence of the former presence of nanoparticle-sized precious-metal and silica phases in the highest grade (bonanza) ores. Here, nanoparticles are defined to have a size less than ~10
−
7
m. The ore-mineral textures that formed from aggregation of nanoparticles (or colloids) observed to date in these ores include electrum and naumannite (Ag
2
Se). Here it is proposed that chalcopyrite also forms nanoparticles in these ores, but sulfide nanoparticles apparently have significantly different physical (surface) properties than the precious-metal phases, and thus exhibit different mineral textures (e.g
.
, no textural evidence of previous chalcopyrite nanoparticles). Textures described here show that nanoparticles of precious-metal phases and silica were episodically and often repeatedly deposited to form the banded bonanza veins typical of many western USA epithermal deposits. Chalcopyrite is the most abundant metal-sulfide mineral in these bonanza ores, and it was also deposited episodically as well, and it appears to replace earlier formed naumannite dendrites. However, this apparent "replacement" texture may just be the result of naumannite dendrite limbs trapping chalcopyrite nanoparticles that later recrystallized to the apparent replacement texture. The episodic and repetitive nature of the metal-depositing events may record periodic "degassing" of magma chambers at depth, where metals are repeatedly delivered to the shallow epithermal environment by "vapor-phase" metal (loid) transport.
View Full-Text
►

▼

Figures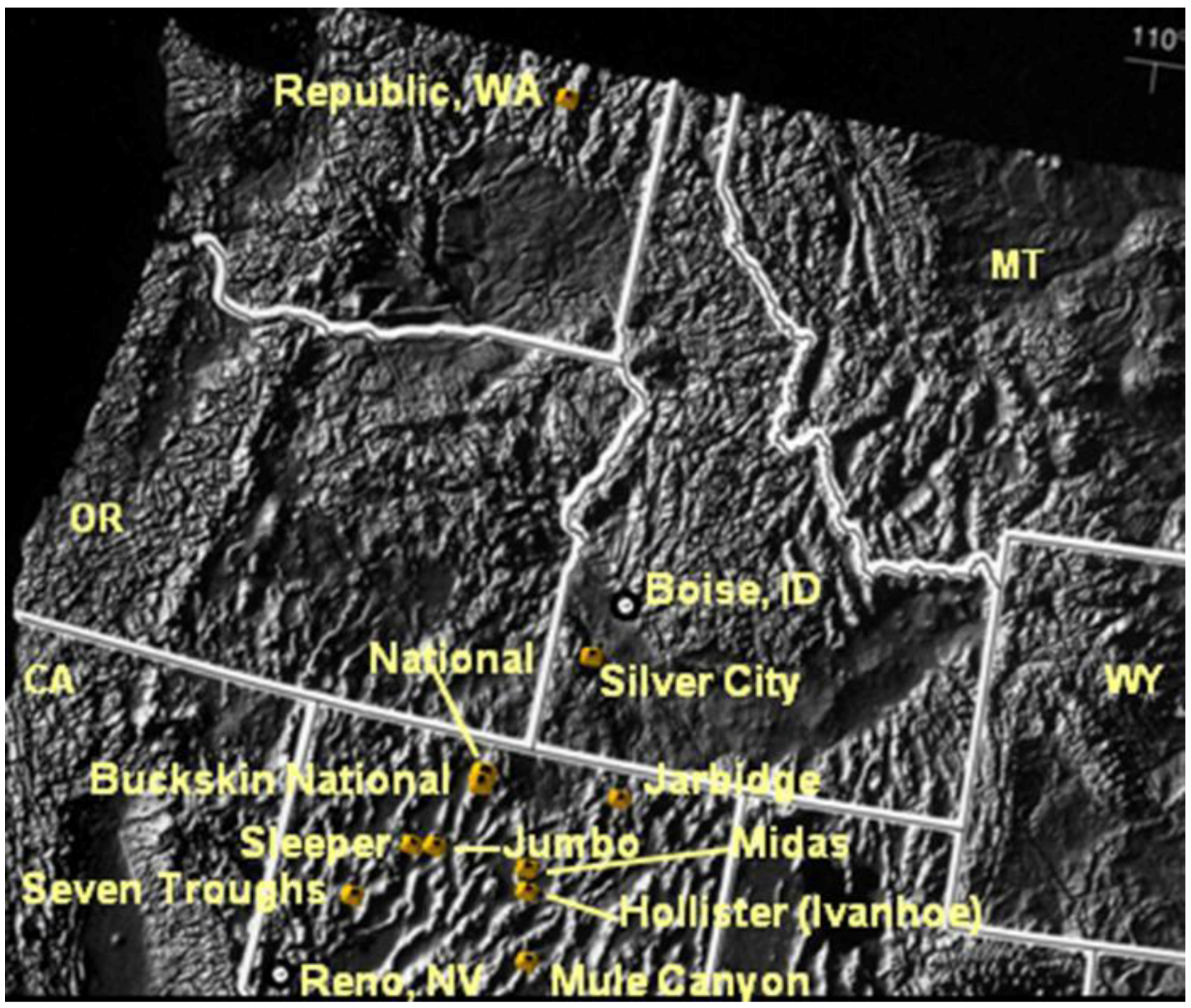 Figure 1
Share & Cite This Article
MDPI and ACS Style
Saunders, J.A. Textural Evidence of Episodic Introduction of Metallic Nanoparticles into Bonanza Epithermal Ores. Minerals 2012, 2, 228-243.
Related Articles
Comments
[Return to top]