Open Access This article is
freely available
re-usable
Review
Hydrogels for Biomedical Applications: Cellulose, Chitosan, and Protein/Peptide Derivatives
Barcelona Research Center for Multiscale Science and Engineering, Universitat Politècnica de Catalunya, Escola d'Enginyeria de Barcelona Est-EEBE, c/Eduard Maristany 10-14, Barcelona 08019, Spain
*
Correspondence: Tel.: +34-93-401-5649
Received: 16 June 2017 / Accepted: 10 July 2017 / Published: 17 July 2017
Abstract
:
Hydrogels based on polysaccharide and protein natural polymers are of great interest in biomedical applications and more specifically for tissue regeneration and drug delivery. Cellulose, chitosan (a chitin derivative), and collagen are probably the most important components since they are the most abundant natural polymers on earth (cellulose and chitin) and in the human body (collagen). Peptides also merit attention because their self-assembling properties mimic the proteins that are present in the extracellular matrix. The present review is mainly focused on explaining the recent advances on hydrogels derived from the indicated polymers or their combinations. Attention has also been paid to the development of hydrogels for innovative biomedical uses. Therefore, smart materials displaying stimuli responsiveness and having shape memory properties are considered. The use of micro- and nanogels for drug delivery applications is also discussed, as well as the high potential of protein-based hydrogels in the production of bioactive matrices with recognition ability (molecular imprinting). Finally, mention is also given to the development of 3D bioprinting technologies.
Keywords:
cellulose; chitosan; collagen; gelatin; peptides; self-assembling; nanogels; shape memory; molecularly imprinting; 3D printing
1. Introduction
Hydrogels are three-dimensional polymer matrices able to retain large amounts of water in a swollen state, a feature that makes them similar to biological tissues. In fact, biomedical applications of hydrogels have been explored continuously since the 1960s, when they were first discovered [
1
]. Physical and chemical crosslinks are fundamental to building a hydrophilic network in which chemical agents can also be incorporated, giving rise to drug delivery systems and even to new functional materials. In fact, research on hydrogels is nowadays mainly focused on developing stimuli-responsive smart materials and hydrogels with shape memory properties that could be applied for innovative biomedical uses [
2
,
3
,
4
,
5
]. Different reviews have addressed natural and synthetic formulations as well as the corresponding general applications [
6
,
7
,
8
,
9
].
Great effort is directed towards designing molecules capable of promoting molecular aggregation (gelators) [
10
,
11
]. The incorporation of units able to establish one-dimensional hydrogen bonding interactions such as amides and saccharides merits attention. In fact, derived low molecular weight compounds can be heated in an appropriate solvent to form a supersaturated solution, which after cooling to room temperature can give rise to a gel through an aggregation process [
12
,
13
,
14
]. Small molecules can be organized into polymer-like fibers that become entangled and constitute a continuous matrix that entraps the solvent by surface tension. A heterogeneous "solid" matrix is obtained with a hierarchical superstructure aggregation that creates dimensions from the nanometric to the micrometric scale.
Development of in situ gelling polymeric matrices is also of great interest in tissue regeneration since these materials can be used as injectable hydrogels. These can act as cell vehicles that have the ability to take the shape of the corresponding tissue cavity. Furthermore, problems related to cell adhesion can be minimized since cells can directly be incorporated into the injectable solution [
15
,
16
]. A suitable in situ hydrogel for biomedical applications should be soluble in aqueous media and have a fast sol-gel transition under physiological conditions without releasing toxic byproducts or harming surrounding tissue [
17
]. In general, injectable hydrogels are designed with functional groups sensitive to external stimuli such as pH, temperature, and light [
18
].
The present review is basically focused on the study of hydrogels for biomedical applications, mainly restricted to cellulose and chitosan (a chitin derivative) as the most abundant natural polymers on earth and collagen as the most abundant protein in the human body. Attention is also paid to the use of peptides due to their abovementioned self-assembling properties. Different subsections also introduce the most relevant topics that can nowadays be considered: (a) responsiveness of hydrogels to external stimuli; (b) development of micro and nanogels (i.e., micro or nanoscopic three-dimensional networks comprising cross-linked polymer molecules dispersed in a proper solvent); (c) shape memory hydrogels; (d) molecularly imprinted hydrogels and (e) protein-based hydrogels for 3D printing.
2. Hydrogels Derived from Cellulose
Cellulose can be employed to produce hydrogels for biomedical applications according to two differentiated methodologies: (a) the use of cellulose-based matrices and (b) the use of composites incorporating nanocellulose.
3. Hydrogels Derived from Chitosan
4. Hydrogels Derived from Collagen and Gelatin
5. Peptide Hydrogels
Peptide amphiphiles are similar to the phospholipids existing in membranes since they are composed of hydrophobic tails and hydrophilic heads. The former are based on nonpolar amino acids with different degrees of hydrophobicity, while the latter can be based on positively or alternatively negatively charged amino acids.
6. Responsiveness to External Stimuli of Peptide-Derived Hydrogels for 3D Cell Culture
Control of supramolecular interactions that lead to the formation of assembled supramolecular structures may facilitate the in situ encapsulation of cells and even the subsequent delivery of the proliferated cells by switching the hydrogel to the sol state by means of proper external stimuli.
8. Shape Memory Hydrogels
9. Molecularly Imprinted Hydrogels
Hydrogels have great potential for macromolecular imprinting since they facilitate both the movement of high molecular weight templates and the production of reversible systems sensitive to external stimuli (e.g., pH or temperature). In addition, they can be easily processed in different forms (e.g., sheets, coatings, or capsules). The main problems with such imprinting hydrogels concern the distortion of binding sites as a consequence of their easy expansion and contraction. Efficiency is consequently affected but different works have been focused on the development of tissue engineering applications that extend their most common use as drug delivery systems.
10. Protein-Based Hydrogels for 3D Printing
11. Conclusions
Cellulose and chitin are the two most abundant natural polymers on earth and consequently the use of them or their derivatives (e.g., chitosan) is widely studied. Biodegradability, biocompatibility, and renewability are characteristics that enhance their interest for biomedical applications and specifically for the development of hydrogels useful for tissue engineering, wound dressing, and drug delivery systems. Advantages related to processability, the presence of functional groups, and bioactivity have also shifted the research focus to improving solubility and basic properties and also to developing new physical and chemical cross-linkers. Hydrogels based on proteins are of great interest for use in physiological environments, taking into account the maintenance of their bioactive properties (e.g., the capability of collagen to enhance cell proliferation and tissue reconstruction). Hybrid materials based on their mixtures and the combination with other natural proteins such as collagen and gelatin may provide materials with considerable advantages over the individual components. Opportunities to create natural hydrogels are clear, although effort is still necessary to improve the final performance and get effective nontoxic cross-linkers. In this sense, the development of injectable hydrogels able to form in the body without requiring surgery or the development of stimuli-responsive smart materials is a clear example of the present trends. Double network hydrogels are highly promising to improve mechanical performance since they intrinsically have toughness and high resistance to mechanical stress due to the capacity for establishing entanglements that involve different network structures with efficient energy dissipation. The mechanical performance of hydrogels can be improved by the incorporation of fillers, with cellulose nanocrystals and hydroxyapatite being some of the natural compounds most often employed.
The use of hydrogelators based on peptides has great potential in the biomedical field since they can mimic extracellular matrices. The advantages of such systems concern biocompatibility, controllable self-assembly, and the feasibility of creating hydrogels under physiological conditions through the establishment of physical interactions (e.g., hydrogen bonds, π–π stacking, etc.). In fact, hydrogen bonds are essential in living systems and may allow the culture of cells by means of proper stimulus (e.g., pH, light, enzymes, etc.). Furthermore, the properties of the derived hydrogels can be easily varied due to their dependence on the amino acid sequence, it being possible to get complex responses to external stimuli. Nevertheless, research must continue to address different challenges such as limited mechanical properties or the control over the porosity and morphology of the derived hydrogel.
Micro- and nanogels have great potential as drug delivery systems and can be used in other areas as bioimaging, sensors, and even tissue engineering. The main applications are based on the ability to tune the particle size from the micrometric to the nanometric scale, together with the large surface area, which makes bioconjugation feasible, and the inner network that favors efficient encapsulation of molecules. In this sense, hydrogel particles show clear advantages over typical systems based on micelles and liposomes.
Shape memory hydrogels can be designed to switch their form in response to external stimuli as heat, pH, light, or ions. Temporary cross-links can be modified and dual or even more complex effects can be derived. Recent advances are focused on achieving the appropriate functionality to satisfy the increasing demand for materials for the biomedical field and even for their use as smart actuators.
Hydrogels appear to be ideal systems for the molecular imprinting of biomacromolecules and the production of bioactive matrices with recognition ability. Promising results as cell culture systems have specifically been attained using hydrogels based on natural polymers.
Three-dimensional printing technologies are a major area of development, given that they are probably the most promising devices focused on biomaterial deposition. In addition, applications in tissue engineering and medicine are well documented, and the possibility of producing artificial organs justifies the great research efforts. Different examples emphasize the potential of the technology for bioprinting natural proteins despite the difficulty of preserving their structure and functionality. Recent efforts have demonstrated the feasibility of employing ink that incorporates cells as well as the possibility of culturing cells within the printed scaffolds.
Acknowledgments
The authors acknowledge support from MINECO and FEDER (MAT2015-69547-R and MAT2015-69367-R), and the Generalitat de Catalunya (2014SGR188).
Author Contributions
Angélica Díaz, Luís J. del Valle, and Jordi Puiggalí contributed equally to the development of the review.
Conflicts of Interest
The authors declare no conflict of interest.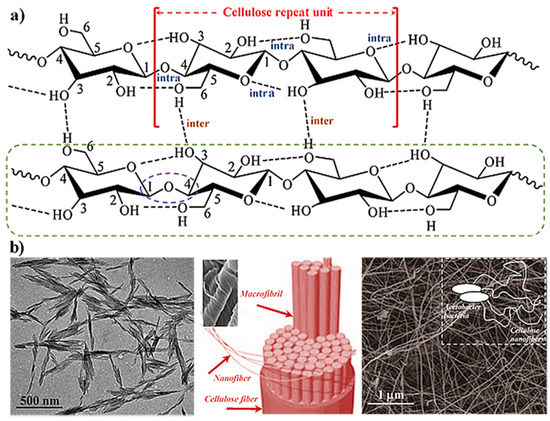 Figure 1.
(
a
) Scheme of the linear molecular chain (green box), the syndiotactic repeat unit (garnet), the establishment of glycosylic bonds between glucose rings (violet ellipsoid) and intra and intermolecular hydrogen bonding interactions; (
b
) TEM micrograph of cellulose nanowhiskers (left), scheme and SEM micrograph of nanofibers derived from a fiber of cellulose (middle) and TEM micrograph of bacterial cellulose (right). Reproduced with permission from [
19
], copyright 2007 ACS; and reproduced from [
20
].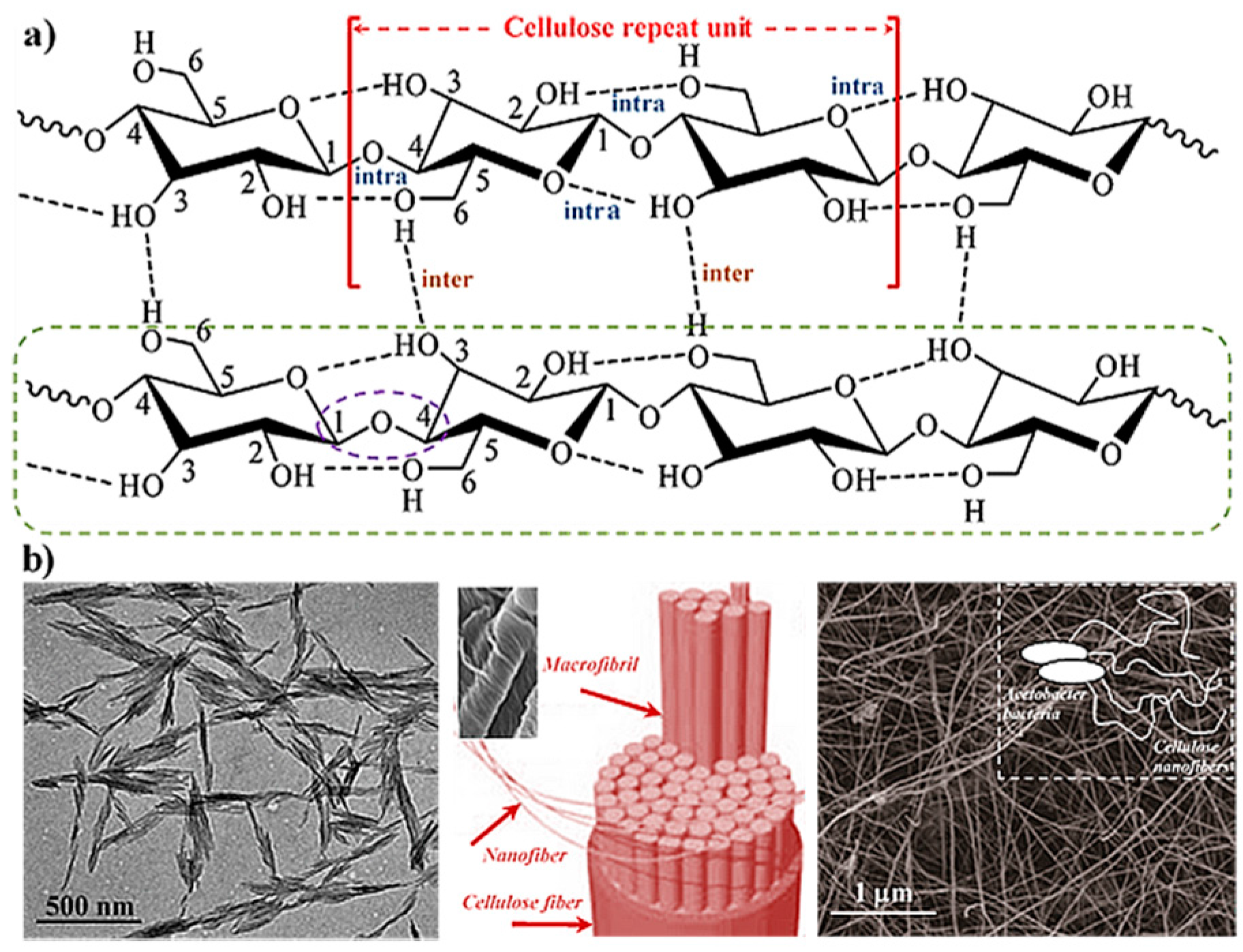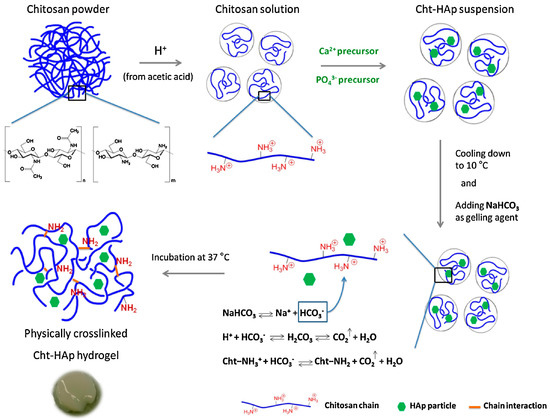 Figure 2.
Preparation of a physically crosslinkinked injectable hydrogel based on chitosan and hydroxyapatite. Reproduced with permission from [
87
], copyright 2017 Elsevier.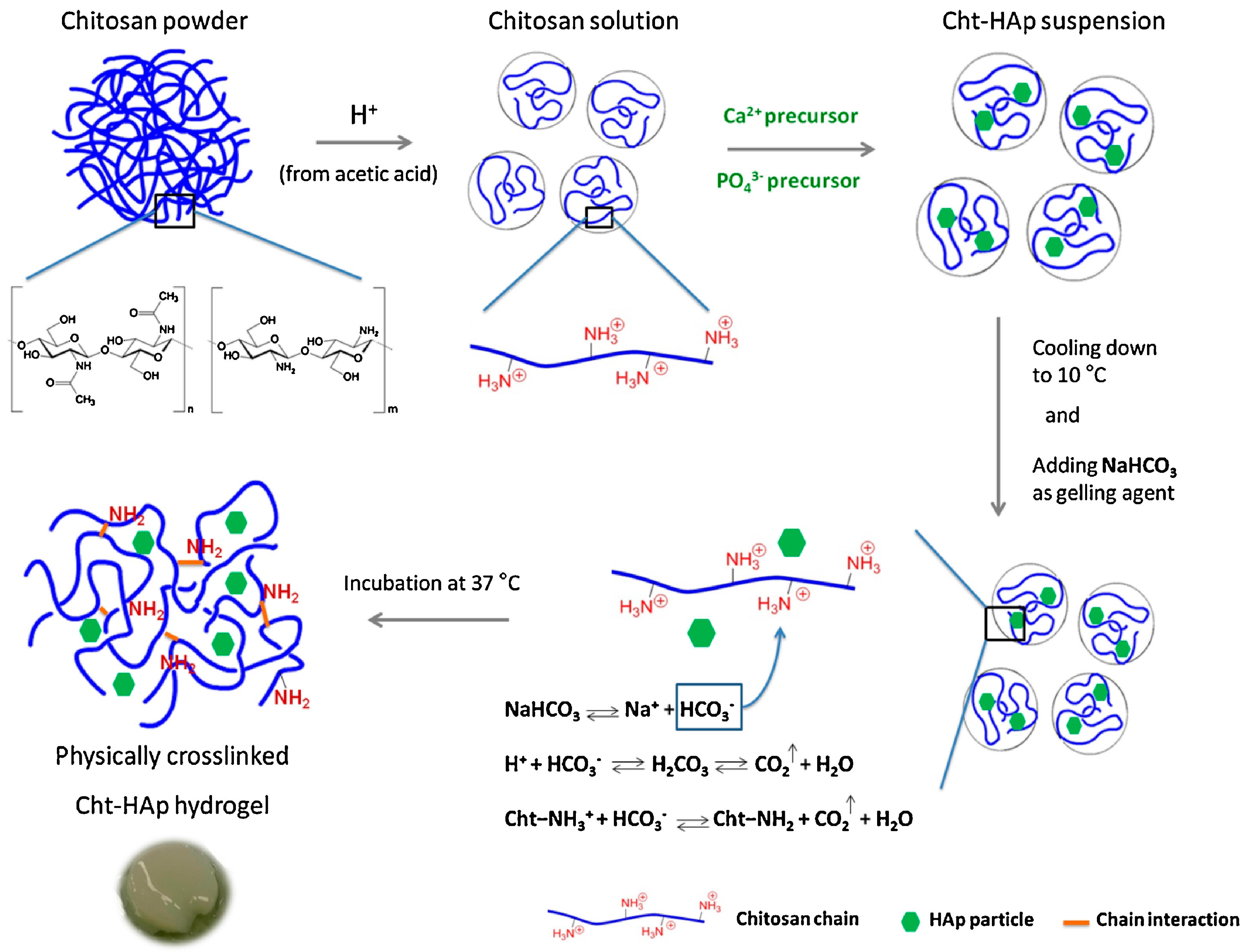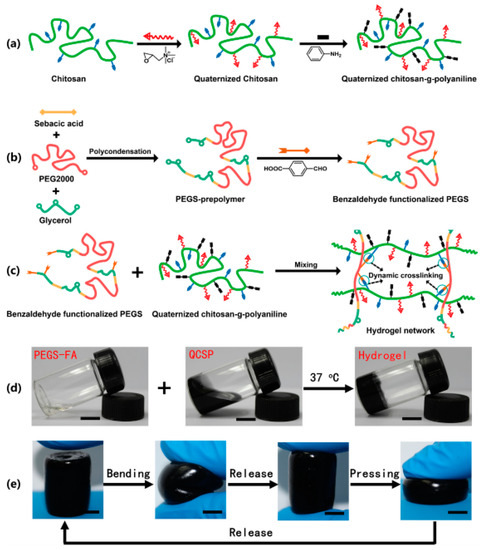 Figure 3.
Scheme showing the synthesis of chitosan-
g
-aniline (
a
), PEGS-FA copolymers (
b
) and the structure of the hydrogel derived from both copolymers (
c
). Photographs showing the corresponding solutions (
d
) and flexible behavior of the hydrogel under bending and pressing efforts (
e
). Reproduced with permission from [
89
], copyright 2017 Elsevier.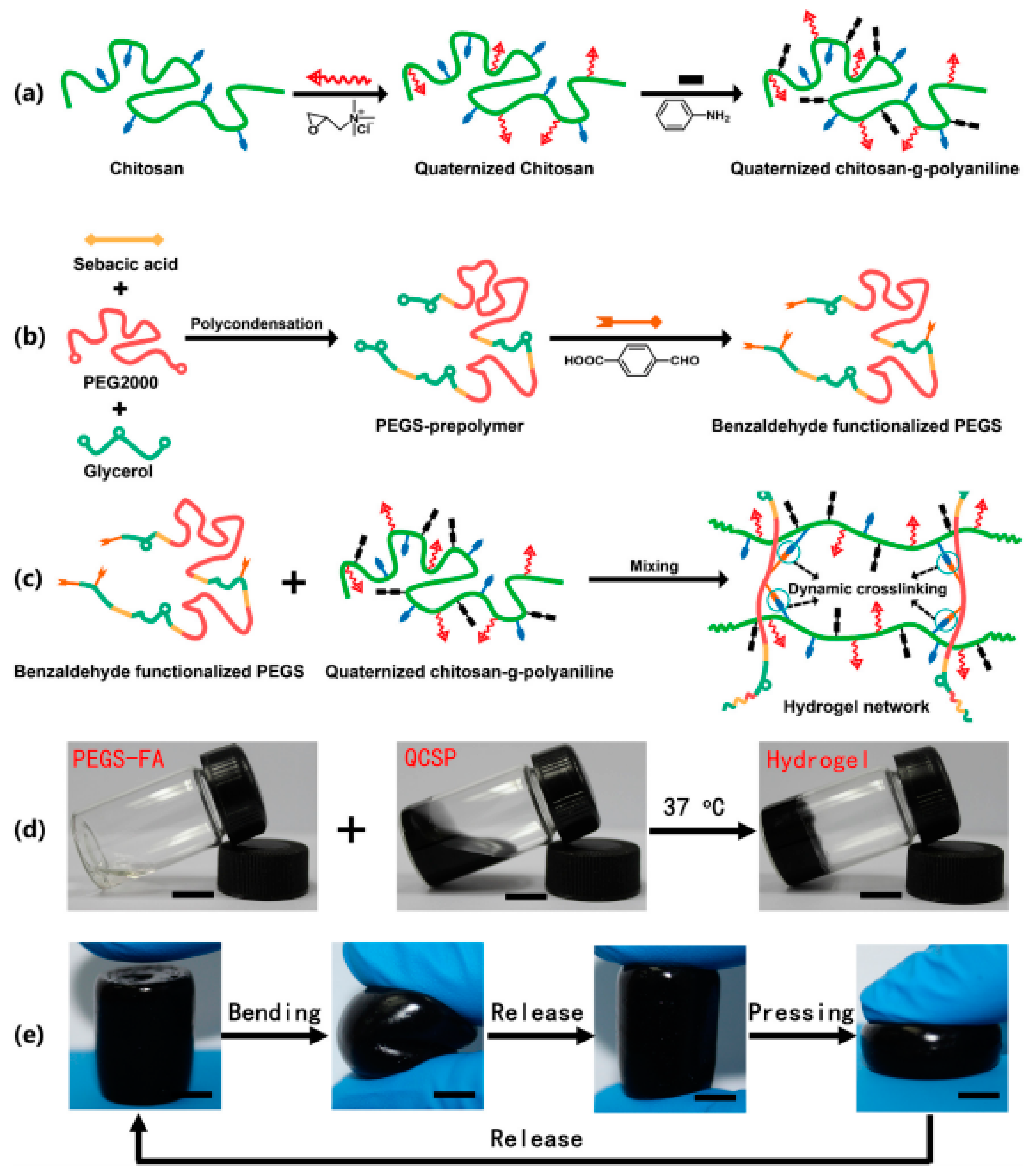 Figure 4.
Preparation of hollow structures (e.g., cup and tube) from CS/gelatin hydrogels based on a controllable ion crosslinking process. Reproduced with permission from [
113
], copyright 2017 Elsevier.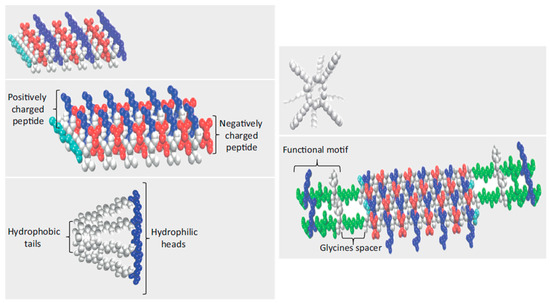 Figure 5.
Typical structures of different self-assembled peptides: RADA-like SAPs, complementary coassembling peptides, peptide amphiphiles, cyclo-SAPs, and functionalized SAPs. Reproduced with permission from [
121
], copyright 1995 Elsevier.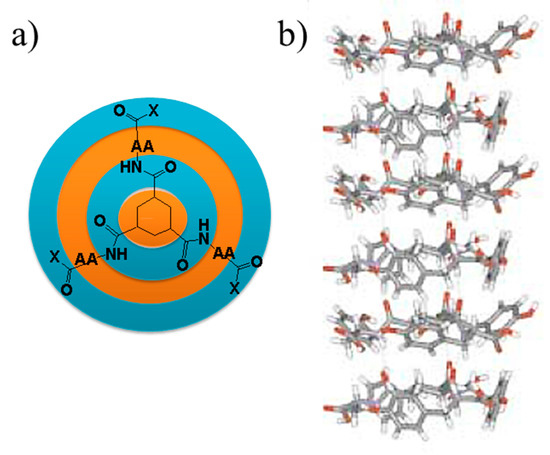 Figure 6.
(
a
) Scheme showing the hydrophobic (blue) and hydrophilic (orange) regions of a cyclohexane-based hydrogelator having amino acids (AA) with hydrophobic side groups; (
b
) a single strand formed through the multiple hydrogen bonds that each single molecule can establish. Reproduced with permission from [
127
], copyright 2004 Wiley.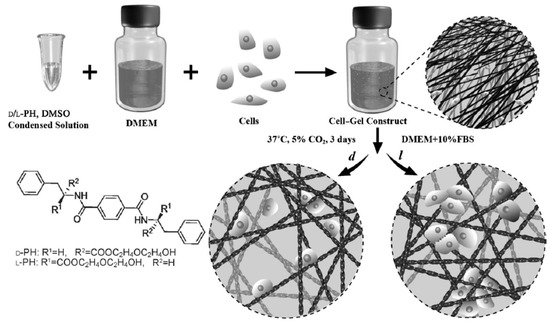 Figure 7.
Schematic representation of the culture of fibroblast or endothelial cells in enantiomeric nanofibrous hydrogels (
d
,
l
right-handed and left-handed helices, respectively). Reproduced with permission from [
144
], copyright 2014 Wiley.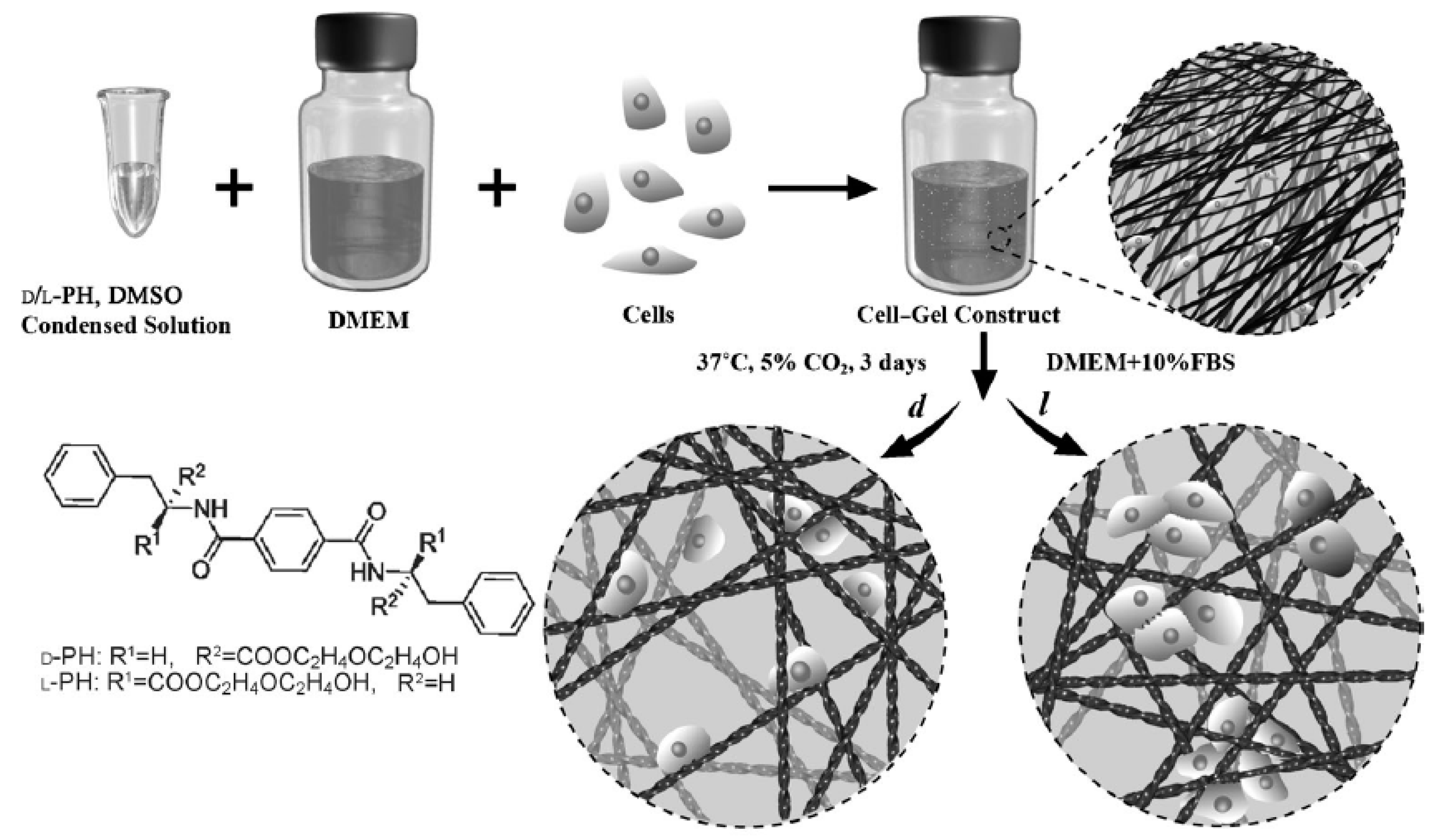 Figure 8.
Scheme showing the different preparation methods applied for the production of micro/nanogel particles. Reproduced with permission from [
147
], copyright 2017 Elsevier.

Figure 9.
Scheme showing the different preparation methods applied for the production microgel networks. Reproduced with permission from [
147
], copyright 2017 Elsevier.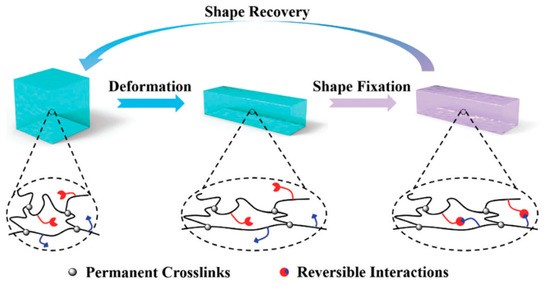 Figure 10.
Mechanism of SSMHs: A crosslinked hydrogel can be deformed under an external stress and the temporary shape fixed by an external stimulus that induces the establishment of reversible interactions. A second stimulus may break the interactions and the material reverts to its permanent shape. Reproduced with permission from [
173
], copyright 2017 RSC.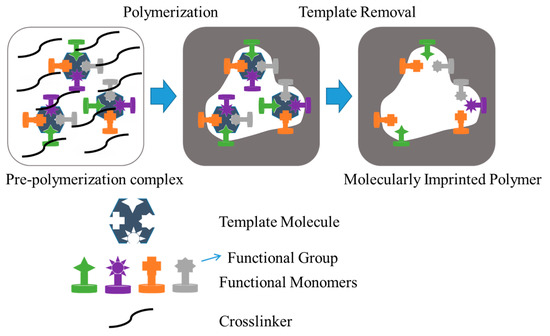 Figure 11.
Scheme showing the different steps involved in the molecular imprinting process: Mixing of the appropriate template molecule and the selected functional monomer(s) and cross-linker(s) in a solvent; the polymerization of the formed complex; and finally the removal of the template, unreacted monomer, and cross-linker molecules. Adapted from [
179
].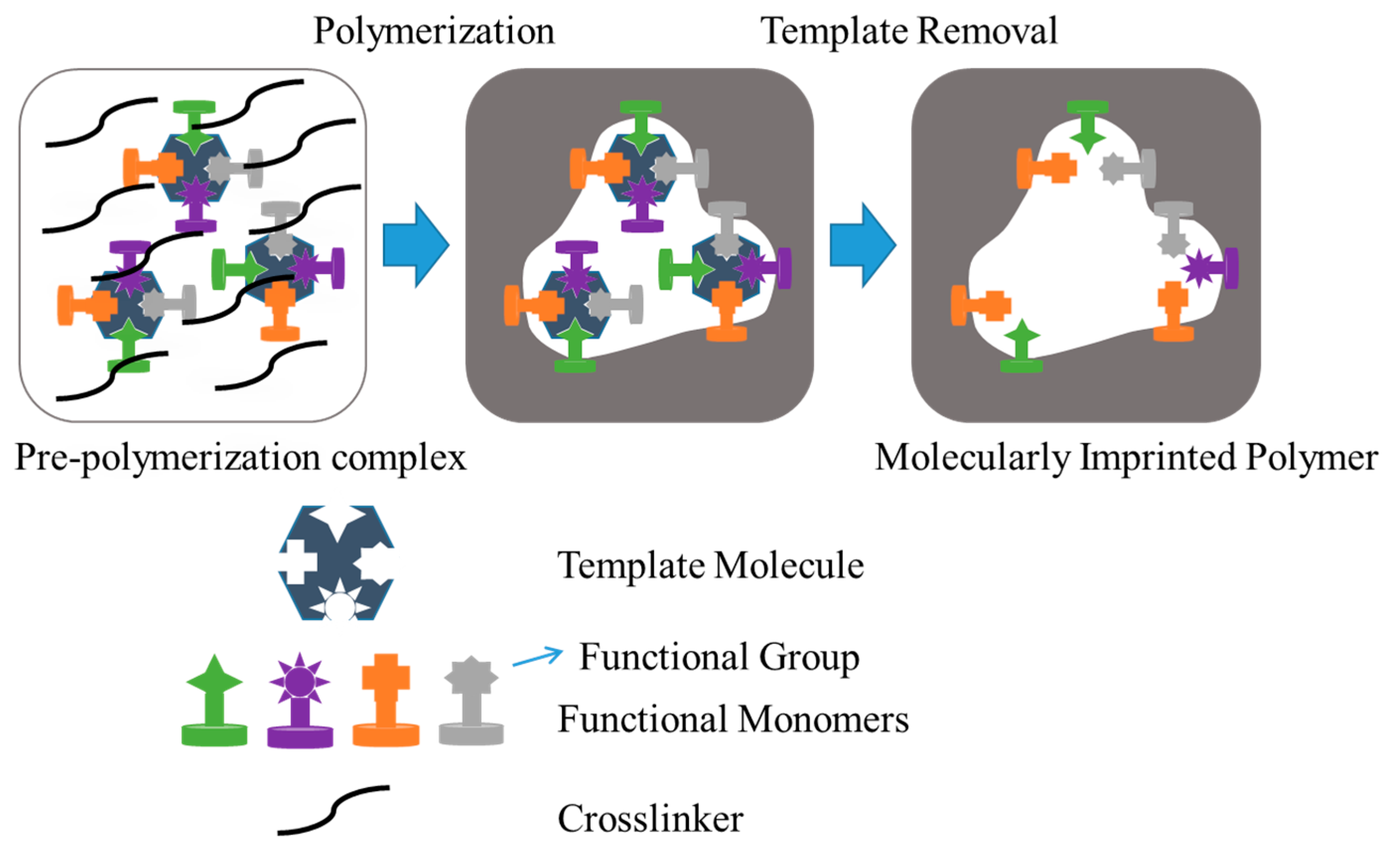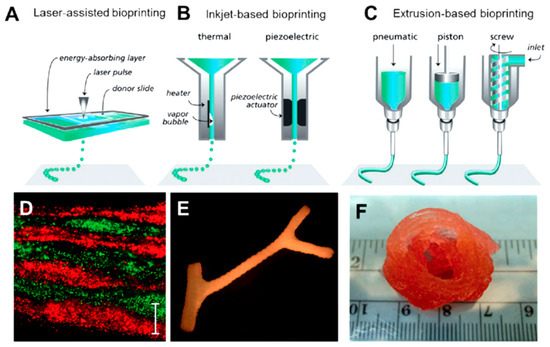 Figure 12.
Main 3D bioprinting strategies: (
A
) laser-assisted; (
B
) injet-based and (
C
) extrusion-based. Examples of bioprinting tissues correspond to skin prepared by laser printing (
D
); branched vasculature obtained by inkjet printing (
E
) and heart aortic valve by extrusion bioprinting (
F
). Reproduced with permission from [
194
], copyright 2016 Wiley.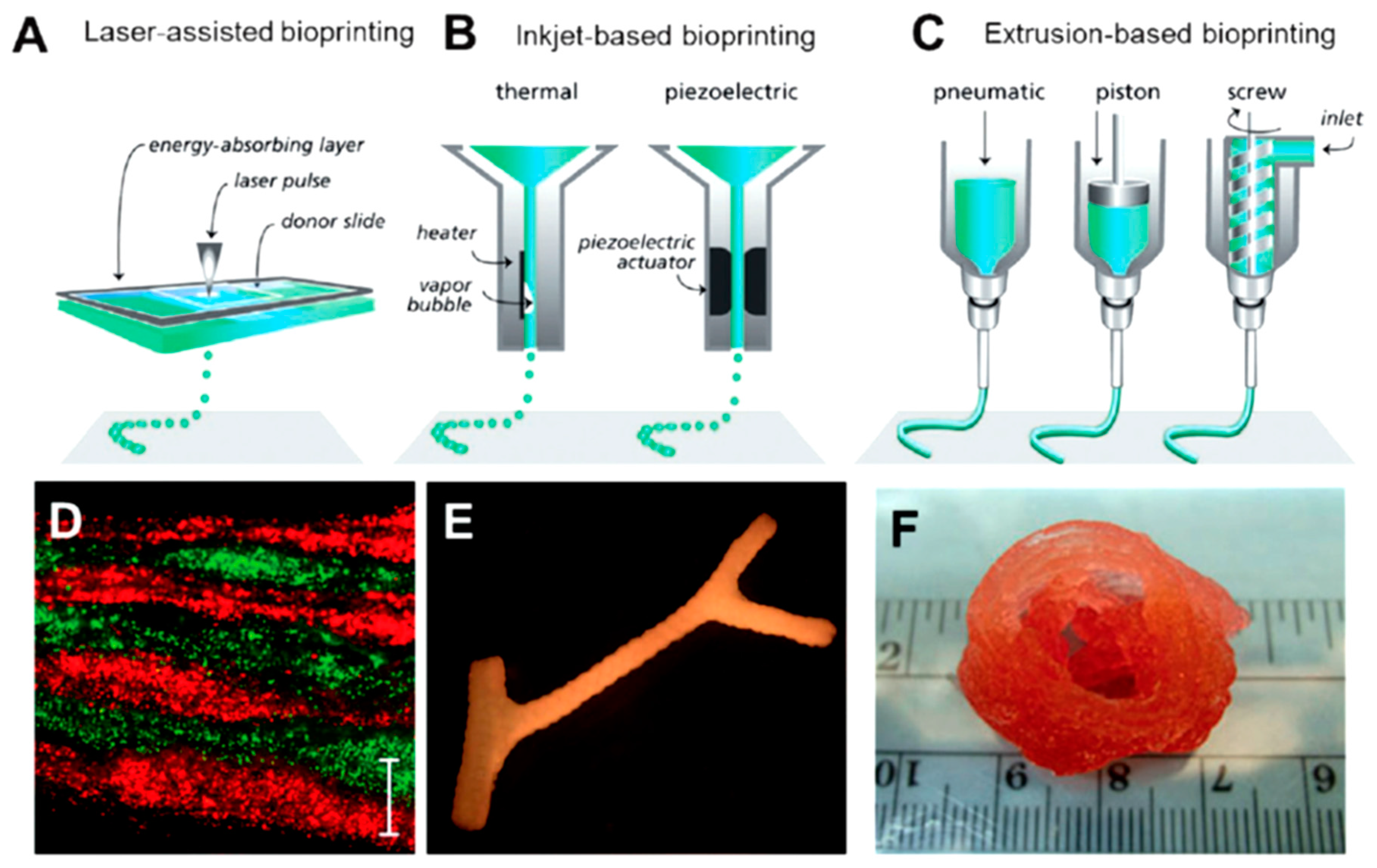 © 2017 by the authors. Licensee MDPI, Basel, Switzerland. This article is an open access article distributed under the terms and conditions of the Creative Commons Attribution (CC BY) license (http://creativecommons.org/licenses/by/4.0/).