7–9 February 2018
Viruses 2018
Barcelona, Spain
Dear Colleagues,
It is with great pleasure that I announce the conference "Viruses 2018: Breakthroughs in Viral Replication" to be held in Barcelona, Spain 7-9, February, 2018. The importance of viruses to human health has never been more apparent, and significant progress is being made in understanding virus replication, structure, transmission, pathogenesis, and antiviral immunity. This conference will bring together leading virologists from around the world to share their recent findings. Meeting participants will have the opportunity to present posters and short talks on their work and discuss their research in a relaxed, collegial environment.
The conference is sponsored by MDPI, the publisher of the open-access journal Viruses and follows the very successful meeting Viruses 2016: At the Forefront of Virus-Host Interactions held in Jan 2016 in Basel, Switzerland.
I very much look forward to seeing you at this exciting meeting in Barcelona.
Best regards,
Eric O. Freed, Ph.D.
Editor-in-Chief, Viruses
Director, HIV Dynamics and Replication Program
National Cancer Institute
Frederick, MD, USA

7–8 September 2017
IMAV 2017
University of Glasgow
IMAV 2017, the 2nd International Meeting on Arboviruses and their Vectors, aims to bring together experts in the field and will appeal to scientists involved in arbovirus research and beyond, as key questions in arbovirus biology also apply to other pathogens, including tick-borne bacteria or parasites.
The IMAV 2017 meeting aims to provide a platform to showcase advancements in the field by world-leading experts; give researchers in the field the opportunity to present their findings to an international audience; give scientists at all levels, from students to experts and leaders, an opportunity to get a broad, up-to-date overview of important developments and questions in the field; and allow extensive networking opportunities at a Focused Meeting which is unique in its field.
https://www.microbiologysociety.org/event/society-events-and-meetings/focused-meeting-2017-2nd-international-meeting-on-arboviruses-and-their-vectors-imav-2017.html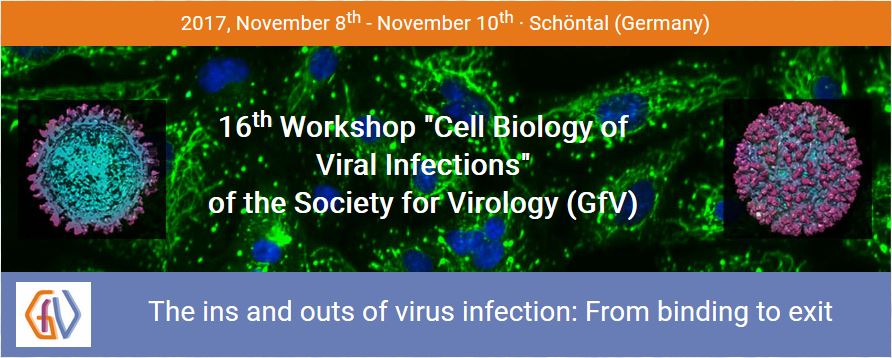 8–10 November 2017
16th Workshop "Cell Biology of Viral Infections" of the Society for Virology (GfV)
Schöntal (Germany)
The 16th Workshop on the Cell Biology of Viral Infections will bring four international renowned scientists (Professors Helenius, Kielian, Sodeik, and Pöhlmann) with unique experience in both cell biology and virology. The all four have investigated the virus life cycle during their entire career, specifically from cell biology perspectives.
This year, they will share their unique experience and vision with us in the great atmosphere of the Monastery of Schöntal (Germany).
For more information, please visit our website www.gfv-cellviro.de and feel free to contact us at contact@gfv-cellviro.de if you have any questions.
Journal Contact