Evaluation of Deoxyribonucleic Acid Toxicity Induced by the Radiopharmaceutical 99mTechnetium-Methylenediphosphonic Acid and by Stannous Chloride in Wistar Rats
Departamento de Biofísica e Biometria, Instituto de Biologia Roberto Alcantara Gomes, Universidade do Estado do Rio de Janeiro, Av. 28 de Setembro, 87, Rio de Janeiro 20551-030, Brazil
*
Author to whom correspondence should be addressed.
Received: 25 September 2012 / Revised: 10 October 2012 / Accepted: 25 October 2012 / Published: 1 November 2012
Abstract
Radiopharmaceuticals are employed in patient diagnostics and disease treatments. Concerning the diagnosis aspect, technetium-99m (
99m
Tc) is utilized to label radiopharmaceuticals for single photon computed emission tomography (SPECT) due to its physical and chemical characteristics.
99m
Tc fixation on pharmaceuticals depends on a reducing agent, stannous chloride (SnCl
2
) being the most widely-utilized. The genotoxic, clastogenic and anegenic properties of the
99m
Tc-MDP(methylene diphosphonate used for bone SPECT) and SnCl
2
were evaluated in Wistar rat blood cells using the Comet assay and micronucleus test. The experimental approach was to endovenously administer NaCl 0.9% (negative control), cyclophosphamide 50 mg/kg b.w. (positive control), SnCl
2
500 μg/mL or
99m
Tc-MDP to animals and blood samples taken immediately before the injection, 3, and 24 h after (in the Comet assay) and 36 h after, for micronucleus test. The data showed that both SnCl
2
and
99m
Tc-MDP-induced deoxyribonucleic acid (DNA) strand breaks in rat total blood cells, suggesting genotoxic potential. The
99m
Tc-MDP was not able to induce a significant DNA strand breaks increase in
in vivo
assays. Taken together, the data presented here points to the formation of a complex between SnCl
2
in the radiopharmaceutical
99m
Tc-MDP, responsible for the decrease in cell damage, compared to both isolated chemical agents. These findings are important for the practice of nuclear medicine.
View Full-Text
►

▼

Figures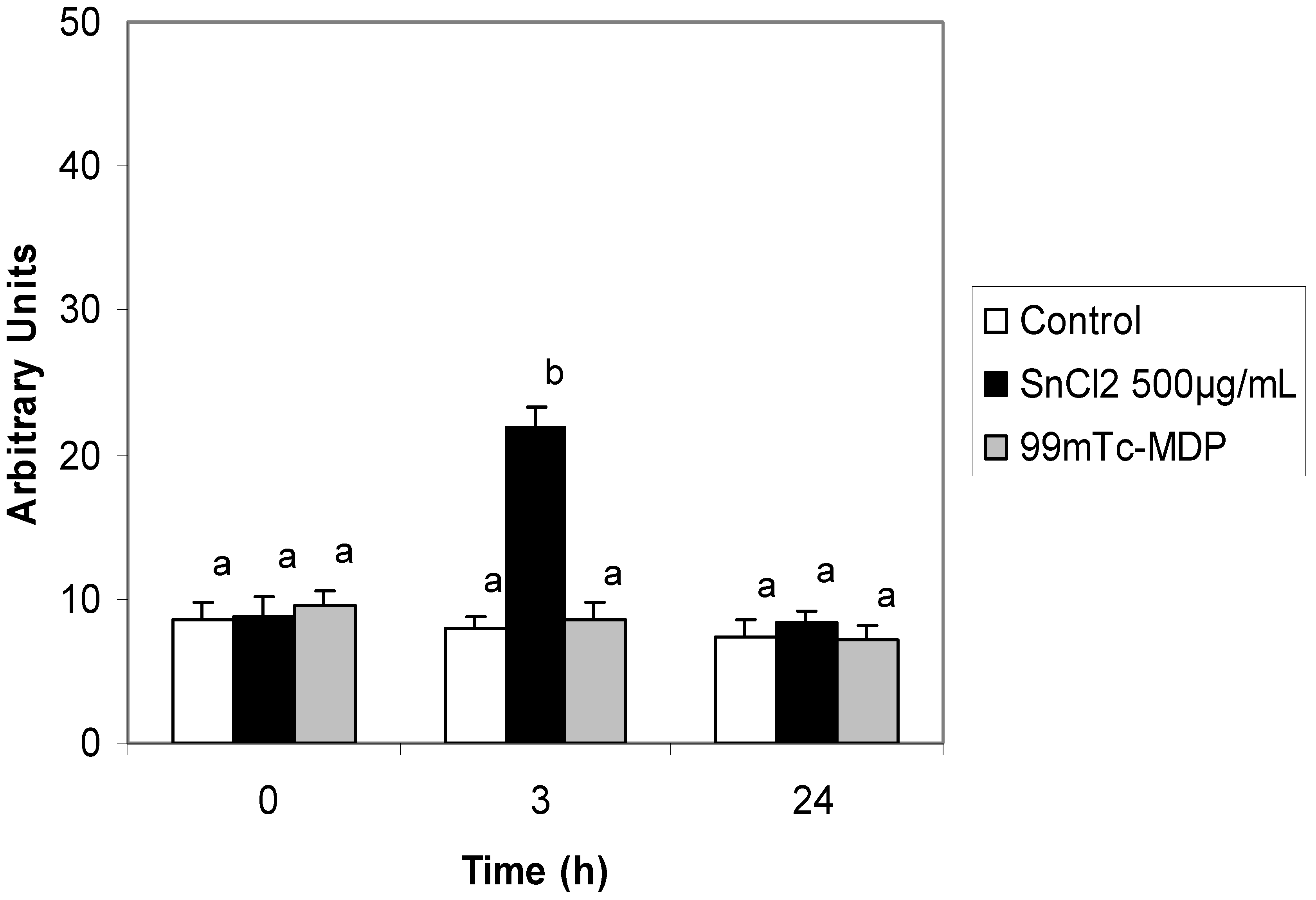 Figure 1
Share & Cite This Article
MDPI and ACS Style
De Mattos, J.C.P.; Matos, V.C.; Rodrigues, M.P.; Oliveira, M.B.N.; Dantas, F.J.S.; Santos-Filho, S.D.; Bernardo-Filho, M.; Caldeira-de-Araujo, A. Evaluation of Deoxyribonucleic Acid Toxicity Induced by the Radiopharmaceutical 99mTechnetium-Methylenediphosphonic Acid and by Stannous Chloride in Wistar Rats. Molecules 2012, 17, 12974-12983.
Related Articles
Comments
[Return to top]