Red Ginseng Marc Oil Inhibits iNOS and COX-2 via NFκB and p38 Pathways in LPS-Stimulated RAW 264.7 Macrophages
1
Department of Food & Life Sciences, College of Biomedical Science & Engineering, Inje University, Gimhae 621-749, Korea
2
Ginseng Product Research Institute, R&D Headquarters, Korea Ginseng Corp., Daejeon 305-805, Korea
†
These authors contributed equally to this work.
*
Author to whom correspondence should be addressed.
Received: 11 October 2012 / Revised: 19 November 2012 / Accepted: 20 November 2012 / Published: 22 November 2012
Abstract
In this study, we investigated the anti-inflammatory effects of red ginseng marc oil (RMO) in the RAW 264.7 macrophage cell line. RMO was prepared by a supercritical CO
2
extraction of waste product generated after hot water extraction of red ginseng. RMO significantly inhibited the production of oxidative stress molecules such as nitric oxide and reactive oxygen species in lipopolysaccharide (LPS)-activated RAW 264.7 cells. Levels of inflammatory targets including prostaglandin E2, tumor necrosis factor-α, interleukin (IL)-1β and IL-6 were also reduced after the treatment with RMO. In addition, RMO diminished the expressions of inducible nitric oxide synthase and cyclooxygenase 2 at both mRNA and protein levels. Blockade of nuclear translocation of the p65 subunit of nuclear factor κB (NFκB) was also observed after the treatment of RMO. Furthermore, RMO decreased the phosphorylations of p38 mitogen-activated protein kinase (MAPK) and its upstream kinases including MAPK kinases 3/6 (MKK3/6) and TAK 1 (TGF-β activated kinase 1). Gas chromatographic analysis on RMO revealed that RMO contained about 10% phytosterols including sitosterol, stigmasterol and campesterol which may contribute to the anti-inflammatory properties of RMO. Taken together, these results suggest that the anti-inflammatory effect of RMO in LPS-induced RAW 264.7 macrophages could be associated with the inhibition of NFκB transcriptional activity, possibly via blocking the p38 MAPK pathway.
View Full-Text
►

▼

Figures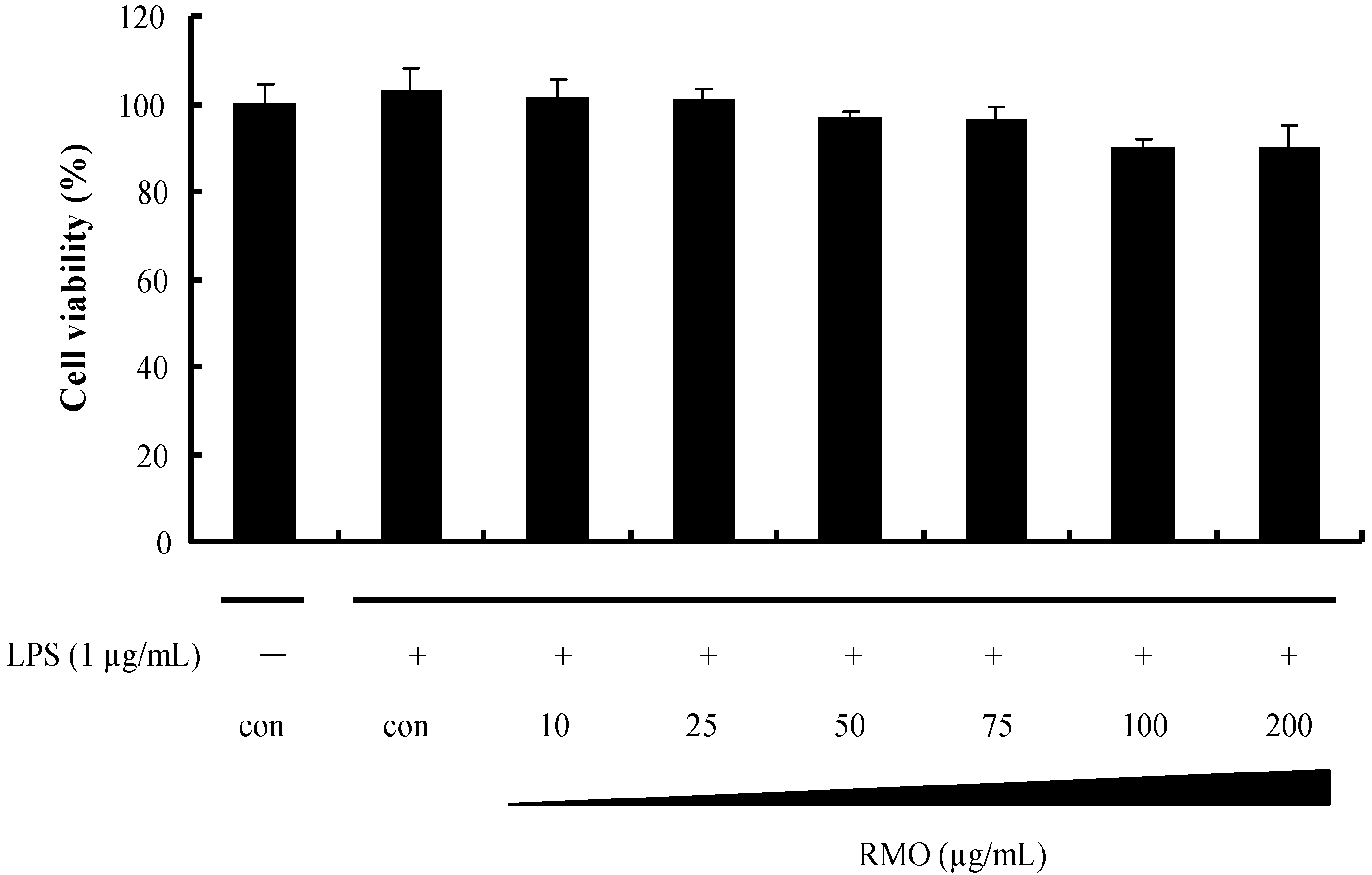 Figure 1
Share & Cite This Article
MDPI and ACS Style
Bak, M.-J.; Hong, S.-G.; Lee, J.-W.; Jeong, W.-S. Red Ginseng Marc Oil Inhibits iNOS and COX-2 via NFκB and p38 Pathways in LPS-Stimulated RAW 264.7 Macrophages. Molecules 2012, 17, 13769-13786.
Related Articles
Comments
[Return to top]