Cell Suspension Culture of Eriobotrya japonica Regulates the Diabetic and Hyperlipidemic Signs of High-Fat-Fed Mice
1
Graduate Institute of Pharmaceutical Science and Technology, College of Health Science, Central Taiwan University of Science and Technology, No.666, Buzih Road, Beitun District, Taichung 40601, Taiwan
2
Department of Internal Medicine, Fong-Yuan Hospital, Department of Health, Executive Yuan, Fong-Yuan District, Taichung 42055, Taiwan
3
Graduate Institute of Pharmaceutical Chemistry, China Medical University, Taichung 40402, Taiwan
4
Jen Li Biotech Co. Ltd., Yong-Feng Road, Taiping District, Taichung 41143, Taiwan
*
Author to whom correspondence should be addressed.
Received: 28 November 2012 / Revised: 16 February 2013 / Accepted: 18 February 2013 / Published: 1 March 2013
Abstract
The present study investigates the anti-hyperlipidemic and antihyperglycemic effects and mechanism in high-fat (HF)-fed mice of cell suspension culture of
Eriobotrya japonica
(TA), which contains a great number of pentacyclic terpenoids. Firstly, C57BL/6J mice were randomly divided into two groups: the control (CON) group was fed with a low-fat diet (n = 9), whereas the experimental group was fed a 45% HF diet for 8 weeks. Afterwards, the CON group was treated with vehicle, whereas the HF group was subdivided into five groups and was orally given TA or rosiglitazone or not for 4 weeks. Blood and visceral adipose tissue, liver tissue and skeletal muscle were examined. Treatment with TA reduced body weight gain, weights of white adipose tissue (WAT) (including epididymal, perirenal, mesenteric WAT and visceral fat), and hepatic triacylglycerol content significantly without affecting food intake in diet-induced diabetic mice. TA effectively prevented HF diet-induced increases in the levels of blood glucose, insulin, leptin and HOMA-IR index (
p
< 0.001,
p
< 0.05,
p
< 0.05,
p
< 0.01, respectively) and attenuated insulin resistance. Treatment with TA, adipocytes in the visceral depots showed a reduction in size. TA effectively significantly increased the protein contents of phosphorylation of AMPK-α (Thr172) both in liver and adipose tissue. It is shown that TA exhibits hypolipidemic effect in HF-fed mice by decreasing gene expressions of fatty acid synthesis, including acyl-coenzyme A: diacylglycerol acyltransferase (DGAT) 2, which catalyzes the final step in the synthesis of triglycerides, and antidiabetic properties occurred as a result of decreased hepatic glucose production via phosphenolpyruvate carboxykinase (PEPCK) down- regulation, improved insulin sensitization and TA (at 1.0 g/kg dose) decreased expression of hepatic and adipose 11-β-hydroxysteroid dehydroxygenase (11β-HSD1) gene, which contributed in attenuating diabetic state. Futhermore, TA at doses of 0.5 and 1.0 g/kg had serum lipid-lowering action characterized by the inhibition of DGAT 1 expression. Thus, amelioration of diabetic and dyslipidemic state by TA in HF-fed mice occurred by regulation of PEPCK, DGAT2 and AMPK phosphorylation.
View Full-Text
►

▼

Figures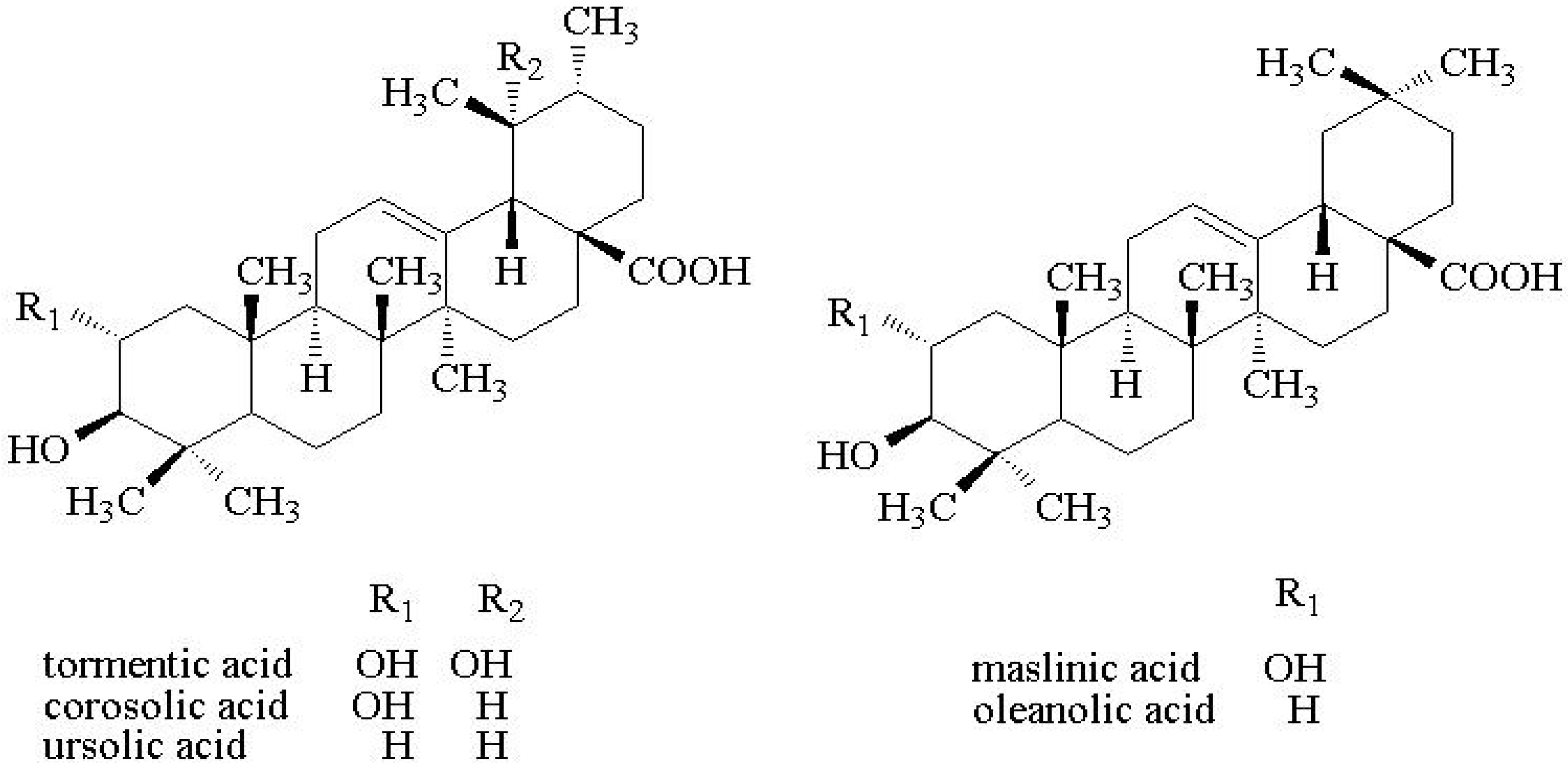 Figure 1
Share & Cite This Article
MDPI and ACS Style
Shih, C.-C.; Ciou, J.-L.; Lin, C.-H.; Wu, J.-B.; Ho, H.-Y. Cell Suspension Culture of Eriobotrya japonica Regulates the Diabetic and Hyperlipidemic Signs of High-Fat-Fed Mice. Molecules 2013, 18, 2726-2753.
Related Articles
Comments
[Return to top]