Synthesis and Biological Activity of 6-Selenocaffeine: Potential Modulator of Chemotherapeutic Drugs in Breast Cancer Cells
1
Centro de Química Estrutural, Instituto Superior Técnico, Universidade Técnica de Lisboa, 1049-001 Lisboa, Portugal
2
Research Institute for Medicines and Pharmaceutical Sciences (iMed.UL), Faculty of Pharmacy, University of Lisbon, Av. Prof. Gama Pinto, 1649-003 Lisbon, Portugal
3
CBIOS, Universidade Lusófona de Humanidades e Tecnologias, 1749-024 Lisboa, Portugal
*
Author to whom correspondence should be addressed.
Received: 18 March 2013 / Revised: 4 April 2013 / Accepted: 25 April 2013 / Published: 8 May 2013
Abstract
We report the development of a new microwave-based synthetic methodology mediated by Woollins' reagent that allowed an efficient conversion of caffeine into 6-selenocaffeine. A preliminary evaluation on the modulation of antioxidant activity upon selenation of caffeine, using the DPPH assay, indicated a mild antioxidant activity for 6-selenocaffeine, contrasting with caffeine, that exhibited no antioxidant activity under the same experimental conditions. Interestingly, whereas 6-selenocaffeine has revealed to have a low cytotoxic potential in both MCF10A and MCF-7 breast cells (24 h, up to 100 µM, MTT assay), a differential effect was observed when used in combination with the anticancer agents doxorubicin and oxaliplatin in MCF-7 breast cancer cells. The co-treatment of doxorubicin (1 µM) and 6-selenocaffeine (100 µM) resulted in a slight decrease in cellular viability when compared to doxorubicin (1 µM) alone. Conversely, the seleno-caffeine derivative at the same concentration markedly increased the viability of oxaliplatin (100 µM)-treated cells (
p
< 0.01). Overall, this work highlights an emerging methodology to synthesize organoselenium compounds and points out the differential roles of 6-selenocaffeine in the modulation of the cytotoxicity of anticancer agents.
View Full-Text
►

▼

Figures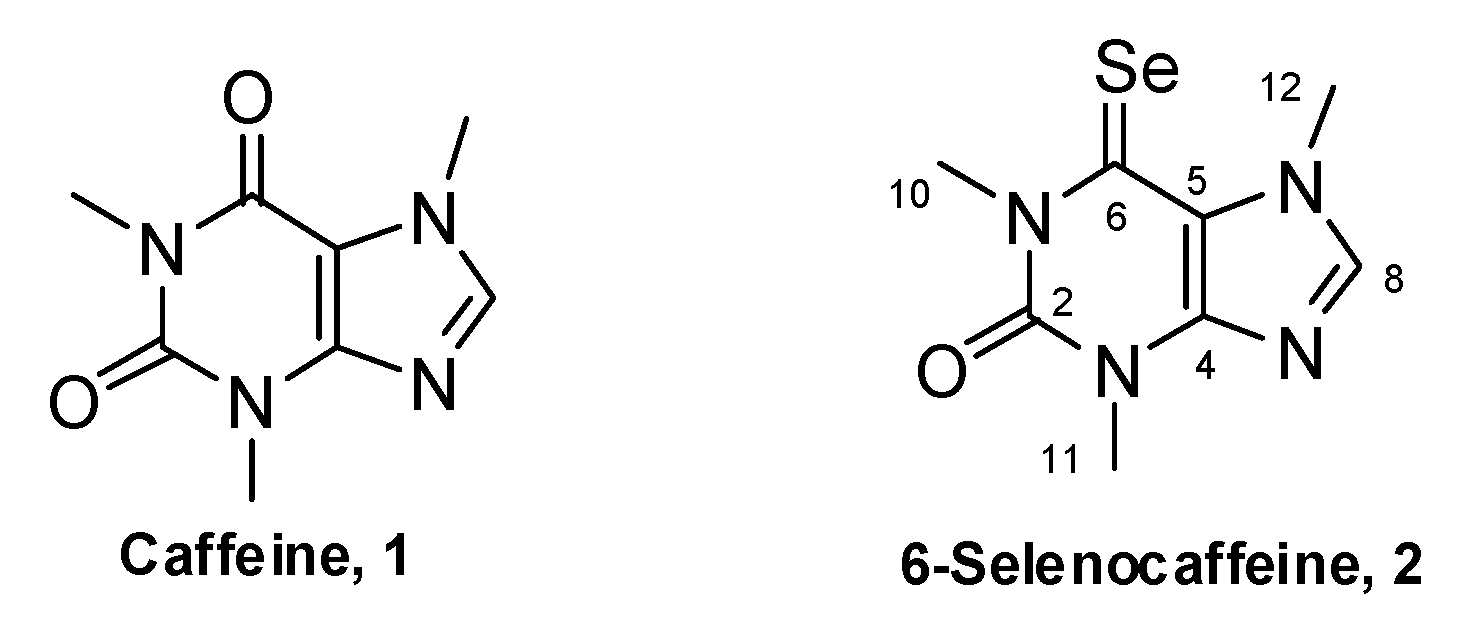 Figure 1
Share & Cite This Article
MDPI and ACS Style
Martins, I.L.; Miranda, J.P.; Oliveira, N.G.; Fernandes, A.S.; Gonçalves, S.; Antunes, A.M.M. Synthesis and Biological Activity of 6-Selenocaffeine: Potential Modulator of Chemotherapeutic Drugs in Breast Cancer Cells. Molecules 2013, 18, 5251-5264.
Related Articles
Comments
[Return to top]