The Development, Physicochemical Characterisation and in Vitro Drug Release Studies of Pectinate Gel Beads Containing Thai Mango Seed Kernel Extract
1
Department of Pharmacy, Faculty of Pharmacy, Mahidol University, 447 Sri-Ayudthaya Road, Phayathai, Bangkok 10400, Thailand
2
University Lyon, University Claude-Bernard Lyon 1, LAGEP UMR CNRS 5007, F-69622, Villeurbanne, France
3
ISPB-School of Pharmacy, University Lyon 1, F-69008, Lyon, France
4
Department of Pharmaceutical Botany, Faculty of Pharmaceutical Sciences, Chulalongkorn University, Phayathai Road, Bangkok 10330, Thailand
*
Author to whom correspondence should be addressed.
Received: 2 May 2013 / Revised: 27 May 2013 / Accepted: 28 May 2013 / Published: 3 June 2013
Abstract
Pectinate gel beads containing Thai mango seed kernel extract (MSKE, cultivar 'Fahlun') were developed and characterised for the purpose of colon-targeted delivery. The MSKE-loaded pectinate beads were prepared using ionotropic gelation with varying pectin-to-MSKE ratios, MSKE concentrations, and concentrations of two cross-linkers (calcium chloride and zinc acetate). The formulated beads were spherical in shape and ranged in size between 1.13 mm and 1.88 mm. Zinc-pectinate (ZPG) beads containing high amounts of MSKE showed complete entrapment efficiency (EE) of MSKE (100%), while calcium-pectinate (CPG) beads demonstrated 70% EE. The
in vitro
release tests indicated that MSKE-loaded CPG beads were unstable in both simulated gastric medium (SGM) and simulated intestinal medium (SIM), while MSKE-loaded ZPG beads were stable in SIM but unable to prevent the release of MSKE in SGM. The protection of ZPG beads with gastro-resistant capsules (Eudragit
®
L 100-55) resulted in stability in both SGM and SIM; they disintegrated immediately in simulated colonic medium containing pectinolytic enzymes. MSKE-loaded ZPG beads were stable at 4, 25 and 45 °C during the study period of four months.
The present study revealed that ZPG beads in enteric-coated capsules might be a promising carrier for delivering MSKE to the colon.
View Full-Text
►

▼

Figures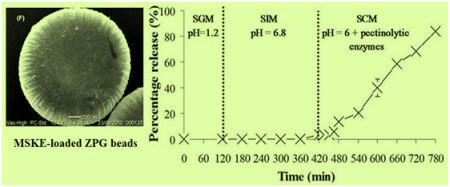 Share & Cite This Article
MDPI and ACS Style
Nithitanakool, S.; Pithayanukul, P.; Bourgeois, S.; Fessi, H.; Bavovada, R. The Development, Physicochemical Characterisation and in Vitro Drug Release Studies of Pectinate Gel Beads Containing Thai Mango Seed Kernel Extract. Molecules 2013, 18, 6504-6520.
Related Articles
Comments
[Return to top]