A Soft Coral Natural Product, 11-Episinulariolide Acetate, Inhibits Gene Expression of Cyclooxygenase-2 and Interleukin-8 through Attenuation of Calcium Signaling
1
Department of Clinical Pharmacy, Taipei Medical University, Taipei 110, Taiwan
2
Department of Physiology, College of Medicine, Kaohsiung Medical University, Kaohsiung 807, Taiwan
3
Division of Gastroeintestinal and General Surgery, Department of Surgery, Kaohsiung Medical University Hospital, Kaohsiung Medical University, Kaohsiung 807, Taiwan
4
Graduate Institute of Clinical Medicine, College of Medicine, Kaohsiung Medical University, Kaohsiung 807, Taiwan
5
Cancer Center, Kaohsiung Medical University Hospital, Kaohsiung Medical University, Kaohsiung 807, Taiwan
6
Department of Marine Biotechnology and Resources, National Sun Yat-sen University, Kaohsiung 804, Taiwan
7
Graduate Institute of Natural Products, College of Pharmacy, Kaohsiung Medical University, Kaohsiung 807, Taiwan
8
Department of Medical Research, China Medical University Hospital, China Medical University, Taichung 404, Taiwan
9
Department of Pharmacy, Taipei Medical University-Wanfang Hospital, Taipei 116, Taiwan
10
Master Program for Clinical Pharmacogenomics and Pharmacoproteomics, School of Pharmacy, Taipei Medical University, Taipei 110, Taiwan
*
Authors to whom correspondence should be addressed.
Received: 22 April 2013 / Revised: 30 May 2013 / Accepted: 13 June 2013 / Published: 17 June 2013
Abstract
Epidermal growth factor receptor (EGFR) is overexpressed in many types of cancer cells. EGFR-mediated signaling involves inflammatory gene expression including cyclooxygenase (COX)-2 and interleukin (IL)-8, and is associated with cancer pathogenesis. In a search of
phytochemicals with anti-inflammatory activity, the COX-2 and IL-8 inhibitory activities of some marine compounds were examined. After screening these compounds
11-episinulariolide acetate (
1
) from soft coral exhibited the most potent activity. Reverse-transcription PCR; western blotting; ELISA and luciferase assays were used to test the effect of compound
1
on EGF-stimulated expressions of COX-2 and IL-8 in A431 human epidermoid carcinoma cells. After exposure to 10 μM of compound
1
, expression levels of COX-2 and IL-8 were reduced. In addition; intracellular Ca
2+
increase and Ca
2+
-dependent transcription factor activation were blocked by compound
1
. Thus, compound
1
can potentially serve as a lead compound for targeting Ca
2+
signaling-dependent inflammatory diseases.
View Full-Text
►

▼

Figures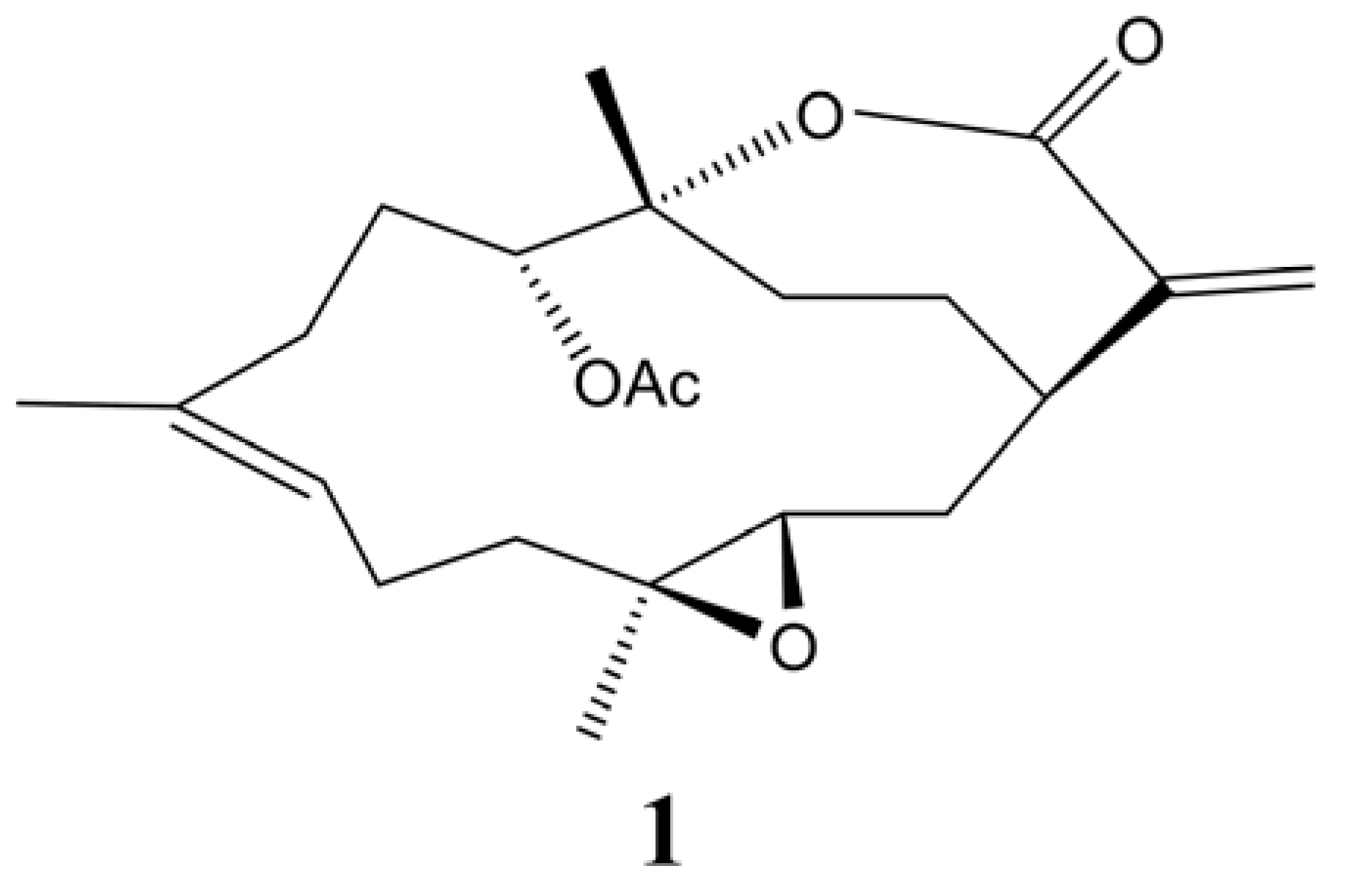 Figure 1
Share & Cite This Article
MDPI and ACS Style
Hsu, W.-L.; Chiu, S.-J.; Tsai, Y.-T.; Chang, C.-M.; Wang, J.-Y.; Wang, E.T.; Hou, M.-F.; Huang, C.-Y.; Sheu, J.-H.; Chang, W.-C. A Soft Coral Natural Product, 11-Episinulariolide Acetate, Inhibits Gene Expression of Cyclooxygenase-2 and Interleukin-8 through Attenuation of Calcium Signaling. Molecules 2013, 18, 7023-7034.
Related Articles
Comments
[Return to top]