Oligomerization of 10,16-Dihydroxyhexadecanoic Acid and Methyl 10,16-Dihydroxyhexadecanoate Catalyzed by Lipases
1
Instituto Politécnico Nacional - ENCB, Carpio y Plan de Ayala S/N, Col. Casco de Santo Tomas, México, D.F., CP 11340, Mexico
2
Departamento de Sistemas Biológicos, Universidad Autónoma Metropolitana Unidad Xochimilco, Calz. del Hueso No.1100, Col. Villa Quietud, México, D.F., CP 04960, Mexico
3
CIATEJ, Av. Normalistas 800, Guadalajara, Jalisco 42270, Mexico
4
Departamento de Productos Naturales, Instituto de Química, UNAM. México, D.F. CP 04510, Mexico
5
Instituto Politécnico Nacional - CNMN, Calle Luis Enrique Erro s/n, Unidad Profesional Adolfo López Mateos, Col. Zacatenco, México D.F., CP 07738, Mexico
*
Author to whom correspondence should be addressed.
Received: 16 July 2013 / Revised: 29 July 2013 / Accepted: 30 July 2013 / Published: 5 August 2013
Abstract
The main monomer of tomato cuticle, 10,16-dihydroxyhexadecanoic acid (10,16-DHPA) and its methyl ester derivative (methyl-10,16-dihydroxyhexadecanote; methyl-10,16-DHHD), were used to study their oligomerization reactions catalyzed by five lipases:
Candida antarctica
lipase B (CAL-B),
Rhizomucor miehei
lipase (RM),
Thermomyces lanuginosus
lipase (TL),
Pseudomonas cepacia
lipase (PCL) and porcine pancreatic lipase (PPL). For 10,16-DHPA, optimum yields were obtained at 60 °C using toluene and 2-methyl-2-butanol (2M2B) as solvent, while for methyl-10,16-DHHD the bests yields were obtained in toluene and acetonitrile. Both reactions leaded to linear polyesters according to the NMR and FT-IR analysis, and there was no data indicating the presence of branched polymers. Using optimized conditions, poly(10,16-DHPA) and poly(methyl-10,16-DHHD) with Mw = 814 and Mn = 1,206 Da, and Mw = 982 and Mn = 860 Da, respectively, were formed according to their MALDI-TOF MS and ESI-MS data. The self-assembly of the polyesters obtained were analyzed by AFM.
View Full-Text
►

▼

Figures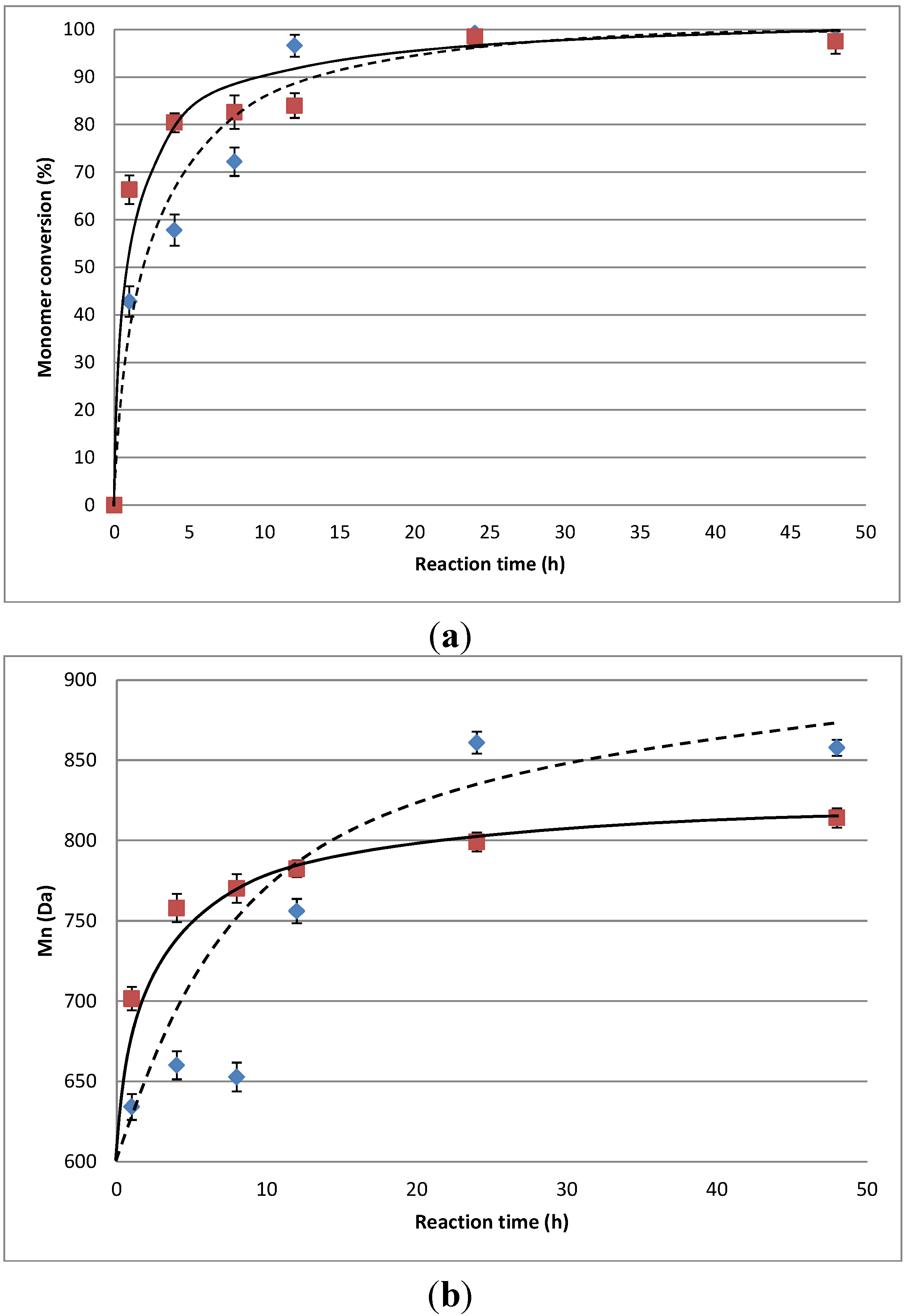 Figure 1
Share & Cite This Article
MDPI and ACS Style
Gómez-Patiño, M.B.; Cassani, J.; Jaramillo-Flores, M.E.; Zepeda-Vallejo, L.G.; Sandoval, G.; Jimenez-Estrada, M.; Arrieta-Baez, D. Oligomerization of 10,16-Dihydroxyhexadecanoic Acid and Methyl 10,16-Dihydroxyhexadecanoate Catalyzed by Lipases. Molecules 2013, 18, 9317-9333.
Related Articles
Comments
[Return to top]